Jul
24

Food & Drink, Translating/Interpreting, Uncategorized, WIT Life

Comments Off

on WIT Life #372: Kaiten Zushi in NYC
Writer/Interpreter/Translator Stacy Smith (Kumamoto-ken CIR, 2000-03) presents WIT Life, a periodic series about aspects of Japanese culture such as art, film, food and language. Stacy starts her day by watching Fujisankei's newscast in Japanese, and here she offers some interesting tidbits and trends along with her own observations.
One of my favorite meals during my recent trip to Japan was 回転ずし (kaiten zushi, or conveyer belt sushi). It's always fun to watch the food as it goes around and grab whatever looks good. I have a faint recollection of kaiten zushi in midtown run by a Singaporian company existing some years ago, but since then we haven't had this type of restaurant in the city. But the wait is over, since a new kaiten zushi establishment opened last week.
Called Kaiten Zushi Nomad, this futuristic restaurant has ordering via tablet and three levels of conveyer belts that deliver your food. There are booths and counter-style seating, as well as a front waiting area that looks like it could double as a bar (Kaiten Zushi also has a wide array of alcoholic beverages to go with your food). They boast over 100 types of sushi, but fear not if raw fish isn't your thing for they have plentiful appetizers and main dishes that feature meat and other cooked items such as donburi, ramen and karaage.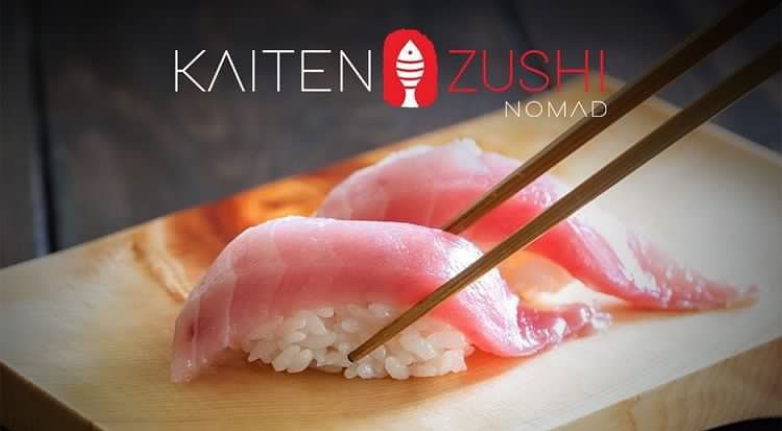 I was lucky enough to be able to attend the grand opening on July 19th, when all sushi and sides were 50% off. I began my meal with the appetizers seaweed salad, assorted tempura and fried eggplant with ginger sauce. A notification of each dish's arrival is provided on the screen at your seat, but despite this heads up I missed my first delivery of the eggplant. I was expecting it to come on the bottom tier, but my neighbor was kind enough to let me know that it was waiting for me on the top belt, where I hadn't thought to look.
I also ordered a bunch of sushi including unagi, aburi salmon toro ponzu, aburi saba yuzu miso and shime saba. They all deliciously melted in my mouth, but the unagi was my favorite (as it generally tends to be). The menu was incredibly extensive, and there were so many more items I wished I had been able to try. Each order of sushi is two pieces, so next time I plan to dine with someone so we can share to try twice the dishes.
Kaiten Zushi plans to expand beyond Manhattan to Long Island City and to the American Dream Mall in New Jersey. Speaking of mall sushi, Flushing's newest shopping center Tangram is expected to open a Kura Sushi soon. And for those who like their sushi with a twist, check out kawaii king Sebastian Masuda's Sushidelic, which opened in Soho in late June. Amidst Masuda's trademark neon colors, you can find chirashi parfaits, sushi macarons and other unique offerings (with the option of an $85 six-course omakase). Happy eating!