Jul
27

Events, Film, Translating/Interpreting, WIT Life, Writers

Comments Off

on WIT Life #365: New York Asian Film Festival
Professional Writer/Interpreter/Translator Stacy Smith (Kumamoto-ken CIR, 2000-03) presents WIT Life, a periodic series about aspects of Japanese culture such as film, food and language. Stacy starts her day by watching Fujisankei's newscast in Japanese, and here she offers some interesting tidbits and trends along with her own observations.
The New York Asian Film Festival taking place at Lincoln Center is one of my favorite annual events, and it's coming to a close this weekend. This year the festival celebrated its 20th anniversary, and it was back in person for the first time in two years. Over the first week, I was lucky enough to interpret for several actors, producers and directors. Particularly thrilling was being able to work with the actor Hiroshi Abe, of whom I've been a longtime fan. He attended the festival to receive the 2022 Screen International Star Asia Award and participate in the Q&A for his film Offbeat Cops, which had its world premiere at the festival.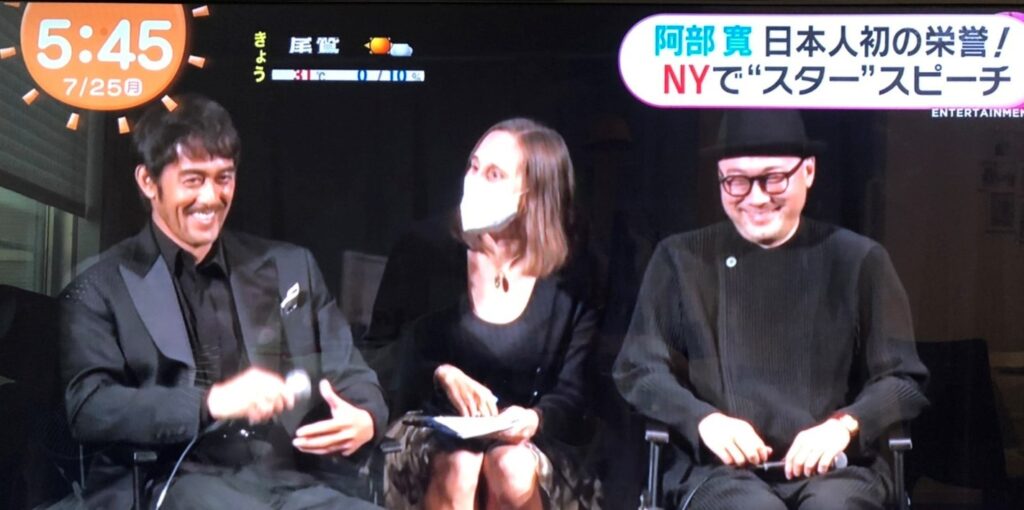 My sharp-eyed friend in Japan was up early watching Fuji's Mezamashi TV, and she was able to capture this photo of me on stage with Abe and Offbeat Cops director Eiji Uchida (to my left/right respectively in the picture). Abe plays a hard-boiled detective named Naruse who gets shunted off to the police band, and ends up going on a journey of self-discovery as a result (and learns how to play the drums, as the actor had to in real life!). During the Q&A, Uchida expressed his desire to make a sequel where Naruse has a showdown with the NYPD Police band, and to the delight of the crowd Abe said that he's be up for it.
Time is running out on the festival, so why not catch a double feature of two Japanese films tomorrow night? You can attend a screening of Broken Commandment at 6:30 pm (with Asia Society as venue), followed by that of Angry Son at 9:30 pm at Walter Reade Theater. The latter is especially worth checking out as director Kasho Iizuka will be on hand for a post-screening Q&A. Make sure to explore the wide-ranging lineup of films from a variety of Asian countries and make your weekend a cinematic one. Happy viewing!