Jun
30

Translating/Interpreting, Uncategorized, WIT Life

Comments Off

on WIT Life #364: What's in a Name?
Professional Writer/Interpreter/Translator Stacy Smith (Kumamoto-ken CIR, 2000-03) presents WIT Life, a periodic series about aspects of Japanese culture such as film, food and language. Stacy starts her day by watching Fujisankei's newscast in Japanese, and here she offers some interesting tidbits and trends along with her own observations.
It's been a while since I've written here, and it's nice to be back. I hope that everyone's early summers are going well! An interesting announcement was made in Tokyo this week in regard to the terminology for "childcare leave." Previously 育休 (ikukyu) was the term used , but it was officially changed to the phrase 育業 (ikugyo). You can see that the first character, referring to "raising children" has stayed the same, but the second character for "time off" or "rest" has been changed to the one for "work."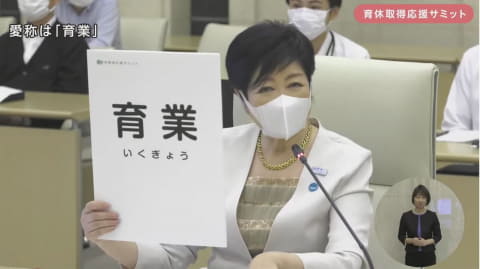 According to Tokyo Governor Yuriko Koike, this new terminology is more appropriate because "child-rearing is the important, valuable work of raising those who will carry our future." Gyo indicates results achieved by putting in effort, whereas kyu is associated more with taking a break and doesn't acknowledge the hard work involved. In a public appeal citizens were asked to come up with a new catchphrase for childcare leave, and this one was selected from almost 9000 submissions received in just a month.
The goal of the new slogan is to increase the numbers of those taking childcare leave, particularly men whose psychological resistance often prevents them from actually taking this leave to which they are entitled. Currently almost 82% of women take childcare leave, as opposed to less than 13% of men. The government hopes to incentivize men by moving away from the previous idea of "taking time off of work to raise children," and instead refer to child-rearing as work in its own right. Going forward there are plans to come up with a logo for ikugyo, as well as hold events using this logo to help popularize the new name.
In the past Koike was behind the spread of the wildly popular "Cool Biz" campaign, but it remains to be seen if this new catchphrase will take hold as successfully.