Mar
31

Film, Translating/Interpreting, Uncategorized, WIT Life

Comments Off

on WIT Life #362: Drive My Car gets its Oscar!
Professional Writer/Interpreter/Translator Stacy Smith (Kumamoto-ken CIR, 2000-03) presents WIT Life, a periodic series about aspects of Japanese culture such as film, food and language. Stacy starts her day by watching Fujisankei's newscast in Japanese, and here she offers some interesting tidbits and trends along with her own observations.
The Oscars this past weekend were memorable in more ways than one, but I'd like to focus on Drive My Car winning Best International Feature Film! As I mentioned in my previous post, DMC is the second Japanese film to receive this honor since Departures (おくりびと or Okuribito) in 2008. I was proud of director Ryusuke Hamaguchi for giving his acceptance speech in English, though I wish they hadn't tried to play him off the stage twice (his finger raised to ask for more time was golden).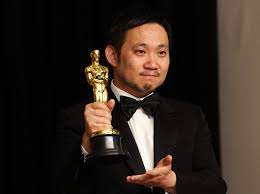 Hamaguchi's unique style of filmmaking involves extensive rehearsal time during which actors repeatedly recite their lines without emotion, a technique seen in Drive My Car as well. Likely because he values his artistic freedom, Hamaguchi was not offered production or distribution by any major Japanese film company and his budget was in range of $1 million. It remains to be seen whether the film's international recognition will have an effect on the Japanese film industry, known for being insular and insufficiently protective of its workers.
The official domestic response to the film's win was fairly lackluster, with Prime Minister Fumio Kishida attributing the movie's charm partially to it being set in his electoral district of Hiroshima. There on the ground reactions were a bit more celebratory, due to personal connections to the making of the film. This feeling was likely all the sweeter considering that shooting the international theater festival in Hiroshima was Plan B, after going overseas became impossible due to the pandemic (Busan, Korea was the originally planned location).