Nov
27

Translating/Interpreting, Uncategorized, WIT Life

Comments Off

on WIT Life #359: Giving thanks
Professional Writer/Interpreter/Translator Stacy Smith (Kumamoto-ken CIR, 2000-03) presents WIT Life, a periodic series about aspects of Japanese culture such as film, food and language. Stacy starts her day by watching Fujisankei's newscast in Japanese, and here she offers some interesting tidbits and trends along with her own observations.
I hope everyone is enjoying a wonderful holiday weekend, and that your Thanksgiving was filled with lots of food, fun and family/friends! This is the season of expressing gratitude, and I can't help but be thankful for this venue where I can share my thoughts. Specifically, I'm grateful that I began my Japanophile journey in high school and that it's taken me this far.
My work as an interpreter is slowly starting to rebound, and I am deeply appreciative for that. I was tickled to find that there is an interpreter out there who recently received official recognition for his skills, that being none other than the Angels' two-way superstar Shohei Ohtani's interpreter Ippei Mizuhara.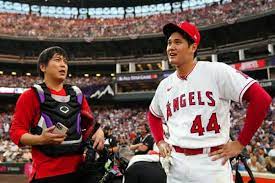 Following Ohtani being deemed the American League's Most Valuable Player (MVP) this year, Mizuhara received a Most Valuable Interpreter (MVI) award from the Angels. On Twitter, fans wholeheartedly agreed with the team's sentiment: "The existence of Ippei is indispensable not only for Shohei, but for all of us."
Mizuhara was Ohtani's interpreter during his time with the Nippon-Ham Fighters, and you can read about his background and path to the profession here and here. To learn more about the valuable role that interpreters play in MLB, check out this Sports Illustrated article.