Feb
28

Translating/Interpreting, Uncategorized, WIT Life, Writers

Comments Off

on WIT Life #333: King Kazu
Written by professional Writer/Interpreter/Translator Stacy Smith (Kumamoto-ken CIR, 2000-03), WIT Life is a periodic series about aspects of Japanese culture such as film, food and language. Stacy starts her day by watching Fujisankei's newscast in Japanese, and here she shares some interesting tidbits and trends along with her own observations.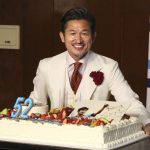 The sports portion of today's Japanese news showcased the celebration of Kazu Miura's 52nd birthday.  Looking as dapper as ever in a fashionable white suit in front of a huge cake, he shared that every birthday he wore a different color suit (past years have included bright red, yellow and blue), but that he had run out of colors so had to return to white.  Perhaps it is this enthusiasm and youthful spirit that enables him to keep pace on the soccer field with professional players decades his junior.  Miura (a.k.a. "King Kazu") began his career in 1986, and he is considered to be Japan's first soccer superstar.
He was the subject of a NYT profile last year, in which he was described as the epitome of "aging productively."  It also discusses his lifelong pursuit of 様式美 (youshikibi, beauty of form or stylistic beauty), similar to his fellow countryman Ichiro Suzuki of the Seattle Mariners who is 45 years old.  It is indeed inspiring to see these men continue to have successful careers at a point when athletes are usually considered past their prime.