Jul
3

Events, Film, Translating/Interpreting, WIT Life

Comments Off

on WIT Life #327: New York Asian Film Festival
Written by professional Writer/Interpreter/Translator Stacy Smith (Kumamoto-ken CIR, 2000-03), WIT Life is a periodic series about aspects of Japanese culture such as film, food and language.  Stacy starts her day by watching Fujisankei's newscast in Japanese, and here she shares some interesting tidbits and trends along with her own observations.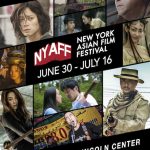 In addition to being in the middle of a major heat wave, we are in the midst of film festival season here in the city.  Specifically I'm talking about the current New York Asian Film Festival (NYAFF), which is in its 17th year!  This year I have the honor of interpreting for several actors and directors during the festival, and so far I've worked on the films Dynamite Graffiti and The Hungry Lion.  For the former, both director Masanori Tominaga and star Tasuku Emoto were on hand, and you can access a Facebook recording of their Q&A here.  For the latter, director Takaomi Ogata attended the screening and his Q&A can be found here.
This year's recipient of the festival's Star Asia Lifetime Achievement Award was Masato Hara, who was present at the screening of his period piece Sekigahara.  Jidaigeki are not usually my thing, but I was absolutely carried away by this epic film.  I'm also looking forward to the films River's Edge and The Scythian Lamb this week, and resume interpreting with Liverleaf on Sunday and Smokin' on the Moon and Midnight Bus next week.
The festival runs through the 15th, so catch as many films as you can before then!  And not to worry film fans.  The Japan Cuts film fest begins at Japan Society a few days later on the 19th, so you will have plenty more movies to satiate your thirst for fantastic Japanese cinema later in the month.