Jun
7

Events, Film, Translating/Interpreting, WIT Life, Writers

Comments Off

on WIT Life #326: New York Japan CineFest 2018
Written by professional Writer/Interpreter/Translator Stacy Smith (Kumamoto-ken CIR, 2000-03), WIT Life is a periodic series about aspects of Japanese culture such as film, food and language.  Stacy starts her day by watching Fujisankei's newscast in Japanese, and here she shares some interesting tidbits and trends along with her own observations.
Last night I caught day 1 of the New York Japan CineFest held at Asia Society.  2018 marks the seventh anniversary of the event, and it seems to get better every year.  The lineup featured six short films that ranged in length from eight to 28 minutes, and included two documentaries.
My favorite was the final film And So We Put Goldfish in the Pool from Makoto Nagahisa, which clo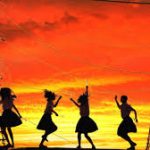 cked in at the longest 28 minutes but went by in a flash.  It is based on a true story of four 15-year old girls from a small town in Saitama who released 400 goldfish into their high school pool in order to escape the boredom of their daily lives.  Its zany tone and fast-paced story kept the audience captivated and laughing.  Despite its humorous tone, it poignantly addresses the universal feelings experienced during high school and certainly brought back memories of that time in my life.  Last year it received the Short Film Grand Jury Prize at Sundance (you can watch the film via this link), and it was Nagahisa's directorial debut.
Another highlight of the program was Sugihara Survivors, which told the story of Tokyo journalist Akira Kitade who is trying to trace the identities of those saved by Chiune Sugihara, a.k.a. Japan's Oskar Schindler (I previously wrote about the feature film of Sugihara's life).  This documentary made for the 30th anniversary of Sugihara's death illuminates the impact of the action Sugihara took in the name of justice, in defiance of his employer and the mood of the times.  Director Junichi Kajioka was on hand post-screening with some descendants of Sugihara suvivors, and their comments emphasized how timely this film is in light of the prejudice, refugee crisis and conflicts that we are dealing with today.
Day 2 of the fest will be held tonight, with six new films being offered.  Looks like another thought-provoking lineup, and tickets are still available so get them while you can!