Mar
16

Events, Food & Drink, Translating/Interpreting, Travel/Tourism, Uncategorized, WIT Life, Writers

Comments Off

on WIT Life #323: Japan Week 2018
Written by professional Writer/Interpreter/Translator Stacy Smith (Kumamoto-ken CIR, 2000-03), WIT Life is a periodic series about aspects of Japanese culture such as film, food and language.  Stacy starts her day by watching Fujisankei's newscast in Japanese, and here she shares some interesting tidbits and trends along with her own observations.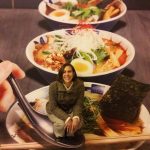 Japan Week 2018 is taking place through the weekend at Grand Central's Vanderbilt Hall, and this year's theme is 3D Trick Art.  Sponsored by the Japan National Tourism Organization (JNTO), the event strives to create an Instagrammable, interactive experience for visitors.  In addition to the regular array of booths from travel agencies, various regions in Japan and Japanese food and drink purveyors, there are several large backdrops into which you can insert yourself for the ultimate selfie.  My favorite was the bowl of ramen into which you can become one of the ingredients, and others include becoming a topping for sushi, helping to carry the mikoshi at a matsuri and shuttling around a sumo wrestler in a rickshaw (Fujifilm is even on hand to help you print out these funny shots after you take them!).
According to organizers, they are using these simulated experiences to try and get attendees excited about Japan so they will come visit for the 2020 Tokyo Olympics.  If you visit the IACE Travel booth and sign up for their email newsletter you will be in the running for a free round-trip ticket to Japan, which would be a cool way to see the Games!