Jun
2

Events, Film, Translating/Interpreting, WIT Life, Writers

Comments Off

on WIT Life #313: NY Japan CineFest 2017
WIT Life is a periodic series written by professional Writer/Interpreter/Translator Stacy Smith (Kumamoto-ken CIR, 2000-03). She starts her day by watching Fujisankei's newscast in Japanese, and here she shares some of the interesting tidbits and trends along with her own observations.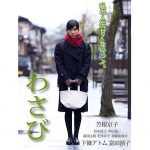 Last night I attended the first night of the 6th annual NY Japan CineFest 2017 at Asia Society.  This is one of my favorite cinematic events in the city, as it is a compilation of Japan-related short films.  As usual, there were many thought-provoking selections ranging from documentary to futuristic to artistic.
My favorite was Wasabi from director Bunji Sotoyama, which stars Kyoko Yoshine who you might recognize as the main character from the recently ended NHK morning drama Beppin-san.  In this film, she plays high school student Aoi who lives with her depressed father who is no longer able to maintain his sushi shop.  She is weighing different options for her future, including succeeding her father as sushi chef to save the restaurant.
A close second was The Shining Star of Losers Everywhere, the story of racehorse Haru Urara who back in 2003 single-handedly saved a Kochi racetrack with her amazing losing streak.  Judging from the chatter at the post-screening reception, it sounded like this film might take the prized NY Japan CineFest Audience Award, decided by those in attendance voting on their favorite film from the lineup.  If this has piqued your interest, check out the CineFest's second night of Animation & Japanese Film Festivals Program at Asia Society tonight!