Nov
30

Art & Design Observer, Translating/Interpreting, WIT Life, Writers

Comments Off

on WIT Life #255: San Francisco's Xanadu Gallery
WIT Life is a periodic series written by professional Writer/Interpreter/Translator Stacy Smith (Kumamoto-ken CIR, 2000-03).  She starts her day by watching Fujisankei's newscast in Japanese, and here she shares some of the interesting tidbits and trends along with her own observations.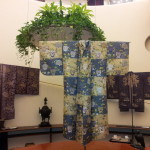 My current three-week business trip finishes on the West Coast, with Thanksgiving in San Francisco and the weekend here in Seattle.  When I am in the former city, one of my favorite places to visit is the Asian antique art themed Xanadu Gallery.  I was first drawn to visiting this location as its architect was Frank Lloyd Wright, who I love.  Interesting fact is that he used this building to practice how to incorporate curves into his designs, and five years later went on to create the Guggenheim with its distinctive spiral.
Xanada features a permanent jewelery collection upstairs as well as rotating exhibits, and I was nicely surprised to find that this time Japanese items were being showcased.  As seen in the picture, the main display is of exquisitely detailed Noh robes.  They have typical Japanese patterns such as wisteria and chrysanthemums, and they are amazingly intricate in their beauty.  Less prominently displayed but equally as impressive is a collection of Japanese woodblock prints in a side room near the entrance.
These particular items were not from Wright's collection, but during his lifetime he was said to have accumulated over 600 surimono (摺物), or privately commissioned woodblock prints.  This category of prints would be produced in small numbers, and they would often be more experimental in their subject matter and treatment than commercially produced ones.  One striking example on display at Xanadu is a triptych of a kyogen (狂言) story that had been cut and mounted to become three correlating kakejuku.  The content continues from one kakejuku to the next, and it is an interesting way to interpret surimono.  When in the Bay Area, Xanadu is a must-stop for all Asian art and Frank Lloyd Wright lovers!