Mar
31

Article/Journalism, Books, Events, JETAA Chapters, Reviews, Roland Kelts, Uncategorized, Writers

Comments Off

on Review: JET Alumni Author Showcase
JETAANY Hosts First Author Showcase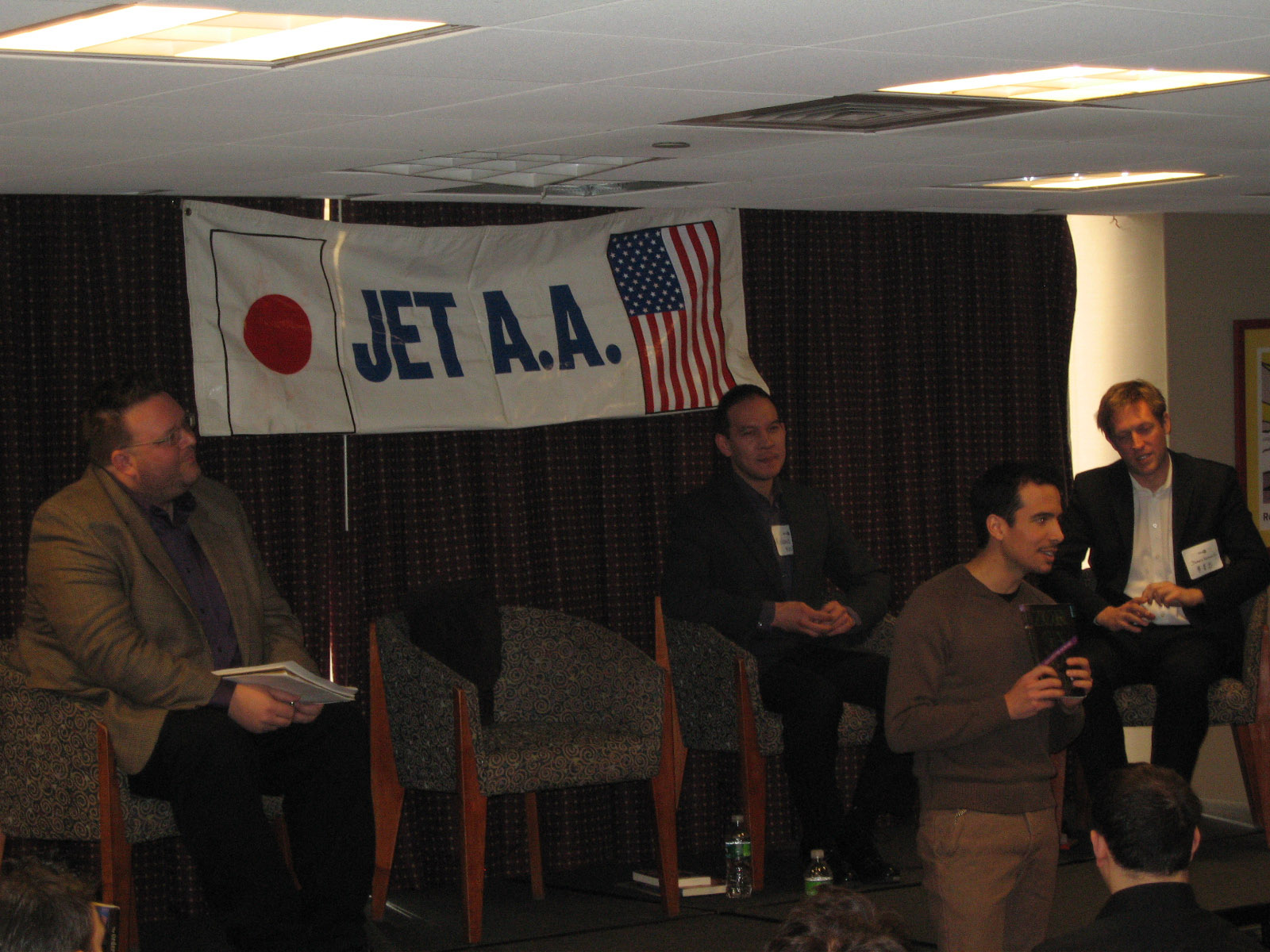 By Gina Anderson (Nara-ken, 2003-05), former JETAA DC newsletter chair and Justin Tedaldi (CIR Kobe-shi, 2001-02), editor of JQ (JETAA NY) Quarterly Magazine

New York City's Holiday Inn hosted a summit for published JETs as JETAANY launched its debut JET Alumni Author Showcase on March 22. The panelists included pro writers Roland Kelts (Osaka-shi, 1998-99), Robert Weston (Nara-ken, 2002-04) and James Kennedy (Nara-ken, 2004-06).  (Click here and here for photos and here for video clips.)
Drawing over 60 JET alums, friends and family, the event kicked off with some words from Akira Sugiyama, director of the Japan Information Center of the Consulate General of Japan in New York. Moderator and playwright Randall David Cook (Fukui-ken, 1991-93), creator of the critically acclaimed Off Broadway plays Sake with the Haiku Geisha and Fate's Imagination, asked each author to share a favorite selection of their works with the crowd.
A professor at three different universities including Tokyo University, a writer and editor for two magazines and a columnist for the Yomiuri Shimbun, Kelts spoke about Japanamerica:  How Japanese Pop Culture Has Invaded the U.S., his non-fiction book about the eponymous subject. He began by pointing out that Japanamerica is in part a reference to his own mixed Japanese and American backgrounds, explaining that he spent a year in Osaka on the JET Programme in part to have "a real Japanese experience" despite growing up with a Japanese mother and a lifelong exposure to Japanese pop culture.
His then read an excerpt from the introduction of his book, in which he recalled a visit to friends in Los Angeles whose four-year-old daughter was captivated by My Neighbor Totoro, the classic anime film from Academy Award-winning director Hayao Miyazaki. Kelts cited the story as a metaphor for what Harvard professor Joseph Nye coined "soft power," or Japan's increased influence over a new generation of the West through pop culture and media. What followed was an enlightening discussion that touched on otaku (obsessive fan) analysis along with the unique changes and challenges Japanamerica faced on its way to publication in Japan.
Armed with their flair for performing, authors Weston and Kennedy immersed the crowd in their readings, elevating the act of reciting fiction to total showmanship.
"This is a book that many people said couldn't be done, or more likely, shouldn't be done," Weston said, introducing his rhyming children's novel Zorgamazoo, which has won several awards since its publication last year. His impassioned reading featured a multitude of character voices (inspired by Monty Python and character actor Peter Lorre) that kept the audience entranced. The author, who traveled from Toronto to participate in the event, expressed appreciation for the opportunity to gain exposure in the U.S.
Kennedy's background in physics, philosophy and computer programming seem at odds with his creative side, but that didn't stop the young author from finishing his first book and inking a deal with publishing major Random House. Aimed at young adults, The Order of Odd-Fish was one of the Smithsonian's Notable Books for Children in 2008.
A musician and improv comic based in Chicago, Kennedy acted out a scene from his novel between two characters arguing over the lethalness of his made-up "Apology Gun," which he explained could be adjusted from sincere to sarcastic.  The crowd erupted in laughter as he breathlessly fired off lines like "I choke your esophagus with the foodstuffs of destruction!" while darting back and forth across the stage.
Following the readings, Cook asked the authors questions about their past experiences as JETs, their present as authors and about their future projects. Each author already had plans to write a new book in the near future, and they all tackled Q&As from the audience to discuss today's publishing world and how technology is, for better or for worse, changing the way books are marketed and distributed.
After the panel wrapped, the participants enjoyed refreshments and bought books provided by New York's Kinokuniya. Afterwards, the authors signed their works and connected with old friends. Interestingly, a number of those friends turned out to be Nara JETs who made the trip to New York to support their fellow Nara alums.
For more information about the authors, each with their respective blogs, visit:
James Kennedy, author of The Order of Odd-Fish, http://jameskennedy.com
Roland Kelts, author of Japanamerica: How Japanese Pop Culture has Invaded the U.S., http://japanamerica.blogspot.com
Robert P. Weston, author of Zorgamazoo, http://www.zorgamazoo.com
The event was supported by some of the biggest name Japanese and American organizations including the Consulate General of Japan in New York; Anime Festival; Books Kinokuniya; New York Comic Con; and Jetwit.com.
Gina Anderson is an applied tech specialist at the State Department by day and a writer and aspiring novelist.
Justin Tedaldi encourages all JET writers and creative types to contribute to JQ. Click here for the current issue.