Jan
16

Anecdote Article, Cultural Outreach, Food & Drink, Rice Cooker Chronicles, Writers

Comments Off

on The Rice Cooker Chronicles: "Broccoli Lover Learns to BBQ, Part 2″ by Clara Solomon
The Rice Cooker Chronicles is a series of essays by JETs and JET alumni on the theme of cooking/eating and being alone in Japan. The brain-child of JETwit founder  Steven Horowitz (Aichi-ken, Kariya-shi, 1992-94) (and inspired by the book Alone in the Kitchen with an Eggplant), this series is curated by L.M. Zoller (CIR Ishikawa-ken, Anamizu, 2009-11), the editor of The Ishikawa JET Kitchen: Cooking in Japan Without a Fight. A writer and web administrator for The Art of Japan: Kanazawa and Discover Kanazawa, ze also writes I'll Make It Myself!, a blog about food culture in Japan.
New submissions always welcome. Just e-mail it to jetwit [at] jetwit.com.
*****
Broccoli Lover Learns to BBQ
Part 2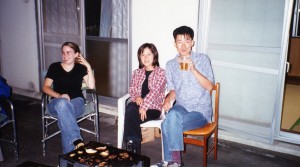 by Clara Solomon (CIR, Nichinan-cho, Tottori-ken; 1999-2001), the Director of Counseling & Career Development at the Office of Career Services at New York University School of Law. She previously worked for the Japan External Trade Organization, specializing in trade relations between Japan and Latin America.  She lives in Queens with her husband and twin daughters.
Living in a small farming community has a lot of advantages, I soon learned. For example, I was at the town festival in August shortly after arriving, and casually mentioned to one of my farmer neighbors that I liked sweet corn. I woke up the next day to find about 15 ears of freshly-picked sweet corn on my doorstep. Even when I didn't particularly like something, I would often find that a kind neighbor, perhaps worried about my over-consumption of broccoli, had left bushels of it at my front door. I guess they'd heard that Americans eat a lot, because they would leave bags stuffed with enough eggplant, cabbage, and carrots to feed a small army. (Why, I often wondered, had I not moved to rural Tuscany, where I could have gotten donations of sun-ripened tomatoes, basil, and fresh bufala mozzarella?).
Read More