Posted by Michelle Lynn Dinh (Shimane-ken, Chibu-mura, 2010–13), editor and writer for RocketNews24. The following article was written by Casey Baseel, a writer and translator for RocketNews24, a Japan-based site dedicated to bringing fun and quirky news from Asia to English speaking audiences.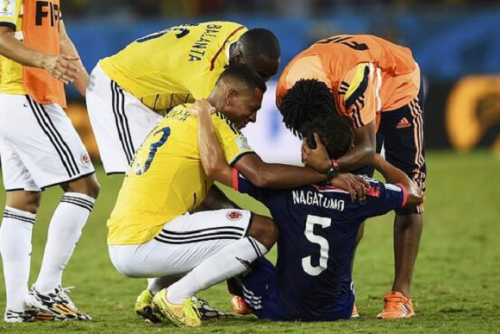 The international nature of professional soccer makes for some uniquely compelling individual matchups at the World Cup. Since the event is only held once every four years, during the time between tournaments the members of each country's national teams go back to playing for their respective, privately owned clubs.
It's easy to imagine how this could make things awkward for a player who has a club teammate who's on the roster of a different national team. One day you're doing everything you can to beat him at the World Cup, but a few weeks later, you're going to have to go back to working together, no matter how bitterly contested your match in Brazil was.
Sometimes, though, the opposite happens, and these personal connections bring a little extra sportsmanship to the World Cup, like what happened between Japanese defender Yuto Nagatomo and Colombian midfielder Fredy Guarin.