Dec
12

Anecdote Article, Article/Journalism, Cultural Outreach, Food & Drink, Rice Cooker Chronicles, Writers

Comments Off on The Rice Cooker Chronicles — "Kaijo!" by Justin Maki
The Rice Cooker Chronicles is a series of essays by JETs and JET alumni on the theme of cooking/eating and being alone in Japan. The brain-child of JETwit founder  Steven Horowitz (Aichi-ken, Kariya-shi, 1992-94) (and inspired by the book Alone in the Kitchen with an Eggplant), this series is curated by L.M. Zoller (CIR Ishikawa-ken, Anamizu, 2009-11), the editor of The Ishikawa JET Kitchen: Cooking in Japan Without a Fight. A writer and web administrator for The Art of Japan: Kanazawa and Discover Kanazawa, ze also writes I'll Make It Myself!, a blog about food culture in Japan.
New submissions always welcome. Just e-mail it to jetwit [at] jetwit.com.
******
Kaijō!
by Justin Maki (ALT Osaka-fu, 2002-06), a writer and editor currently working at the Sports desk of Kyodo News America in New York City. Justin's short fiction, poetry, and essays have appeared in a handful of small journals. Contact him at makij408@gmail.com.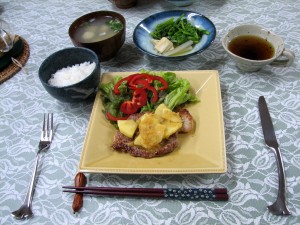 "When you go to the kitchen to prepare dinner, be born in the kitchen. When you finish there, die. Then be born at the dining table as you eat your dinner and, when you finish eating, die there. Be born in the garden, and sweep with your broom. When you get into bed at night, die there. And when daylight comes, and you awaken in your bed, be born anew."