Sep
24

Article/Journalism, Japan Trends, Writers

Comments Off

on Tom Baker covers the 2010 Tokyo Game Show
Tom Baker (Chiba-ken, 1989-91) is a staff writer for The Daily Yomiuri. As another example of JET ROI, he is one of at least four former JETS to have been on the newspaper's staff in recent years. He usually writes for DYWeekend, the arts and leisure section. You can follow Tom's blog at tokyotombaker.wordpress.com.
Earlier this month he covered the Tokyo Game Show, Japan's biggest video game industry trade show. His story focused on new motion-sensing control systems from Sony and Microsoft, and also on innovative games by indie creators such as Minori Yokota (shown in the photo). Here is an excerpt:
Some of the freshest and most radically creative offerings at this year's Tokyo Game Show were part of the Sense of Wonder night, a showcase for innovative indie games from Japan and overseas.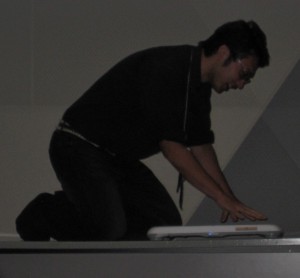 Minori Yokota, a graduate student at Kanagawa Institute of Technology, declared that he "hates" dating simulation games, which surprised the audience who watched him demonstrate a game called Love Press++: Massage for Your Truelove that he developed together with Prof. Akihiro Shirai and fellow student Taisuke Yamashita.
The game uses a Wii balance board to represent the torso of an imaginary woman, whom the player massages. As Yokota pressed and kneaded, a recording of a voice actress sighed, squealed and cooed–until he rubbed her the wrong way, when she scolded him for his clumsiness.
Humor of a blacker sort was seen in Ulitsa Dimitrova, a German cartoon simulation of the life of a homeless child, while MusicMineSweeper is a whimsical Japanese game that makes music based on the semirandom patterns players create in the popular Minesweeper game.
Players of Record Tripping, by American creators John and Dan Bell, use the scroll wheel of a computer mouse to scratch a record, deejay-style. Then, the same motion is used to contol the rotation of other round objects, such as a windmill, a clock face and safe's combination dial, with each phase of the game having a different objective.
The youngest presenter was 17-year-old Mahdi Bahrami from Iran, whose elegant Everything Can Draw! uses lines to trace the paths of moving objects. He said he was inspired to create it in geometry class.
Such games might seem to offer hope in a sequel-swamped gaming world, but when a member of the audience asked Bahrami if he intended to pursue a career in video games, the whiz kid gave a one-word answer: "No."