JET alumna Sarah Coomber (Yamaguchi, 1994-1996) wrote The Same Moon about her adventures after moving to Japan! Sarah will read a short passage from her book and then we will take questions from the audience. You do not need to have read the book to enjoy this event. We hope you'll join us. Two copies of Sarah's book will be given away via random draw to those attending live.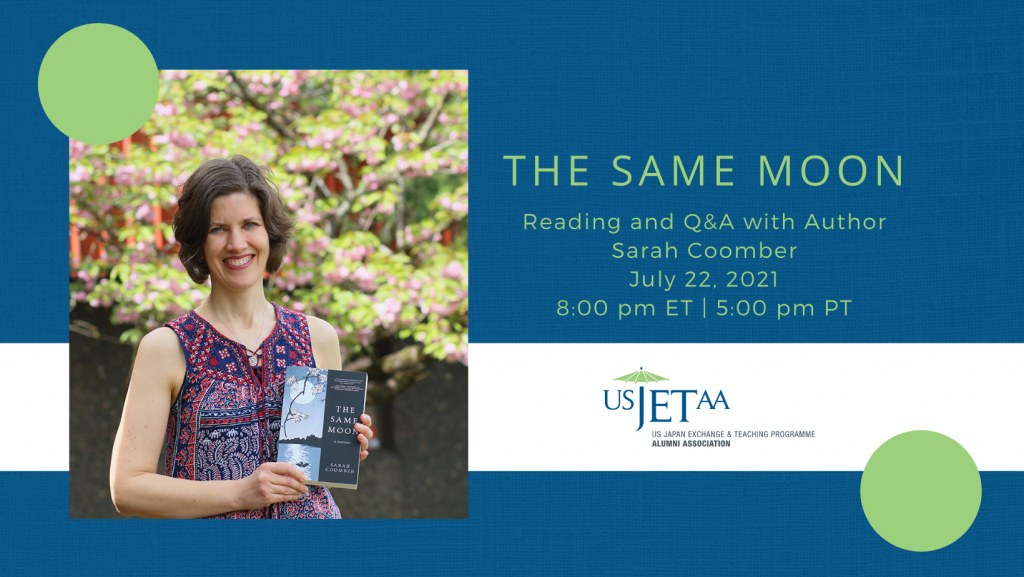 Date: July 22, 2021
Time: 8 PM ET / 5 PM PT
Join: REGISTER
About The Same Moon
Recently wed—and quickly divorced—twenty-four-year-old Sarah Coomber escapes the disappointments of her Minnesota life for a job teaching English in Japan. Her plan is to use the year to reflect, heal and figure out what to do with her wrecked life while enjoying the culture of the country where she had previously spent a life-changing summer that included a romance with a young baseball player.
About the Author
Ever since she turned seventeen, Sarah Coomber has held two homes in her heart: Minnesota, where she grew up, and Yamaguchi, where she spent a summer with the Maeda family, who welcomed her like a third daughter and introduced her to what became an on-again, off-again Japanese life.
That life has included teaching English in Yamaguchi on the Japan Exchange and Teaching Program (1994-96); teaching Japanese language and dance to children at an immersion camp in Minnesota; and studying the koto—Japanese zither—in Yamaguchi and Portland, Oregon, where she achieved her level four Seiha School certification.
Sarah has worked as a public relations professional, reporter, science writer and college English teacher, and her stories and essays on Japan have appeared in the Christian Science Monitor, the Japan Times, the Star Tribune, Cha: An Asian Literary Journal, Memoir Journal, the Font: A Literary Journal for Language Teachers and elsewhere.
She now works as a communications/writing consultant and coach, and teaches Holy Yoga, exploring the nexus of yoga and the Christian faith. She lives … and tries to remember to breathe deeply … with her family in Minnesota. More about here at https://sarahcoomber.com/.
Oct
5

Article/Journalism, Books, Cartoon/Illustration, JET Alum Author Beat, JQ Magazine, Notable JET Alums, Writers

Comments Off

on JET Alum Author Beat 10.05.11
JET Alum Author Beat is a new feature by Ling Tran (Saga-ken, 2009-11) intended to keep readers informed of what various JET alum authors are up to.  Contact Ling at jetwit [at] jetwit.com if you'd like to see something included in upcoming posts. She is also interested in providing exposure for aspiring authors/writers among alumni and current JETs – excerpts and updates are all welcome. 
Sam Baldwin Ono (Fukui-ken, 2004-06) hails from the UK and made a life altering decision when he decided to move to Fukui-ken through the JET Program. The quiet facade of inaka Japan gradually revealed its colorful nature, eventually leading Sam to share stories and insights in For Fukui's Sake: Two years in rural Japan. Whether for reference (newbie JETs, holla!), nostaliga, or reflection – ESID aside – this book is available electronically. If you want to be notified of its hard copy release, click here. Visit the website For Fukui's Sake  for details. (Fukui t-shirts are also available for purchase.)
Cartoonist Lars Martinson (Fukuoka-ken, 2003-06) has been busily settling into his new home and  schedule in Kameoka, Kyoto. He managed to fit in a brief post after a short hiatus. Eager followers can see how he is doing here – more substantial updates to come!