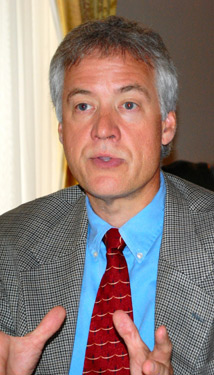 ************
Thanks to JET alum Mark Flanagan for sharing this article:
By HIROSHI ITO / Correspondent
September 3, 2011
Andy Anderson never expected he would find himself trying to fill his daughter's shoes by acting as a bridge between the United States and Japan.
But that all changed after his daughter, Taylor, perished in the massive tsunami spawned by the March 11 Great East Japan Earthquake.
Anderson, 53, a realtor living in Midlothian, in the suburbs of Richmond in the U.S. state of Virginia, is determined to continue the work that his 24-year-old daughter started.
Taylor had been teaching English to a handful of elementary and junior high schools in Ishinomaki, a coastal city in Miyagi Prefecture that bore the brunt of the tsunami that devastated the Tohoku region.
She has been working as a teaching assistant since August 2008 under the Japan Exchange and Teaching Program, a Japanese government initiative known as the JET program. Read More
**************
Thanks to JETAA USA Country Rep Megan Miller (Hyogo-ken) for sharing the below article from Kyodo News:
Family of U.S. quake victim to donate money for books in Miyagi
http://callcenterinfo.tmcnet.com/news/2011/08/25/5730320.htm

TOKYO, Aug. 25 — (Kyodo) The family of an American teacher who was killed in the March 11 earthquake and tsunami will visit Japan in September to donate money for books to seven schools in Ishinomaki, Miyagi Prefecture, where she taught, the Japanese Foreign Ministry said Thursday.
The family of Taylor Anderson, 24, who taught English at the Ishinomaki schools under the Japan Exchange and Teaching Program, will donate a total of around 7 million yen to set up reading corners named after her in the libraries of the schools, according to supporters of the project.
All JET alumni and Friends of JET are welcome and encouraged to join a new LinkedIn group:
http://www.linkedin.com/groups?home=&gid=4045224&trk=anet_ug_hm
For JET alumni who have an interest in, work in or aspire to work in fields related to money – i.e., finance, fundraising, investment, accounting, tax, economics, insurance, etc.
Click here for a list of all of the other JET Alum LinkedIn groups you can join.
JETwit needs your help identifying any earthquake/tsunami/nuclear disaster relief projects or efforts that have been started, organized, managed or otherwise undertaken by JETs or JET alumni.
What else is missing from this list?
View Japan Relief Efforts in a larger map
View Japan Relief Efforts in a larger map
The ones we're aware of to date (8/12/11) are:
1.  Smile Kids Japan (founded by Mike Maher-King (Fukui-ken, 2006-11) collaborating with Tokyo-based NPO Living Dreams to form the Smiles & Dreams Tohoku Kids' Project (among other efforts).
2.  The Fruitree Project, started by Paul Yoo (Akita-ken), which has now evolved into Volunteer AKITA and has led to the Big CLEAN which has already brought volunteers to help cleaning efforts in Kessenuma.
3.  I've heard  that Fukushima JETs have been organizing efforts to clean up the beaches, but I don't have any details.  Can anyone provide more info?
4.  Hearts For Haragama (http://hearts4haragama.wordpress.com).  Billy McMichael (CIR Fukushima) is one of the 7 founders of project aimed at raising funds for the Haragama Youchien kindergarten in Soma, Fukushima.  (Thanks to former JETAA DC President Michelle Spezzacatena for passing this on.)
5.  "Kat Geeraert, an ALT in Soma (Fukushima), is doing an amazing job with her foundation "Friends of Soma."  http://www.somafriends.com/ (Thanks to Catherine Lefrancois (JHS ALT in Fukushima-ken, Fukushima-shi) for passing this on.)
6.  AJET is playing a significant role in facilitating and coordinating volunteer efforts for current JETs and has also been collaborating with other good organizations/efforts such as Peace Boat, Foreign Buyers Club and 5toSurvive.  (Thanks to Cailin Arena (Osaka) for passing this on.)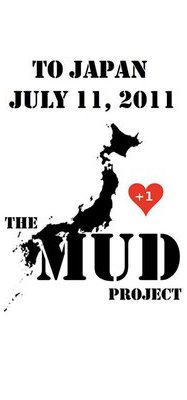 7.  "Save Miyagi was founded by Canon Purdy (Miyagi-ken, 2008-10) to help out students in Minamisanriku. Canon is currently back in Japan, working with officials to see where the money will be used."  (Thanks to Jen Wang (Miyagi-ken) for passing on the info.)
8.  Hotdogs and Hugs is an aid organization formed by Saga-ken JETs.  Among other things, they organized a volunteer group that traveled all the way from Saga (western Kyushu) up to Tohoku, collecting donations and fundraising along the way.  (Thanks to Ling Tran (Saga-ken, Yoshinogari-shi, 2009-11) for passing on the info.)
9.  Osaka AJET: "We have done extensive food drives and collections through our schools we work in, those goods, money, supplies have then been coordinated with Kozmoz International (A small not-for profit in Kyoto) and we have taken the needed items to Tohoku ourselves.  We will be doing another drive across Osaka, hopefully in dozens of schools where JETs are placed from the start of this second term."  (Thanks to Matthew Cook, who serves as both AJET Chair and is a member of Osaka AJET, for sharing this info.)
10.  The MUD Project: It turns out that Colin Renie (CIR Yamagata-ken, 2007-10) has been running a volunteer project that has enabled many JETs to volunteer in Tohoku with particular emphasis on Minamisanriku as well as other areas of Miyagi and Iwate.  Lots of good info, photos and updates on the project's Facebook page:  https://www.facebook.com/mudproject
**********
What else is missing from this list?
Please post to the comments section or e-mail jetwit [at] jetwit.com with more info.
Yoroshiku!
***************
This editorial in support of the JET Programme by Hitoshi Tanaka appeared originally in Japanese in The Mainichi Daily News.  Thanks to Jim Gannon (Ehime-ken, 1992-94), Executive Director of the Japan Center for International Exchange (JCIE/USA), for sharing the article.  And special thanks to Laura Kamutaka (CIR Miyagi-ken, Shiogama-shi, 2005-07) for translating it into English.
http://www.jri.co.jp/MediaLibrary/file/report/tanaka/pdf/5570.pdf
Tanaka Hitoshi, Chairman, Institute for International Strategy, Japan Research Institute
The Tohoku earthquake swallowed many lives and left many missing.  The unimaginable hardship of the disaster victims weighs heavily on our hearts, and many of us have a strong desire to help with this tragic situation. People who want to take action beyond making a charitable donation.  People who want to work together with the disaster victims in any capacity, no matter how small the achievement. Some of those around me set up a nonprofit called Hope for Tomorrow to assist high school students affected by the earthquake, of which I've become a representative.
"Hope for Tomorrow" is designed to not only assist the students advancement but to help develop their language skills as well.  There's a reason for this. One of the tsunami victims was Taylor Anderson, an Assistant Language Teacher in Ishinomaki City of Miyagi Prefecture who taught English at both elementary and junior high schools.  After the earthquake, the 24-year-old Virginia, US native worked to ensure her students' safety and, in doing so, lost her life.  In honor of her memory, Anderson's parents have been collecting US donations with the intention of sending them to Japan to help restore school in Ishinomaki.
Anderson was in Japan through the JET Program, a Japanese government program that invites international youth to help Japanese students with foreign language instruction.  After 24 years of existence, the program currently boasts over 4,000 participants from 36 countries, with over half coming from the United States.  Most participants stay in Japan from two to three years, teach elementary to high school-level Japanese students, and maintain a strong bond with Japan even after returning to their home countries.
Ten years ago when I served as the Consulate General in San Francisco, I spoke with both JET participants who were about to leave for Japan and those that had recently returned.  I remember those that returned all spoke passionately of their experiences and had great affection for Japan.
Even the JET participants' response to the earthquake is remarkable.  The JET Alumni Association has chapters across the country working to fundraise for relief efforts.  There are those such as Stuart Harris, a JET participant in Iwate prefecture in 1989 who assembled a team of doctors right after the earthquake to provide relief to Japan.  JET participants currently in Japan have also collected donations and vigorously volunteered to the relief effort.
Of course, it isn't only the JET participants that have shown compassion towards Japan.  A friend of mine who married an American found a network of people on Facebook, leading them to New York's Union Square to collect donations less than a week after the earthquake.  Passersby would donate cash and in no time more than $10,000 had been raised.  We need to protect these precious bonds that transcend national lines.
Unfortunately, this kind of grassroots exchange has been decreasing each year.  The number of JET participants has gone from 6,000 participants 10 years ago to 4,000.  The Democratic Party of Japan has included the JET program in its budget cuts.  From a financial standpoint alone, it seems counterintuitive to shrink a program that yields such positive results.
It is easy to see the Japan-US ties mainly through the relationship between the two governments.  But that's not true.  Grassroots exchange is what sustains the important bond between the two countries and is something we must never forget.
We may need a team of professional-level translators to help with an upcoming JET alumni project related to disaster relief efforts in Japan.  Timing would likely be late September and October.
If interested, please e-mail Steven at jetwit [at] jetwit.com with "Translator" in the subject heading.  No commitment necessary right now.
Reminder:  You can also click here to join the JET Alumni Translators & Interpreters LinkedIn group.
Background:
Apologies for lack of detail at this point as the project idea is still in the process of being thought through by a couple JET alumni well-placed to set this up.
But the idea, generally speaking, relates to the fact that Japan's non-profit/civil society sector and culture tends to be less established compared to that of the U.S.  In the wake of the Tohoku earthquake/tsunami, many new Japanese organizations have formed and many existing small ones have taken on new roles and responsibilities.
One area they apparently tend to lack is familiarity with grant seeking and applying for grants.  There are a number of U.S. foundations and other organizations that have been raising money but have struggled in trying to figure out how to get it to the organizations that could really use it.  Part of the obstacle appears to be the grant making process.  Grant making organizations tend to need to track and account for how money is doled out and used.  And the application and reporting process are key.
Translation of many of these documents into English would of course be a key step for helping U.S. organizations in their efforts to communication with Japanese grant seekers.  And this is of course a potentially significant way for the JET alumni community to continue to serve as a bridge to Japan.
Please contact Steven at jetwit [at] jetwit.com if potentially interested in helping.
Yoroshiku!
If you've been looking for good sources of on the ground reporting in Tohoku, you may appreciate the writing of Japan Society of Boston President Peter Grilli who just returned from three weeks in Tohoku.  After March 11, JSB teamed up with The Boston Foundation and the Fish Family Foundation to create the Japan Disaster Relief Fund Boston.
Below are two reports by Peter for JSB as well as two for JDRFB.
I saw the below press release from the Japan Society in New York just before attending the Japan Foundation and JCIE/USA gathering aimed at helping Japanese NPOs and U.S. organizations better collaborate and share information for disaster relief support.  Listening to the discussion helped me appreciate even more the tremendous effort that the Japan Society in New York–not traditionally a grant-making organization–has made and continues to make in providing disaster relief support.  The list of grantees also gives some sense of the key needs in Japan right now.

Via Shannon Jowett, Director of Communications for Japan Society in New York.
"In the second round of funding relief and recovery efforts in Japan, Japan Society is supporting NPOs and NGOs focusing on healthcare, mental health and children's needs among others. Please find full details below, and let me know if you would like further information. I look forward to hearing from you."

–Shannon
For Immediate Release
Japan Society Focuses on Healthcare, Children's Needs in 2nd Round of Allocations from the Japan Earthquake Relief Fund
New York, NY – Japan Society announced six organizations working in relief and recovery in Japan to receive $2.1 million in the second round of funding from the Society's Japan Earthquake Relief Fund (JERF).
The organizations–AFS Intercultural Programs Japan, Care Center Yawaragi, Japanese Medical Society of America, Japan Primary Care Association, Supporting Union for Practical-Use of Educational Resources, and the Tokyo Volunteer Network for Disaster Relief–will receive grants to strengthen their relief and recovery efforts in the aftermath of the earthquake and tsunamis that struck northeastern Japan on March 11, 2011.
"As we announced earlier, Japan Society has made it a priority to support NGOs and other organizations that focus on healthcare, including mental health services, as well as the needs of children," Japan Society President Motoatsu Sakurai said.  "After intensive research and lengthy discussions, we are pleased to announce our support of these six organizations."
In addition to providing healthcare for the most in need—including the elderly, ill, disabled and pregnant—programs and services range from long-term support for local physicians to creating mental health clinics, serving those suffering from post-traumatic or pre-existing conditions. Additionally, organizations are setting up summer camp programs for children from Fukushima Prefecture. The six organizations to receive funds are as follows:
AFS Intercultural Programs Japan is a non-profit international exchange organization for students and adults. AFS Japan provides a wide range of programming, including summer camp programs, and school-based exchange and shorter summer programs for high school students. With support from JERF, AFS Japan will provide scholarships for students from the Tohoku region for long-term exchange programs to the United States.
Care Center Yawaragi is a non-profit organization in Tokyo that offers personalized home care services for the elderly, including group homes, short-stay services, day services, and home help services. In response to the March 11 disaster and with support from JERF, the organization will provide healthcare kits, including bicycles, ponchos, gloves, masks, and antiseptic, among other essentials necessary for healthcare providers in the region who care for the elderly, ill, disabled or pregnant. The healthcare workers will focus on those outside of the shelters who lack mobility or means and require home care.
Japanese Medical Society of America (JMSA) is a professional medical association of Japanese speaking doctors in New York.  In partnership with the Fukushima Prefectural University Medical Center, it supports the Medical Center's "Kokoro no Care" program, a project to create community-based multidisciplinary mental health clinics. These clinics will provide mental healthcare to patients with symptoms resulting from the March 11 disaster, as well as those with pre-existing conditions.
Japan Primary Care Association is a professional society of medical practitioners, researchers and students that promotes best practices in the medical and health and welfare fields.  In response to the Tohoku earthquake, the Japan Primary Care Association established the Primary Care for All Team (PCAT) to undertake medical relief work in the region. JERF supports PCAT teams–multidisciplinary healthcare teams headed by doctors–who provide medical care to evacuees in shelters and temporary housing, and to those in need in their homes.  The healthcare teams also provide long-term support for local physicians in the region to ensure that patients have access to continued primary care, including a specialized team in obstetrics.
Supporting Union for Practical-Use of Educational Resources, in partnership with Abukuma NS Net, both of which run summer camps for children all over Japan, started the Fukushima Kids Summer Camp for first through ninth graders from Fukushima Prefecture who cannot enjoy the outdoors this summer due to radiation concerns. With support from JERF, an additional 200 students will participate in the Fukushima Kids Summer Camp in Hokkaido.  The Supporting Union for Practical-Use of Educational Resources provided summer camp opportunities to children after the Hanshin Awaji and the Chuetsu earthquakes.
Additionally, Japan Society extended another round of funding to the Tokyo Volunteer Network for Disaster Relief, which is collecting and distributing emergency relief goods, setting up a base in Tome, Miyagi Prefecture, and is coordinating the work of approximately 3,000 volunteers who distribute emergency relief supplies and aid clean-up efforts.
The Japan Earthquake Relief Fund, launched on March 12, 2011, has received over $10 million from over 21,000 donors, including individuals, corporations and foundations. One hundred percent of the tax-deductible contributions to the Relief Fund go to organizations that directly help victims.
On March 30, Japan Society announced its first round of funding of $1 million to four Japanese nonprofit organizations on the front line of relief and recovery. In addition to the Tokyo Volunteer Network for Disaster Relief, they are JEN, Entrepreneurial Training for Innovative Communities (ETIC), and the Japan NPO Center.
"We have been rigorously monitoring the work of the fund recipients from the first round, and we are pleased with the progress these organizations are making," Mr. Sakurai said. Updates from the Relief Fund recipients can be found on the Society's website, www.japansociety.org/earthquake.
Japan Society Vice President of External Relations Daniel Rosenblum said the Society continues to explore opportunities to fund the work of organizations that benefit children affected by the March 11 disaster, as well as organizations involved in long-term reconstruction efforts.
"We are working on the selection process for a third round of funding and will be making an announcement sometime in the fall," he said.
The recovery and reconstruction process is likely to take five or even ten years, Mr. Sakurai said. "We are looking at a long-term process, and there is much uncertainty. But we are confident in the final analysis Japan will recover and thrive," he said.
Those wishing to donate to the fund can go to www.japansociety.org/earthquake or mail a check to Japan Society, 333 East 47th Street, New York, New York 10017; Attn: Japan Earthquake Relief Fund. Checks should be made payable to "Japan Society" and indicate "Japan Earthquake Relief Fund" on the memo line of the check. For additional information, email japanrelief@japansociety.org.
In a previous announcement, Japan Society pledged half of all admission sales made March 14 through June 30, 2011 (totaling $50,000) to the fund. In addition, the Society organized the April 9 CONCERT FOR JAPAN, which drew 2,400 visitors, was viewed by over 200,000 people live on Ustream, and raised over $88,000 for the fund.
Japan Society is an American nonprofit committed to deepening mutual understanding between the United States and Japan in a global context. Now in its second century, the Society serves audiences across the United States and abroad through innovative programs in arts and culture, public policy, business, language, and education. For more information, visit www.japansociety.org or call 212-832-1155
#  #  #
_____
Shannon Jowett, Director of Communications
(p) 212-715-1205  (f) 212-715-1262  (e)  sjowett@japansociety.org
Japan Society | 333 E. 47th St. | New York, NY  10017 | www.japansociety.org
Donate Japan Earthquake Relief Fund
View Japan Society's full Calendar of Events
Join Japan Society on Facebook
Follow Japan Society on Twitter
Visit About Japan: A Teacher's Resource
Thanks to Andy Anderson (father of Taylor Anderson) for sharing a link to the photos (below) of JETs and others volunteering with the British Chamber of Commerce in Japan's (BCCJ) efforts in Ishinomaki, where Taylor served as a JET.
Photos aren't tagged, but two of the JETs pictured are Jane Suh and Kat Sheu in photos 69, 70 and 72.  Also apparently the people in photo #40 are JETs.
https://www.facebook.com/media/set/?set=a.255169677832666.81687.200831479933153&type=1
Here's text accompanying the photos from the BCCJ:
"From July 15-18 we travelled back to Ishinomaki, this time to support Peaceboat's recovery activities as well as follow up with key contacts we met in June. We also had the opportunity to meet a politician from Miyagi Prefecture and the Japanese Ambassador to the USA."

"Standing as a complement to larger relief and recovery organisations, the BCCJ will continue to work with the people of Tohoku to build an ever-expanding open network of supporters that will allow us to boost the rejuvenation of north eastern Japan."
Via the JETAA Sydney Facebook group:
"Sydney JETAA members and friends have raised $650 at our trivia night at the Parkview Hotel – all to be donated to the Japan Red Cross tsunami appeal. Thanks to all for a great night!"
******************
Thanks to Mike Shu, JETAA USA Country Representative and JETAA Northern California member, for forwarding this great article from the Nichi Bei online magazine titled "Helping Northern Japan Recover:  A community effort raises $3.5 million for disaster-hit areas" about the Japan Cultural and Community Center of Northern California (JCCNC) and its fund raising efforts which have generated $3.5 million for disaster relief in Japan.
It's worth noting that JETAA Northern California members were involved with the JCCNC's fund-raising efforts as volunteers and that a JET alum is actually on their fund staff.  Additionally, the article includes quotes from a JET–Miyagi CIR Takeno (Chiyo) Suzuki.
Here's the link to the article:  http://www.nichibei.org/2011/07/helping-northern-japan-recover-a-community-effort-raises-3-5-million-for-disaster-hit-regions/
I had the privilege yesterday of being invited by Jim Gannon (Ehime-ken, 1992-94), Executive Director of the Japan Center for International Exchange (JCIE/USA), to attend a unique information and idea exchange titled "Funding Meeting:  US-Japan Cooperation on Supporting the Japan Disaster Response."
The gathering, organized by JCIE/USA and the Japan Foundation Center for Global Partnership (New York), was held in a meeting room at the Institute of International Education in Midtown Manhattan, consisted of representatives from about  40 to 50 organizations involved in raising funds to support relief efforts for Japan.
It began with presentations from key representatives from Japanese civil society–Yoshifumi Tajiri of the Japan NPO Center and Japan Civil Network for Disaster Relief in East Japan (JCN), Yoichiro Abe of the Central Community Chest of Japan (CCCJ) and the Joint Committee for Coordinating and Supporting Voluntary Disaster Relief Activities, Tae Namba of the Association of Medical Doctors of Asia (AMDA) and Tomoko Wakabayashi of the Association for Corporate Support of the Arts (Japan).
Two discussion panels followed.  The first was titled "Challenges and Concerns of US Funders and Partners."  Moderated by Jim Gannon, it included presentations by Irene Hirano, President of the US-Japan Council, Betty Borden, Director of Policy Projects for Japan Society (NY), Scott Sugiura of Give2Asia and Mari Kuraishi of GlobalGiving Foundation.  The second panel was titled "Strengthening US-Japan Collaboration for Recovery" and was moderated by Japan Society of Boston President Peter Grilli with presentations by Noboru Hayase of Osaka Volunteer Action Center and Jim Gannon of JCIE/USA.  Many others participated in the subsequent discussions and exchange of information and ideas.
Key Takeaways:
A couple key takeaways from a JET Alumni perspective were:
1.  Figuring out effective ways to support the relief efforts in Japan is tricky stuff. It's not a straightforward task to simply provide grants and financial support.  Among other reasons, Japan apparently does not have as strong or established of a "civil society" as we're used to having in the U.S.  i.e., There is not a large non-profit sector.  And there is not as much organizational experience seeking and applying for and reporting on grants and donations.  To paraphrase one attendee, no one was knocking on their door seeking grants in the way people did following disasters in Haiti and elsewhere.
Language and cultural barriers were also cited.  As was the fact that for many small NPOs and other organizations that have stepped in to do good work, they don't have the bandwidth to focus on grant seeking and reporting requirements. Or if they do, it comes at the detriment of doing the work that needs to be done.
The other major challenge cited was the expansive geographic scale of the disaster.
Additionally, several attendees commented that one of the areas where significant assistance is needed (among many needs) is mental health.  Depression and suicide rates are high in the affected region, particularly among working age males trying to support their families in a dire employment environment.  (Read this letter from Japan Society of Boston President Peter Grilli, who recently traveled to Japan, for additional information and perspective.)
2.  Progress is being made. For all the challenges, it sounds like organizations were figuring things out and gaining experience as they moved forward, and there was a lot of discussion about information sharing and providing additional forms of support in ways that would aide the process.
3.  JET Alumni are involved in a variety of ways. There were five other JET alumni in attendance, including Jim Gannon, Paige Cottingham-Streater (Japan-US Friendship Commission), Renay Loper (Japan Foundation Center for Global Partnership), Bhaird Campbell (Japan Society of Boston), Jonathan Schwab (Japanese Chamber of Commerce and Industry of New York) and Jennifer Quiambao (Asian Cultural Council).  Additionally, a several other attendees said that they had JET alumni working in their offices when I mentioned my connection with the JET Alumni Association.
Thanks again to Jim for giving me, and in essence the JET Alumni Association in the U.S., a seat at this very significant table.  And a reminder that the relief and rebuilding effort continues and that, as with our JET experience, patience and persistence yields great growth over time.
Posted by Dipika Soni (Ishikawa-ken, 2003-06). Dipika has recently moved back to London as is currently looking for new work opportunities related to Japan, writing and translation.
——————————————————————————————————————————–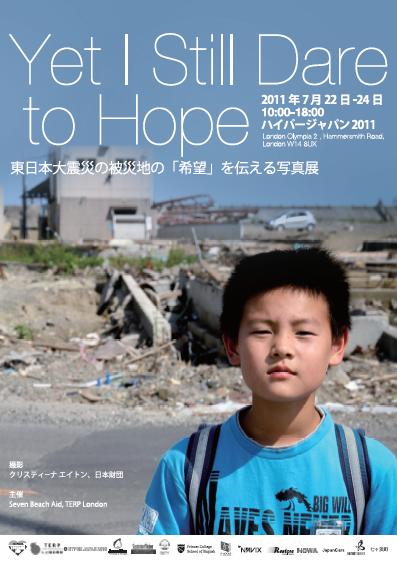 Over four months have passed since the The Great East Japan Earthquake and coverage of the relief efforts is rarely featured in the news here in the UK. However, as we know the recovery process is far from over. Raising awareness is vital to encourage the continuing support and help for those in the affected region.
Angus Miyaji, founder of the charity Seven Beach Aid, has worked with photographer Christina Aiton to bring a charity photo exhibition titled 'Yet I Still Dare to Hope' to Hyper Japan 2011. The exhibition explores hope and rebuilding in the wake of the Japan earthquake.
"This exhibition offers a unique insight into the lives of 14 normal people from a small Japanese town, offering a chance for people living in the UK to get to know these people who were living a modest life until their lives were turned upside down. This exhibit is not about sorrow, but about hope. It's about rebuilding. It's about the future."
Angus Miyaji – Seven Beach Aid
Alongside the sushi, cool gizmos and crazy cosplay outfits, visitors to this year's Hyper Japan event will be able to see and respond to the stories of ordinary Japanese families from the tsunami-affected town of Shichigahama, through an intimate collection of photographs taken by local resident Christina Aiton.
Yet I Still Dare to Hope explores how 14 families in the northeastern Japanese town of Shichigahama, one of the areas hit hardest by the March 11 tsunami, are rebuilding their lives after the destruction.
Visitors will be able to leave messages of support that will be shared directly with the townspeople, encouraging those that have been directly affected and letting them know that they are not alone in the face of such a difficult time. There will also be able opportunity to donate and purchase charity goods for the benefit of residents of Shichigahama and Miyagi Prefecture.
Yet I Still Dare To Hope uses still photography accompanied by narratives from each survivor and features items from the disaster-hit area in order to convey the terrifying truth of humankind's fragile existence, while exploring the subject of hope as the community begins the process of rebuilding their lives from the tragedy.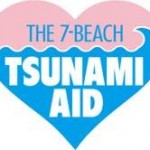 The exhibition has been organised by disaster relief organisations:
Tohoku Earthquake Relief Project London
(http://terp-london.co.uk/)
Seven Beach Aid
(http://sevenbeachaid.org/en-GB/)
Donations:
We are so thankful for all the generous support we are receiving towards this Photo Exhibition. The exhibition is entirely funded by donations. The expenses for the exhibition include the cost of printing photos & mounting, renting exhibition supplies, printing promotional leaflets, posters & booklets, postage of having items from the Japan sent to the UK etc). We are a couple hundred pounds away from our target and would appreciate any financial contribution if you would like to support us!
For individuals (credit / debit card, paypal)
https://www.paypal.com/cgi-bin/webscr?cmd=_s-xclick&hosted_button_id=SLHLVZWQM75BE
Company Sponsors (credit / debit card, paypal)
https://www.paypal.com/cgi-bin/webscr?cmd=_s-xclick&hosted_button_id=9M6ATGB3EXENJ

For more details about visiting the exhibition at Hyper Japan 2011:
http://www.hyperjapan.co.uk/

JETAA Trivia and Fundraiser for Japan
Come along this Saturday night to the 2011 JETAA trivia night. Bring you friends, meet new people and test your knowledge of all things Japanese and Australian as you compete for a range of great prizes.
This year's trivia night will be an extra special event, with all proceeds raised on the night being donated to the Red Cross (Japan) Tohoku Earthquake and Tsunami Appeal.
Time: 6:30pm, Saturday 23 July
(Questions commence at 7pm sharp so arrive by 6:30pm to get your team organised!)
Place: Parkview Hotel, 178-180 Mitchell Road, Alexandria
(The closest station is Erskineville, and there is lots of parking near the venue)
Entry: $20 per person (Includes catering and you can purchase drinks at the bar)
Please RSVP by Thursday via the Sydney JETAA Facebook group or email sydney@jetalumni.org so we can confirm numbers for catering.

Thanks to Matt Gillam of CLAIR NY for forwarding this on.
Apparently two Shiga JETs covered the two kilometers between Moriyama and Otsu in a little over an hour to raise approximately300,000 yen. Based on the katakana, I believe their names are Dusty Wittman and Roxy Borowska. (Thanks to Katie Jardine for the name correction!)
2011年7月16日21時46分
ペットボトル船で琵琶湖横断 震災孤児への募金呼びかけ
東日本大震災で親を失った震災孤児への募金を呼びかけようと、滋賀県内の高校に勤務する外国語指導助手(ALT)の2人が16日、ペットボトル815本を使った長さ約2メートルのボートで琵琶湖を横断した。
挑戦したのは米国出身のダスティ・ウイットマンさん(30)と英国出身のロキシィ・ボロウスカさん(26)。守山市から対岸の大津市まで約2キロを 1時間 余りで横断した。米国では募金を求める「本気度」をパフォーマンスで示すことが多いといい、ALTの仲間や高校生らとペットボトルを集めて準備。2人は 「大好きな日本の子どものため、思いを行動で示したかった」と話す。
2人は3日から募金サイト(http://ilovenihon.com/)などで義援金を募り、国内外から約30万円が寄せられているという。ボロウスカさんは「地元の人も一緒に盛り上げてくれてうれしかった。今後も支援を訴えていきたい」と話す。