Jan
10

Career, JETAA Chapters, Jobs

Comments Off

on 1/29/23 Japanese Job Fair (GLJETAA)
January 29 (Sun), 2023, 9:00 a.m. – 12:00 p.m. Eastern Time, at Suburban Showplace in Novi, Michigan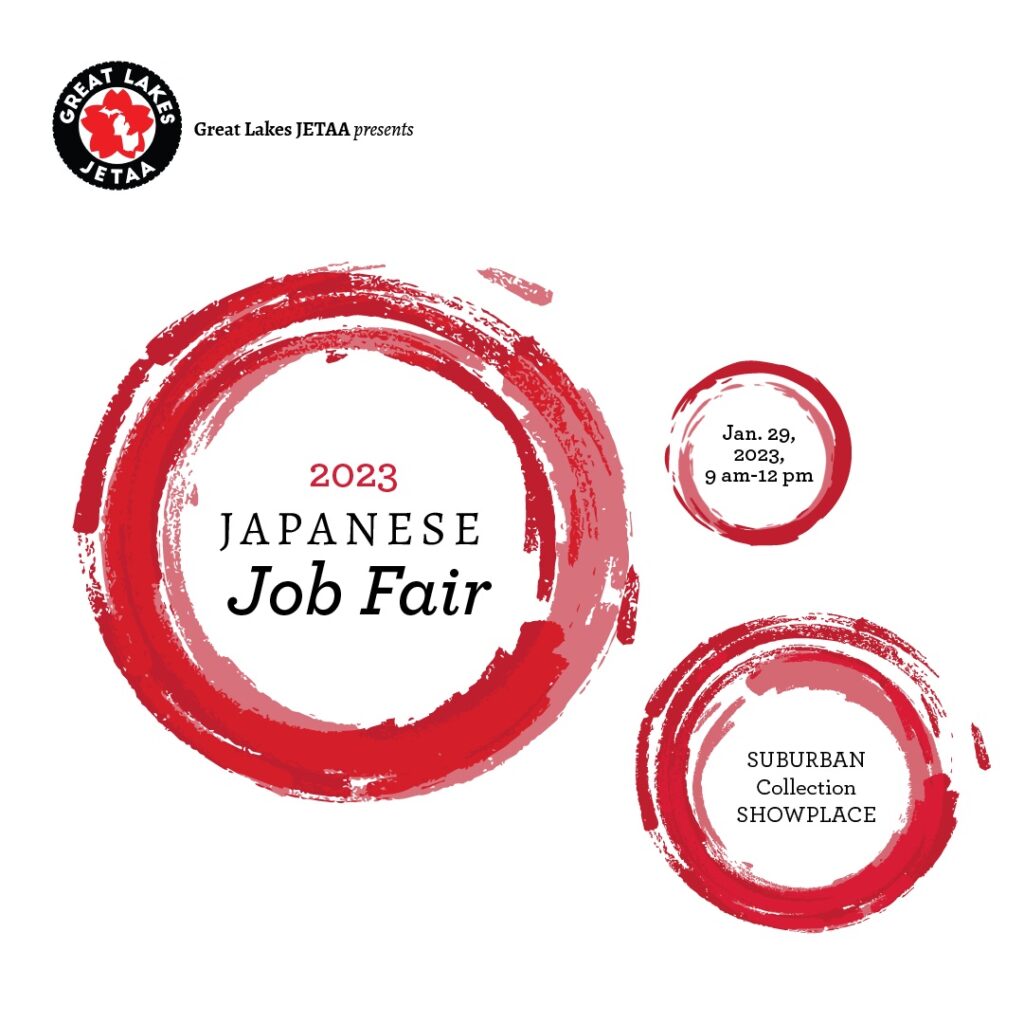 Register here to attend the Great Lakes JETAA Job Fair.
This job fair is for candidates interested or curious about working in the U.S. at Japanese companies, using the Japanese language in their career, or working in Japan-related fields.
Job seekers will have the opportunity to meet with participating companies, submit their resumes, and network. Please dress in business formal attire.
GLJETAA may use photographs from this event for promotional purposes.
For tips on writing a Japan-focused resume, watch our resume-writing video here.
There is no charge to attend this event, and free parking is available for attendees. We will update this page with participating companies as the information becomes available (please contact us if you are interested in sending HR personnel – limited spaces are available). 
Keynote Speaker: Anne Hooghart
Anne M. Hooghart, Ph.D., was an Assistant Language Teacher in Shiga prefecture from 1989-90. Dr. Hooghart has been learning and teaching about Japanese language and culture for over 30 years—as an exchange student, JET Program English teacher, B.A./M.A. student (University of Michigan), doctoral student (Michigan State University), K-12 teacher, college professor, business consultant, translator, community volunteer, and parent of bilingual children. Her current roles include Senior Public Relations Specialist at Education, Culture, and Public Relations section of the Consulate General of Japan in Detroit, online instructor of Japanese at Mott Community College, and Educational Research Coordinator at the Hinoki Foundation.
Anne Hooghart will be available after her speech to review resumes and offer advice.
Companies
Companies in attendance will include: Honda Kaihatsu Americas, Inc., Activ8, Hirotec America, Ikigai Connections, and more (this list will be updated on the GLJETAA website with more companies as we confirm details). 
In addition, Great Lakes JETAA officers will be happy to give details about their experiences with the Japan Exchange and Teaching Program (JET Program).
This free event was made possible in part by HIROTEC AMERICA sponsorship, a grant from the Japan Business Society of Detroit Foundation and the Japan Local Government Center.