Dec
30

Translating/Interpreting, Uncategorized, WIT Life, Writers

Comments Off

on WIT Life #368: 今年の漢字
Professional Writer/Interpreter/Translator Stacy Smith (Kumamoto-ken CIR, 2000-03) presents WIT Life, a periodic series about aspects of Japanese culture such as film, food and language. Stacy starts her day by watching Fujisankei's newscast in Japanese, and here she offers some interesting tidbits and trends along with her own observations.
2022's Kanji of the Year was announced earlier this month as 戦 (sen/ikusa), which means fight or battle. It is part of 戦争 (sensou or war) and both 戦う and 戦い (tatakau/tatakai, meaning to fight/a fight). 戦 won with 10804 or almost 5% of the votes, followed by the close second of 安 (an/yasu, meaning secure/cheap) which came in at 10616 votes. Lagging behind in third with 7999 votes was 楽 (raku, meaning easy or relaxed) or fun when it is used in 楽しい (tanoshii). Fun piece of trivia: this is the second time 戦 was chosen as Kanji of the Year, following its selection in 2001 after 9/11 shifted the world into fighting mode.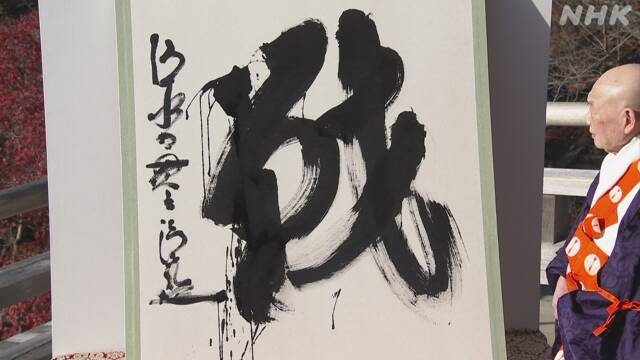 One of the reasons for 戦's selection was this year's invasion of Ukraine by Russia and North Korea's repeated missile launches. Other fights were of the non-military kind, such as how Japanese struggled to maintain their livelihoods amongst the weakening yen, rising prices, energy shortages and ever-present Covid.
There was also a sports angle, as some voters picked 戦 to commemorate the outstanding efforts of Japanese athletes. Most striking was their World Cup soccer team who surprisingly defeated Germany, Spain and other tough opponents to make it to the Round of 16. In addition, Japanese sports stars had a strong showing at the Beijing Winter Olympics, and in the baseball world Shohei Ohtani continued to rock MLB and Aki Sasaki became the youngest perfect game-pitcher in Japanese professional baseball history.
Speaking of baseball, this NYT article highlights Kodai Senga of the Fukuoka Hawks bringing his "ghost fork" pitch to the Mets. It had been speculated that he would join the San Diego Padres where fellow Japanese pitcher Yu Darvish is a starter, as they had trained together in the past. I for one am happy that he will be joining us on this coast in my home borough. では、良いお年を~。