Dec
1

Article/Journalism, Events, Film, JQ Magazine, Music

Comments Off

on JQ Magazine: Holiday Lanterns, 'Evangelion' Finale, 8-Bit Big Band
By JQ magazine editor Justin Tedaldi (CIR Kobe-shi, 2001-02). Justin has written about Japanese arts and entertainment for JETAA since 2005. For more of his articles, click here.
With Thanksgiving (and the hopes of sensible eating) now just a memory, we turn to colder weather, falling snow, and the new year to come. Fortunately for Japanese culture fans, December is just as busy as the holiday season itself. Whether you're hosting guests from out of town or looking to squeeze in an event or two in between parties, we've got you covered.
This month's highlights include:
Now through Jan. 8
Various locations
$12.00-$50.00
The annual Winter Lantern Festival is back to transform your neighborhood into an immersive world of light Journey to the East with friends and family at SIUH Community Park in Staten Island to explore the wonders of over 1,000 Chinese lanterns; all handmade by artisans. Queens County Farm welcomes visitors an unforgettable radiant oasis with friends and family as we Illuminate the Farm. Located at Nassau County Museum of Art in Long Island, Winter Lantern Festival's Drive Thru Adventure in Roslyn will dazzle your friends and family as you roll through acres of luminance! Finally, night the light this holiday season! The Winter Lantern Festival at Smithtown Historical Society in Suffolk County will feature lanterns and displays ranging from mushrooms and flowers to farm animals to dinosaurs; all handmade by artisans with decades of dedication to their craft. Be ready for photo-ops with friends and family as this will be an unforgettable experience!
Dec. 1-3, 7:30 p.m.
Kotei (The Emperor) | Makura Jido (Chrusanthemum Boy)
Japan Society, 333 East 47th Street
$95, $76 members (performance + soirée); $72, $58 members (performance only)
Prominent members from the Kita Noh School, including Akiyo Tomoeda, Living National Treasure designated by the Japanese government, perform two works from noh theater's classical repertoire: Kotei (The Emperor) on Dec. 1 and 3, and Makura Jido (Chrysanthemum Boy) on Dec. 2—two pieces meant to be a prayer to hasten the end of the pandemic and celebrate health and longevity. Set in the Tang Dynasty in China, Kotei tells the story of the deity Shoki, who rescues the ailing Empress Yang Guifei and pledges his allegiance to Emperor Xuanzong. Also set in China, Makura Jido is about a boy who has joyfully lived for 700 years by drinking an immortal elixir from the dew of a chrysanthemum leaf. The boy reveals that the dew has created a pool in the valley, which has become the headspring for medicinal water. Performed in Japanese with English supertitles. A ticketed soirée follows the Dec. 1 performance. An artist Q&A follows the Dec. 2 performance.
Dec. 2-11, various times
Yoshimitsu Morita Retrospective
Film at Lincoln Center, 70 Lincoln Center Plaza #4
$10-$65
Across a 30-plus-year career, Yoshimitsu Morita (1950–2011) amassed one of the most fascinatingly idiosyncratic and prolific bodies of work in modern Japanese cinema. From his irreverently comic 1981 Something Like It to his 1983 breakout black comedy, The Family Game (presented in an all-new 4K remaster), to forays into melodrama (And Then, 1985), the hard-boiled film (Deaths in Tokimeki, 1984), the pink film/roman porno (Top Stripper, 1982), horror (The Black House, 1999), and romantic drama (Haru, 1996), Morita's work is marked by an incomparable sensitivity to the peaks and valleys of the inner landscape of Japanese society, a penchant for subtle injections of surreality to highlight the absurdity of certain aspects of Japanese life, an omnipresent sense of irony, and a boldly iconoclastic approach to visual composition. Presented in Japanese with English subtitles. Select screenings feature an introduction by producer Kazuko Misawa and composer Michiru Oshima.
Dec. 6, 8, 11, various times
Evangelion: 3.0+1.0 Thrice Upon a Time
Various locations/prices
The highest-grossing Japanese film of 2021 makes its U.S. theatrical debut! From legendary director Hideaki Anno, Evangelion: 3.0+1.01 is the fourth and final installment of the Rebuild of Evangelion films, bringing an epic conclusion to the story of Shinji and his fellow Eva pilots, with the stunning visuals and thought-provoking storytelling that has made Evangelion a global pop culture phenomenon. Misato and her anti-NERV group Wille arrive at Paris, a city now red from core-ization. Crew from the flagship Wunder land on a containment tower. They only have 720 seconds to restore the city. When a horde of NERV Evas appear, Mari's improved Eva Unit 8 must intercept. Meanwhile, Shinji, Asuka, and Rei (Provisional Name) wander about Japan. Presented in Japanese with English subtitles.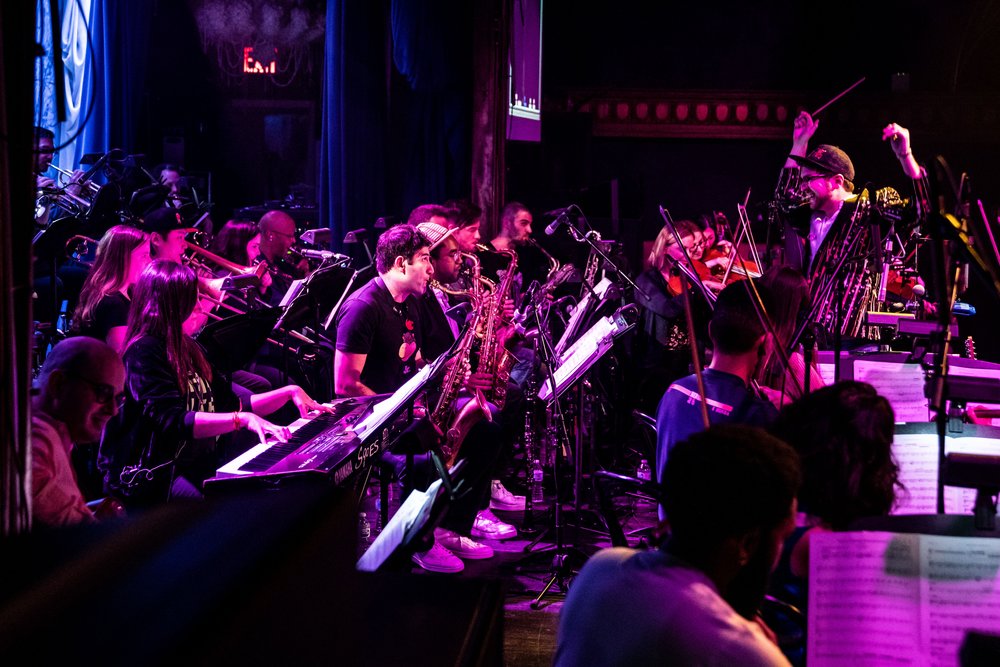 Friday, Dec. 9, 8:00 p.m.
The 8-Bit Big Band: 30+ Piece Video Game Jazz Orchestra
Town Hall, 123 West 43rd Street
$37-$92
The 8-Bit Big Band is a Grammy-winning, genre-bending jazz orchestra formed around the love of video games which the group has lovingly dubbed "The Great Video Game Songbook." They are a symphonic jazz orchestra of 30 of New York City's finest musicians re-arranging beloved music from the game soundtracks of the last 30 years into genre-fusing contemporary large ensemble music, drawing from some of the most beloved franchises of all time, such as Mario, Zelda, Sonic the Hedgehog, Metal Gear Solid, Final Fantasy, Tetris, Pokémon, and many more. The 8-Bit Big Band is dedicated to bringing large ensemble arranging into the presence of the internet and gaming era, while giving the music from these games the same reverential treatment in arranging, performance, and production that has gone hand in hand with the large symphonic studio jazz orchestras of the past century and beyond.
Dec. 9-10, various times
Love Letters: Four Films by Shunji Iwai
Japan Society, 333 East 47th Street
$15 general admission, $12 seniors/students, $10 members/persons with disability. Purchase tickets for all films in the same transaction and receive $2 off each ticket.
One of the most original talents to emerge from Japan in the '90s, director Shunji Iwai tapped into the dreams and lives of Japan's youth with his lyrical meditations on the hardships of young adulthood, capturing pivotal and unforgettable moments of life. Balancing popular entertainment (Love Letter) with arthouse predilection (April Story), Iwai's exhilarating takes on the youth film provided a much-needed voice for the younger generation, offering delicate portraits of adolescence, ripe with poetic yearnings of grief, friendship and young love. Iwai's sumptuous visual style coupled with his affecting and underground appeal opened a world of new possibilities in the '90s cinescape—marking him as one of the most accomplished and unique filmmakers of his generation. Featuring the U.S. premiere of newly remastered Fireworks, Should We See It from the Side or Bottom? and a rare 35mm presentation of the unmistakable masterpiece All About Lily Chou-Chou!
January 7-8, various times
Distant Worlds: music from FINAL FANTASY ~FINAL FANTASY 35th Anniversary Coral
Carnegie Hall, 881 Seventh Avenue
$49-$115
The producers of Distant Worlds: music from FINAL FANTASY present a concert curated by Nobuo Uematsu that celebrates the extensive Final Fantasy music catalogue. Conductor and Grammy Award winner Arnie Roth leads the venerable Distant Worlds Philharmonic Orchestra & Chorus of 100 musicians on stage with exclusive HD video direct from creators at Square Enix, joined by "Suteki da ne?" vocalist RIKKI (Final Fantasy X). Yoko Shimomura, composer of Final Fantasy XV, will be in attendance for these concerts. Can't make it to NYC? Additional 35th anniversary U.S. dates include Omaha (1/21), Nashville (1/25), St. Louis, (2/18), Orlando (3/10-11), and Phoenix (3/16).
For more JQ articles, click here.