May
12

Academic, Audio, Books, Interview/Profile, JETAA Podcast Beat

Comments Off

on JETAA-sphere Ep 15: Takaaki Hiratsuka on his new book about ALTs in the JET Program
**In Episode 15 of the JETAA-sphere podcast, we interview Professor Takaaki Hiratsuka, author of the new book Narrative inquiry into language teacher identity: ALTs in the JET program.
Click this link http://bit.ly/VBL-Register to register for the May 28 book launch event!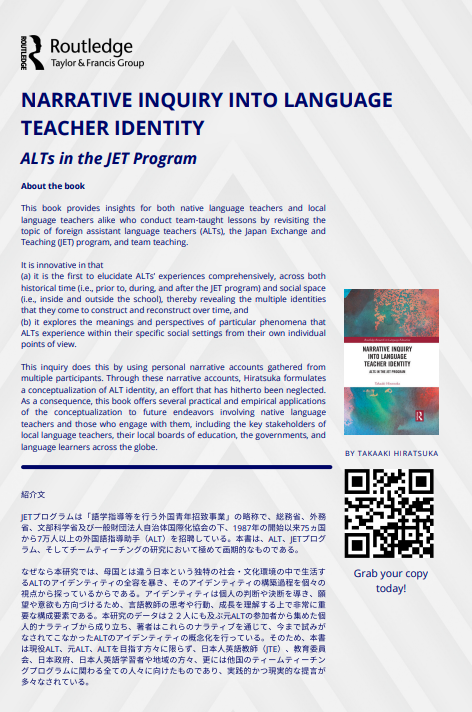 **Co-hosts: Steven Horowitz (Aichi, 1992-94) & Mark Frey (Kumamoto, 2002-2006)
**About Prof. Takaaki Hiratsuka:
List of Prof. Hiratsuka's writings and presentations
Bio: Takaaki Hiratsuka is an associate professor in the Department of Global Studies at Ryukoku University, in Kyoto where he teaches a range of applied linguistics courses and supervises master's and PhD students in related fields of language teacher education and narrative inquiry. He has a PhD in Language Teaching and Learning from the University of Auckland, New Zealand. And an avid futsal player.
**Other JET Alumni or Friends of JET mentioned in this episode:
****************************
Special thanks to USJETAA and CLAIR for their support for the JETAA-sphere!