Dec
31

Translating/Interpreting, Uncategorized, WIT Life

Comments Off

on WIT Life #360: 今年の漢字
Professional Writer/Interpreter/Translator Stacy Smith (Kumamoto-ken CIR, 2000-03) presents WIT Life, a periodic series about aspects of Japanese culture such as film, food and language. Stacy starts her day by watching Fujisankei's newscast in Japanese, and here she offers some interesting tidbits and trends along with her own observations.
As 2021 draws to a close, everyone is likely experiencing a variety of emotions in regard to the beginning of a new year. An article in the Washington Post surveyed more than 200 readers on the one word they would use to describe the past year. Their answers were as follows: "Relentless. Disappointing. Messy. Clarifying. Growth. Grief. Change. Survival. Fragile. Unexpected. Enlightening. Tumultuous. Transformational. Lonely."
Japan takes a similar pulse of its nation with the annual determining of the "Kanji of the Year." The single character selected is supposed to represent how the populace views the closing year, and for 2021 it was deemed to be 金 (kin, or money/gold). The winner beat out 輪 (rin, or circle/wheel) by only 118 votes.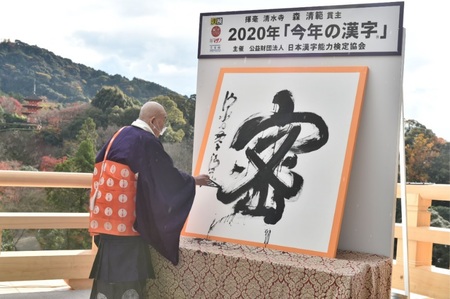 According to the Japan Kanji Aptitude Testing Association that administers the voting, kin was a fitting choice because the Tokyo summer Olympics were the venue for the Japanese Olympic team's best results ever (including 27 gold medals). The association also noted that kin begins the word 金字塔 (kinjito, or monumental achievement), pointing to the success of MLB's American League MVP Shohei Ohtani as well as professional shogi player Sota Fujii, who became the youngest four-crown titleholder in the game's history.
Incidentally, kin was picked as kanji of the year back in 2016, as well as 2012 and 2000. The association's contest has only been around since 1995, and in this short 27-year period kin has won almost 15% of the time. In each of these years, the selection was attributed to the success of Japanese athletes at the respective Rio, London and Sydney Olympics.
Let's hope that 2022 is just as shiny of a year for Japan as 2021 has been. 良いお年を!