Aug
10

Uncategorized

Comments Off

on The Japan Foundation, New York presents [EP10] Godzilla: A Pioneer of Global Pop Culture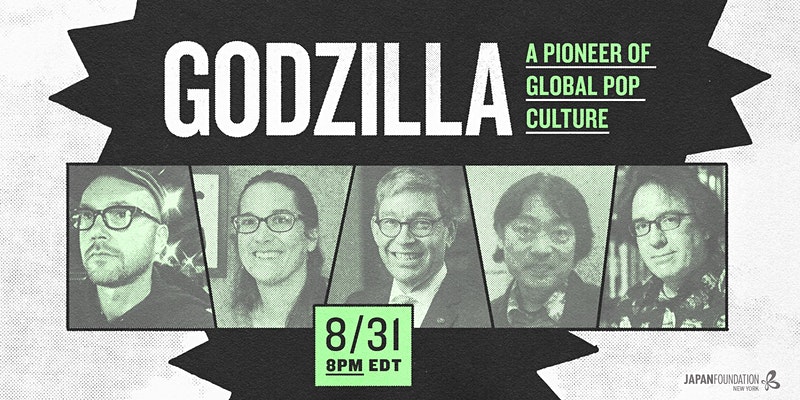 Date and time
Tue, August 31, 2021
8:00 PM – 10:00 PM EDT

About this event
For the tenth episode of our JFNY pop culture series, we will take a closer look at Godzilla, the worldwide pop culture icon, and the longest-running film franchise in world history!
Starting in 1954 with the Japanese release of Ishiro Honda's Gojira, the franchise has since released 36 films made in Japan and in Hollywood, with new titles still being made today. Godzilla sparked the Kaiju (monster) genre, and its fandom has reached all generations and has spread all over the world.
What were some of the cultural contexts in which Godzilla was created? What does Godzilla mean to Japanese people? How was it exported to the world, and what led Godzilla to become the "King of Monsters?"
Come join our panel discussion with five Godzilla experts from both the U.S. and Japan: Bill Tsutsui, Takayuki Tatsumi, Norman England, Meghan Mettler and Steve Ryfle as they explore the history of Godzilla and discuss its universal appeal.
Poll:
★ What is your favorite title from Godzilla series? ★
Please let us know what your favorite title is on the Eventbrite page when you register! We will announce the results of the poll during the event, and discuss it with the panelists.
Q&A:
The discussion will be followed by a live Q&A. Along with answering the poll, now is your chance to ask the experts your questions about Godzilla! Please ask your question when you register. Live commentary will also be enabled on the YouTube stream, so you can participate in the Q&A session live as well.
This is a FREE event. Registrants will receive the link to the stream via email.
We look forward to seeing you there!
Registration Link: https://www.eventbrite.com/e/ep10-godzilla-a-pioneer-of-global-pop-culture-tickets-163917051313
Twitter: https://twitter.com/JF_NewYork/status/1420398650702843904?s=20