May
20

Uncategorized

Comments Off

on [EP8] Exporting Studio Ghibli: The Road to Worldwide Recognition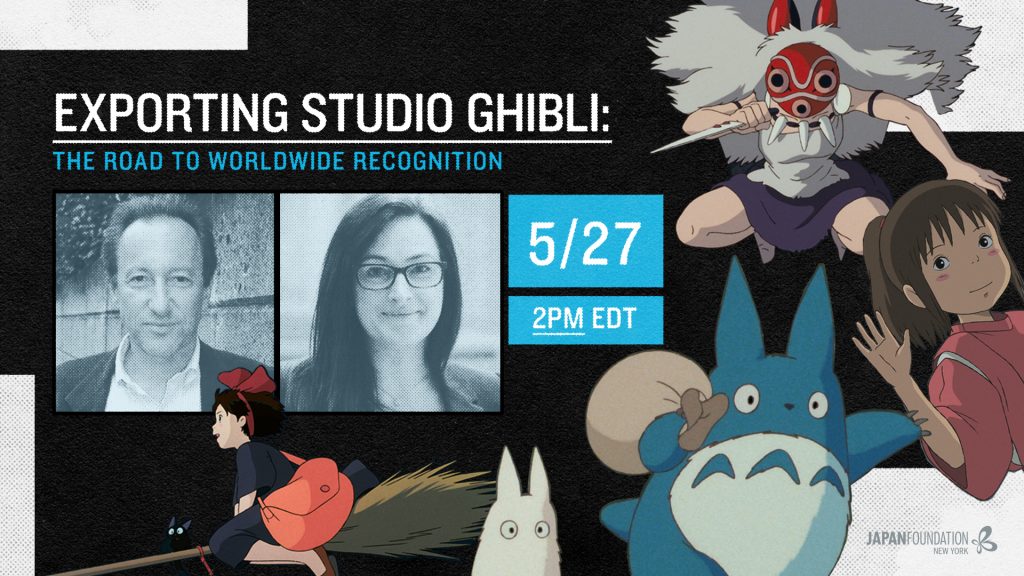 Please join The Japan Foundation, New York for a talk with Steve Alpert, former head of Studio Ghibli's international division about introducing Studio Ghibli to the world!
About this event
Studio Ghibli and Hayao Miyazaki can now be considered household names around the world, but it wasn't always that way. In the early days of global distribution with 1997's Princess Mononoke, major companies like Disney and Miramax were reluctant to take risks on a then-largely unknown animation studio. Various dramas took place between the unbending integrity of Miyazaki and those companies while deciding how to "westernize" the very Japanese style of Ghibli works.
For the second episode of our special "Studio Ghibli series," we will take a closer look at the early days of Ghibli's global distribution which were crucial to setting the tone for many subsequent releases of Miyazaki's works. This event will be moderated by Dr. Rayna Denison who will also be giving us a short presentation about Studio Ghibli's marketing strategies, and will also be joined by Mr. Steve Alpert who was the "resident foreigner" in the offices of Ghibli and its parent company Tokuma Shoten as the head of the international division for 15 years.
Mr. Alpert joined Studio Ghibli in 1996, one year prior to the release of Princess Mononoke in Japan and played a central role when Miyazaki's films were starting to take off in international markets. His main role was to sell the international rights to the studio's films and products, but also served as an intermediate between Miyazaki and distributors, helping to protect Ghibli's works at the front line in the process of localization. In practice, he was also closely involved with everything from public relations to the translation of the films into English. He even helped as a voice actor and character reference for the louche spy Castorp in The Wind Rises!
In this session, Mr. Alpert and Dr. Denison will discuss how Studio Ghibli created its current international presence and share some of the behind the scenes at Studio Ghibli as described in Mr. Alpert's book, Sharing a House with the Never-Ending Man.
The discussion will be followed by a live Q&A. If you have any questions about the localization of Studio Ghibli's works, and the inner workings of the studio, now is your chance to ask the experts! Please ask your question when you register for the event via Eventbrite. Live commentary will also be enabled on the YouTube stream, so you can participate in the Q&A session on-air as well.
This is a FREE event. Registrants will receive the link to the stream via email.
We look forward to seeing you there!
Eventbrite Registration Link: https://www.eventbrite.com/e/ep8-exporting-studio-ghibli-the-road-to-worldwide-recognition-registration-152406713583