Mar
18

Uncategorized

Comments Off

on JFNY Online Pop-Culture Event Episode #6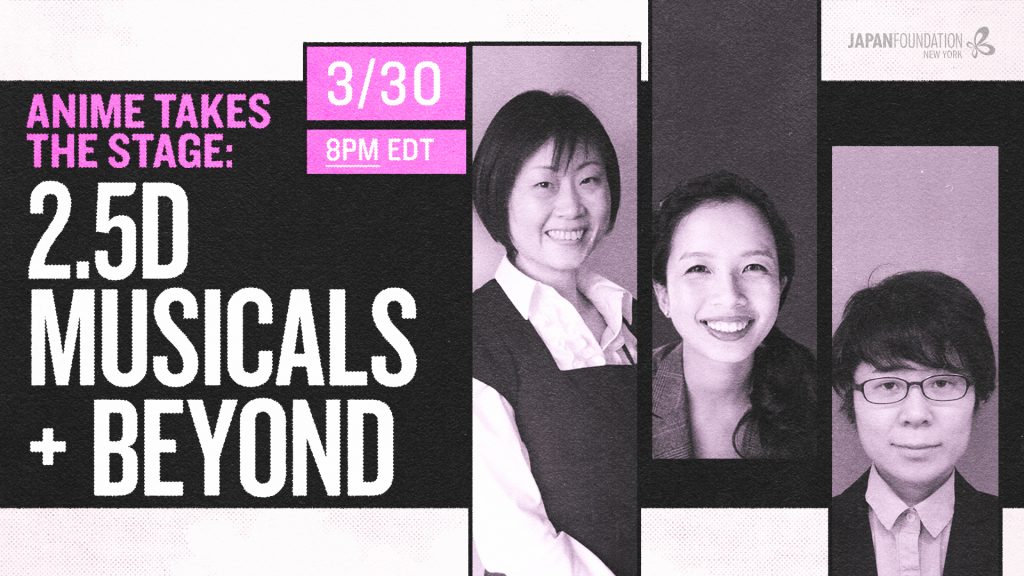 Anime Takes the Stage: 2.5D Musicals + Beyond
Tuesday, March 30th, 8 PM EDT
About this Event 
What is a 2.5-Dimensional (2.5D) musical?
It is a stage adaptation from two-dimensional media such as anime, manga and video games. This new genre of Japanese pop culture has gained remarkable popularity in Japan since the debut of Musical: The Prince of Tennis in 2003.
2.5D culture attempts to recreate the fictional world (2D) in the real world (3D) and is expanding and deepening in Japan. It has manifested itself in different forms such as cosplay, voice actors' concerts and V-tubers. As a part of the phenomenon, 2.5D musicals have brought anime, manga and video games to the stage and created a whole new cultural practice of theatrical performances.
Come join the panel discussion with Akiko Sugawa-Shimada, Zihui Amethy Lu, and Mayuko Fujiwara as they introduce the uniqueness of 2.5D musicals using examples such as The Prince of Tennis, Sailor Moon, Narutoand Touken Ranbu.They will be comparing it with other conventional musicals, history of Japanese theatre, as well as discussing where 2.5D musicals fit in the larger scheme of the 2.5D culture and why they are expanding.
The discussion will be followed by a live Q&A. If you have any questions about the adaptation of anime and manga to the stage, now's your chance to ask the experts! Please ask your question when you register for the event via Eventbrite. Live commentary will also be enabled on the YouTube stream, so you can participate in the Q&A session on air as well.
This is a FREE event. Registrants will receive the link to the stream via email.
[Eventbrite Registration page]
https://www.eventbrite.com/e/ep6anime-takes-the-stage-the-rise-of-25-dimensional-musicals-and-beyond-tickets-143770715079
[Twitter]