Sep
6

Japan Writers Conference, Uncategorized

Comments Off

on Japan Writers Conference: Suzanne Kamata speaks on writing about characters with disabilities
Posted by Tom Baker
Prolific author Suzanne Kamata is one of several JET alumni writers who will be giving presentations at the 2020 Japan Writers Conference. Due to the coronavirus, this year's event is being held online, so you can Zoom in from wherever you are. For details, see http://japanwritersconference.org. Here's the official description of Suzanne's presentation:
Suzanne Kamata
Wheelchair User or Wheelchair-bound?: Writing About Disability
Short Lecture with Q&A
Fiction, Nonfiction
In this session, I will discuss positive and problematic representations of persons with disabilities in literature, including my own work, with a view to developing better awareness.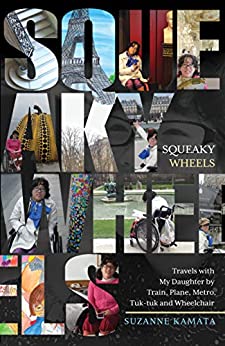 With the approach of the 2021 Tokyo Paralympics (hopefully), people with disabilities in Japan have been given more attention than perhaps ever before. English textbooks for Japanese children now frequently include stories about or representations of people with disabilities. Worldwide, initiatives such as #weneeddiversebooks and the call for #ownvoices have led to an increase of books featuring characters with disabilities. That said, some of these representations, and the way that they are discussed remain problematic. When do stories about disability become "inspiration porn"? What kind of language should we use when discussing disability? Who has the right to tell these stories? In this session, I will address these questions, using examples from recently published Japanese textbooks and literature featuring children in Japan and other countries, including my own work.
Suzanne Kamata is the award-winning author or editor of twelve published books including Love You to Pieces: Creative Writers on Raising a Child with Special Needs (Beacon Press, 2008), Gadget Girl: The Art of Being Invisible (GemmaMedia, 2013), A Girls' Guide to the Islands (Gemma Open Door, 2017), Squeaky Wheels: Travels with My Daughter by Train, Plane, Metro, Tuk-tuk and Wheelchair (Wyatt-Mackenzie Publishing, 2019), and Indigo Girl (GemmaMedia, 2019). She is an Associate Professor at Naruto University of Education.