Aug
17

Uncategorized

Comments Off

on JETwit's JET Alum Movers & Shakers: James McKnight, Gunma-ken, 2001-2004
************
JETwit's JET Alum Movers & Shakers is produced by Ryan Hata (Tottori-ken, 2014-2017), Margie Banin (Kochi-ken, 2005-2007), and Jim Walsh (Fukushima-ken, 2018-2020). Want to be featured next? Submit your information here.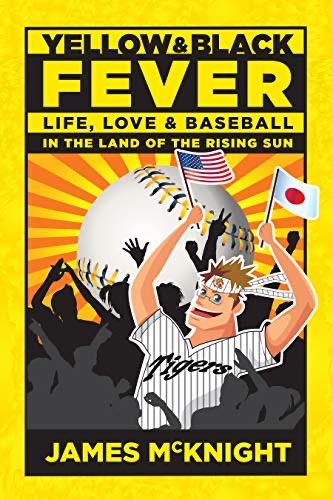 James McKnight, Gunma-ken, 2001-2004
Accomplishment:
James McKnight wrote Yellow & Black Fever: Life, Love and Baseball in the Land of the Rising Sun, a memoir of the first three years (2001-2004) out of twelve total that he lived in Japan. Mainly about life as an ALT in a small town, James writes about struggling to fit in, traveling around Japan-Asia, and about a group of Japanese pro baseball fans that took him under their wing and accepted him not as a gaijin, but as an equal. Current and former JETs might enjoy reading James' memoir as he is certain many of the struggles and successes he experienced are similar to the ones they experienced. This memoir may well bring back good memories for former JETs, and for current JETs it might shed light on what life was like as a JET nearly 20 years ago. As James' baseball friends lived in Osaka, he had a 500 km journey in order to see them and watch Hanshin Tigers games together. However, he says it well worth it as inside a baseball stadium he could escape the troubles of his everyday life. James' book is available on Amazon.com and also on Amazon in other countries, including the UK, Canada, Australia, France, and Japan.
More Info:
James is currently working as an Adult Education – Workforce Instructor on a Native American Reservation in Tucson, Arizona, USA, and has found that working on the reservation is almost like being a foreigner in Japan again. He began teaching in 2001 as a JET, worked two years as Gunma Prefectural ALT Advisor in the Board of Education Office (2004-06), then became licensed as a Foreign Instructor in order to teach full-time at Chuo Secondary School, an English Immersion School in Takasaki, Gunma (2006-2013). James taught there for 6 1/2 years and learned exactly how hard it is to be a full-time middle school/high school teacher in Japan. He found it very challenging, but adapted to the long work hours and enjoyed teaching the students and learning from his co-workers.
James returned to the U.S. in 2013, and is certified to teach high school social studies, adult education, and career – technical education. He would be glad to help anyone interested in learning about full-time teaching in Japan or teaching in Arizona as well. Prior to becoming a teacher, James worked as a sports journalist and public relations professional for 11 years. A graduate of the University of Arizona – Class of 1990 with a B.A. in Journalism, James has also earned a Masters in Organizational Management from the University of Phoenix and a Post-Baccalaureate Degree in Secondary Education from Pima College.
Public Contact Information:
James can be reached at gotryb34@gmail.com. He can also be found on Facebook, Instagram, and LinkedIn.