Feb
19

Article/Journalism, Events, Film, JETs in the News

Comments Off

on JET Alum Filmmaker Unveils 'Nourishing Japan' Feb. 20 in NYC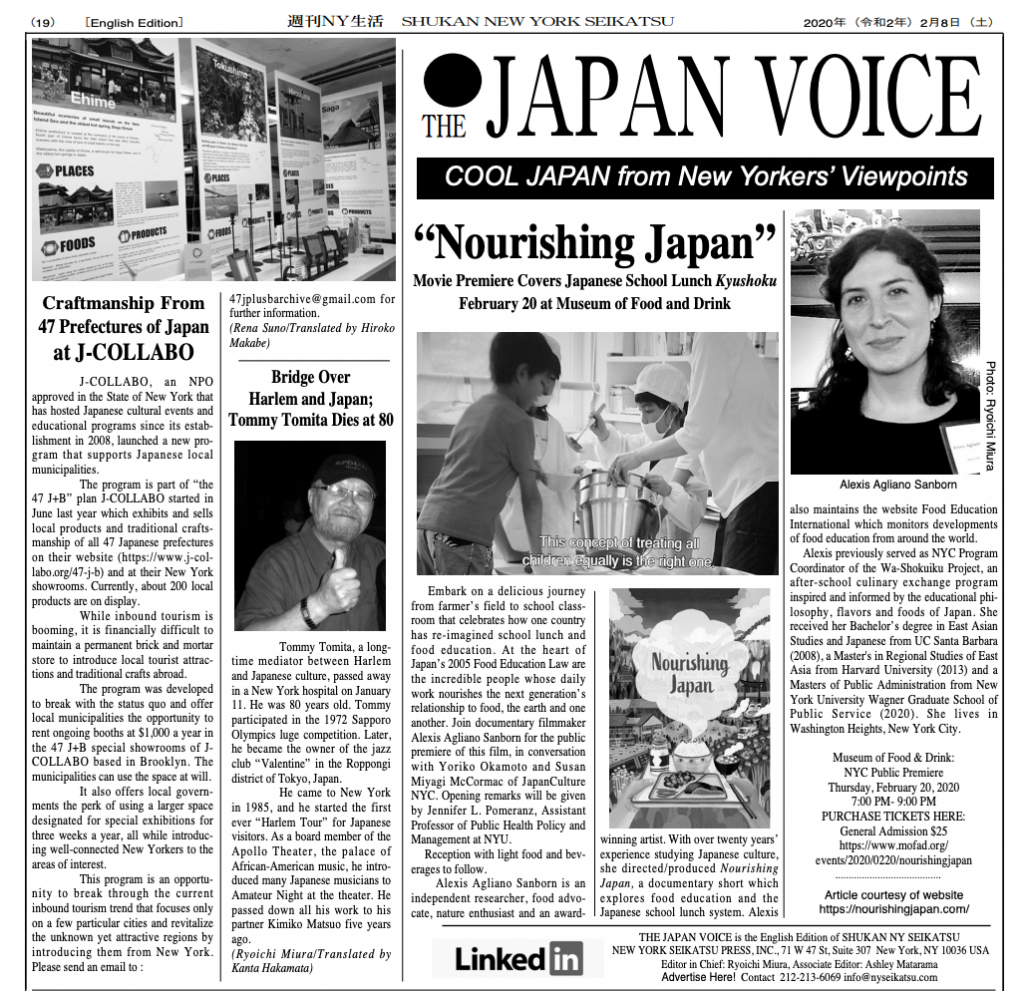 From the February 8 edition of Shukan NY Seikatsu. Join Alexis Thursday, February 20, 7:00 p.m.- 9:00 p.m. at the Museum of Food & Drink (MOFAD), 62 Bayard Street in Brooklyn. General admission $25; purchase tickets here. For more information, visit https://nourishingjapan.com.
Embark on a delicious journey from farmer's field to school classroom that celebrates how one country has re-imagined school lunch and food education. At the heart of Japan's 2005 Food Education Law are the incredible people whose daily work nourishes the next generation's relationship to food, the earth and one another. Join documentary filmmaker Alexis Agliano Sanborn for the public premiere of Nourishing Japan in conversation with Yoriko Okamoto and Susan Miyagi McCormac of JapanCulture•NYC.
Opening remarks will be given by Jennifer L. Pomeranz, Assistant Professor of Public Health Policy and Management at NYU. Reception with light food and beverages to follow. Alexis Agliano Sanborn is an independent researcher, food advocate, nature enthusiast and an award winning artist. With over twenty years' experience studying Japanese culture, she directed/produced Nourishing Japan, a documentary short which explores food education and the Japanese school lunch system. Alexis also maintains the website Food Education International which monitors developments of food education from around the world.
Alexis previously served as NYC Program Coordinator of the Wa-Shokuiku Project, an after-school culinary exchange program inspired and informed by the educational philosophy, flavors and foods of Japan. She received her Bachelor's degree in East Asian Studies and Japanese from UC Santa Barbara (2008), a Master's in Regional Studies of East Asia from Harvard University (2013) and a Masters of Public Administration from New York University Wagner Graduate School of Public Service (2020). She lives in Washington Heights, New York City.