Dec
19

Art, Article/Journalism, Events, Film, Justin's Japan, Uncategorized

Comments Off

on Justin's Japan: 'Weathering with You' at Anime NYC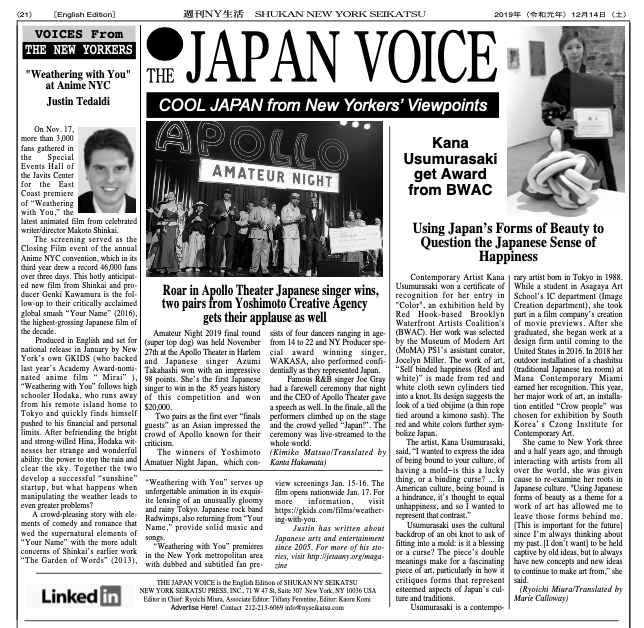 By JQ magazine editor Justin Tedaldi (CIR Kobe-shi, 2001-02) for Shukan NY Seikatsu. Justin has written about Japanese arts and entertainment for JETAA since 2005. For more of his articles, click here.
On Nov. 17, more than 3,000 fans gathered in the Special Events Hall of the Javits Center for the East Coast premiere of "Weathering with You," the latest animated film from celebrated writer/director Makoto Shinkai.
The screening served as the Closing Film event of the annual Anime NYC convention, which in its third year drew a record 46,000 fans over three days. This hotly anticipated new film from Shinkai and producer Genki Kawamura is the follow-up to their critically acclaimed global smash "Your Name" (2016), the highest-grossing Japanese film of the decade.
Produced in English and set for national release in January by New York's own GKIDS (who backed last year's Academy Award-nominated anime film "Mirai"), "Weathering with You" follows high schooler Hodaka, who runs away from his remote island home to Tokyo and quickly finds himself pushed to his financial and personal limits. After befriending the bright and strong-willed Hina, Hodaka witnesses her strange and wonderful ability: the power to stop the rain and clear the sky. Together the two develop a successful "sunshine" startup, but what happens when manipulating the weather leads to even greater problems?
A crowd-pleasing story with elements of comedy and romance that wed the supernatural elements of "Your Name" with the more adult concerns of Shinkai's earlier work "The Garden of Words" (2013), "Weathering with You" serves up unforgettable animation in its exquisite lensing of an unusually gloomy and rainy Tokyo. Japanese rock band Radwimps, also returning from "Your Name," provide solid music and songs.
"Weathering with You" premieres in the New York metropolitan area with dubbed and subtitled fan preview screenings Jan. 15-16. The film opens nationwide Jan. 17. For more information, visit https://gkids.com/films/weathering-with-you.