Sep
23

Contest, Events, JET Alum Author Beat, Notable JET Alums, Writers

Comments Off

on Suzanne Kamata to reveal "The Truth about Writing Contests"
Posted by Tom Baker
The Japan Writers Conference, a free annual event that invariably attracts at least a few JETs, will be held at Otaru University of Commerce on Oct. 13 and 14. One of the JETs giving presentations this year will be Suzanne Kamata, who will be giving two of the 36 presentations scheduled for the big weekend. One of them was described in a previous JETwit post. Here's the official description of the other:
"The Truth about Writing Contests"
Short lecture with Q & A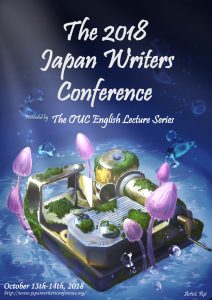 I will describe various kinds of writing contests, the pros and cons of entering said contests, and give advice on how to improve an entrant's chances of winning.
There are many contests for writers. Some may think that it's not worth the time or the cost of the entrance fees. After all, many contests get hundreds of submissions, and judging is often somewhat subjective – every reader has different likes and dislikes. However, thanks to winning or placing in writing competitions, I have received plane tickets to Paris, Sydney, and Columbia, South Carolina (from my home in Japan). I've also been awarded cash, medals, trophies, and plaques and shiny prize stickers for my books, not to mention bragging rights and prestige. A contest win can also be an excuse for a burst of publicity. Contests may lead to recognition, getting an agent or publisher, and book sales. So how do you decide which contests to enter? How do you win? In this session I will share my expertise as a frequent contest entrant, sometime winner, and occasional judge.
Suzanne Kamata has won many awards for her writing including a grant from SCBWI for her forthcoming novel tentatively titled Indigo Girl (GemmaMedia 2018), a grant from the Sustainable Arts Foundation for her as-yet-unpublished mother/daughter travel memoir Squeaky Wheels, the Paris Book Festival Grand Prize for Gadget Girl: The Art of Being Invisible (GemmaMedia 2013), and an IPPY Silver Medal for her most recently published novel The Mermaids of Lake Michigan (Wyatt-Mackenzie Publishing 2017).