Feb
3

Art, Article/Journalism, Events, Film, JQ Magazine, Music

Comments Off

on JQ Magazine: Nippon in New York – Hello from Japan, Katsu Album Release, 'Ponyo' Turns 10
By JQ magazine editor Justin Tedaldi (CIR Kobe–shi, 2001-02). Justin has written about Japanese arts and entertainment for JETAA since 2005. For more of his articles, click here.
Stay warm this winter with some hot local events, from live showcases that will transport you to another time and place, some new anime screenings, and a sake extravaganza you won't want to miss.
Now through May 6
Children's Museum of Manhattan, 212 West 83rd Street
$14 children/adults, $11 seniors
Experience Tokyo's vibrant culture in a new interactive exhibit! Children will have fun learning about life in present day Japan in this playful, highly immersive environment that transports families to two distinct areas of Tokyo that exist side by side: one serene and exquisite, the other, too cute for words. Kawaii Central is a streetscape inspired by Tokyo's bustling Harajuku district, bursting with color, trendy shops and cuter than cute styles. Kids sing karaoke, smile for the photo booth camera, serve up a seasonal Japanese meal, and design adorable mascots for their families. Plus, learn more about contemporary Japan through special programs for the public, free with admission.
Saturday, Feb. 3, 3:30 p.m.
Private Japanese Tea Ceremony Demonstration @ The Secret Kyoto Garden 
Urasenke Chanoyu Center of New York, 153 East 69th Street
$35 advance, $39 day of event
Experience one of Japan's oldest traditional tea ceremonies in a secret indoor Japanese garden hidden in the Upper East Side—led by a Tea Master of Urasenke! Join New York Adventure Club for a traditional Japanese tea ceremony demonstration in the style of Urasenke, one of the main schools of Japanese tea ceremony. Established in 1967 to promote the rich cultural tea tradition of Urasenke in New York City, the UCC is a private organization that teaches its members how to master this ancient tradition over the course of 10-15 years. This event also offers an opportunity to consume the best quality sweets and matcha green tea from Kyoto, the birthplace of Urasenke.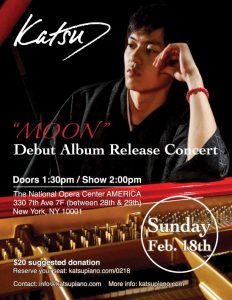 Sunday, Feb. 18, 2:00 p.m.
Katsu: Debut Album Release Concert
National Opera Center – OPERA America, 330 Seventh Avenue
$20 suggested donation
Katsu started to perform in public about a month after he started playing the piano when he was the age of 19 by self-learning. He also started composing originals soon after the beginning of the public performances. After performing several times in Japan, He moved to New York. Then in December 2016, he debuted as a composer and a pianist at the Steinway Hall. Now, he has been performing his original tunes as a solo pianist at multiple venues. His music is described as New Age music, classical, Jazz, romantic piano, and more. This intimate performance will feature selections from his recently released debut album, Moon.
March 25-26, 28
E-Walk 42nd Street 13, 247 West 42nd Street / Empire 25, 234 West 42nd Street
$12.50 all ages
For the kickoff of Studio Ghibli Fest 2018,  From the legendary Studio Ghibli, creators of Spirited Away and My Neighbor Totoro, and Academy Award-winning director Hayao Miyazaki, comes a heartwarming family adventure. When Sosuke, a young boy who lives on a clifftop overlooking the sea, rescues a stranded goldfish named Ponyo, he discovers more than he bargained for. Ponyo is a curious, energetic young creature who yearns to be human, but even as she causes chaos around the house, her father, a powerful sorcerer, schemes to return Ponyo to the sea. Miyazaki's breathtaking, imaginative world is brought to life with an all-star cast, featuring (on the March 25 and March 28 English-language screenings) the voices of Cate Blanchett, Matt Damon, Lily Tomlin, Liam Neeson, and more.
Monday, March 26, 7:30 p.m.
Japan Society, 333 East 47th Street
$15, $10 Japan Society members, seniors and students
This program is the 13th installment of Japan Society's annual Play Reading Series, which introduces topical plays from up-and-coming playwrights in Japan to artists and audiences in the U.S. Written by Hideto Iwai, the winner of the prestigious Kishida Kunio Award for Drama, Manhood follows the twisted turns in the lives of four men as their boyish posse faces the harsh realities of adulthood and old age. Sarah Hughes, a New York local and emerging theater director, leads her gender swapped cast in this off-kilter depiction of Japanese "bro culture." Playwright Iwai joins in a post-performance Q&A with the audience and director.
Friday, March 30, 6:30 p.m.
The Nippon Club, 145 West 57th Street
$10 (materials included), RSVP at jpcourse@jfny.org
Are you planning a trip to Japan in the near future? If so, this workshop is for you! Please join us for our Travel Japanese workshop and learn Japanese vocabulary and basic expressions essential for travel in Japan! Japanese customs and useful travel information will also be introduced. In this workshop, you will be able to order food at a restaurant using simple terms, communicate with a store attendant while doing shopping, tell your destination to a taxi driver or station agent and ask for information, and more!
Want to stay in the loop on future events? Follow Justin on Facebook and Twitter.