Nov
16

Uncategorized

Comments Off

on "Bakuman" – Film Review from the 19th Japanese Film Festival (Australia and New Zealand)
Rafael Villadiego (Nagasaki-ken 2010-2013) writes reviews "Bakuman".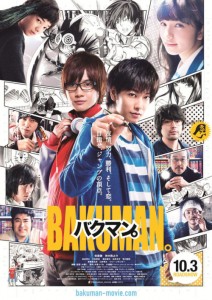 From the manga makers of Deathnote.
Friendship, struggle, triumph!
Armed with this eponymous mantra and the indomitable seishun spirit, prepare to jump into this contemporary boys-own adventure based on a manga about making a manga.
The story of two accidental high school friends who form an unlikely writer/illustrator comic combo and embark on an epic quest to fulfil a lifelong dream they had no idea they shared – to have their creative collaboration published in the legendary Shonen Jump comic magazine.
Courtesy of the same creative team responsible for the undisputed suspense classic, "Deathnote" – Ohba Tsugumi and Obata Takeshi – Bakuman channels all the hallmarks of a runaway bestseller but with a quirky, comedic bent and a decidedly lighter feel. There are still definitive moments of emotion and rare insight, but there is far more humour and levity this time around that keeps the pacing breezy and fun.
The story follow talented but reluctant artist Moritaka Mashiro – Satoh Takeru – who is haunted by the untimely loss his uncle – a famous manga-ka – who passed away during his childhood. Left traumatised by the experience of seeing his uncle brought low by the realities of an unrelenting schedule and an unforgiving audience, he is reluctant to reveal his burgeoning artistic talents. Enter Takagi Akito, an aspiring writer, who discovers Moritaka's notebook filled with idle drawings of his unrequited love. While Moritaka initially rebuffs Takagi's advances, he is eventually dragged into the undertaking after a dramatic encounter with his high school crush – Komatsu Nana – in which they both reveal their feelings and dreams for the future. Each third year junior high school students on the cusp of adulthood, they encapsulate that mix of innocent naivete and exuberant optimism with aplomb.
And so, mix in this dash of high school romance and youthful promises – easily and earnestly made, but remarkably difficult to keep when confronted with the realities of the "real world", and you have all the hallmarks of a seishun classic, with a twist. Set in the fast-paced world of serialised manga, the pressure to meet deadlines and the rigour of catering to impossible reader expectations, eventually takes its toll on our dynamic duo. But during the journey they are aided by an understanding editor and a colourful collection of other artists pursuing the same dream, who each teach them invaluable lessons along the way.
The film is an unabashedly commercial endeavour. A walking billboard for "Shonen Jump" and the countless manga it has produced over the years, it unashamedly targets a specific demographic and aims to captilise on this existing and eager audience of manga readers. While these numbers are inevitably declining, the film takes pains to point out that at its peak it comprised a tremendous percentage of the Japanese population. It is no surprise then that the producers aim to recapture this nostalgic spirit by freely referencing the classics of the genre and aim to live out the Shonen Jump slogan writ large. There is even a point in the film where the characters break the fourth wall and point out their own self-referential corniness.
But if you have ever harboured secret dreams of becoming a manga-ka or have fond childhood memories of trawling through old Shonen Jump magazines to peruse cult classics such as Dragon Ball, Slam Dunk, or Bakuman, then this film will stir something in you, long thought lost, but only forgotten. A collective recollection of the exuberance of youth, the importance of friendship the struggle to succeed when everyone else doubts you, and the ultimate elation of triumph upon achieving your goal. An at-times-clumsy but earnest reminder to follow your dreams at all cost.
Watch this film if…
…you are looking for an invitation to recapture your youth, raise your fist and jump up high, as you scream "friendship, struggle, triumph!" At the top of your lungs…
Quick Notes:
– The film is based off the manga "Bakuman" by Ohba Tsugumi and Obata Takeshi.
– The duo are also responsible for the manga classic "Deathnote".