Posted by Michelle Lynn Dinh (Shimane-ken, Chibu-mura, 2010–13), editor and writer for RocketNews24. The following article was written by Casey Baseel, a writer and translator for RocketNews24, a Japan-based site dedicated to bringing fun and quirky news from Asia to English speaking audiences.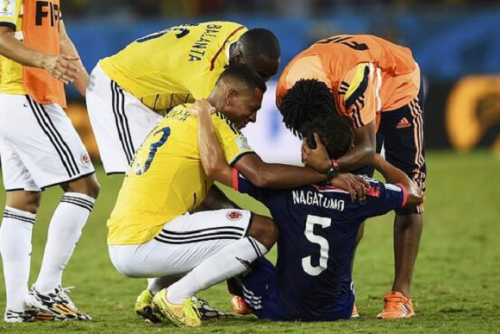 The international nature of professional soccer makes for some uniquely compelling individual matchups at the World Cup. Since the event is only held once every four years, during the time between tournaments the members of each country's national teams go back to playing for their respective, privately owned clubs.
It's easy to imagine how this could make things awkward for a player who has a club teammate who's on the roster of a different national team. One day you're doing everything you can to beat him at the World Cup, but a few weeks later, you're going to have to go back to working together, no matter how bitterly contested your match in Brazil was.
Sometimes, though, the opposite happens, and these personal connections bring a little extra sportsmanship to the World Cup, like what happened between Japanese defender Yuto Nagatomo and Colombian midfielder Fredy Guarin.
The Japanese team came to Brazil with its confidence bolstered by continued success in Asian tournaments, along with advancing to the Round of 16 in two of the last three World Cups. The team was also carrying the lofty expectations of Japanese soccer fans and media outlets, which place an intense focus on international competitions and had showered praise upon the Japanese women's team's World Cup championship in 2011.
Unfortunately, the men's team had struggled in its first two matches in Brazil, falling to Ivory Coast in its opener and failing to score in a 0-0 draw with Greece. A win against powerhouse Colombia was the only way Japan had a chance of advancing past the group stage, but despite some creative moral support from record company Columbia,Japan came up short again, losing 4-1.
After the game ended, Nagatomo, who was also a part of Japan's much more successful 2010 World Cup team, sat dazed on the turf, no doubt wondering just how his team had fallen so short of their goal. Many chose to leave the defender alone in his contemplation, but not the victorious Guarin.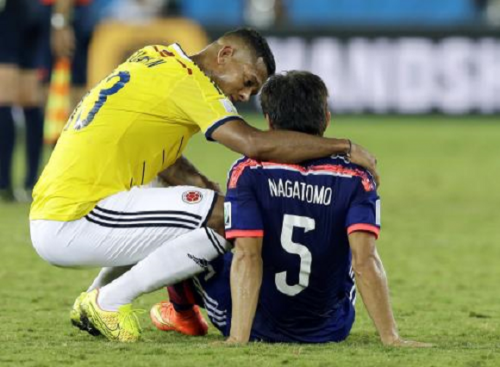 While the two had just spent 60 minutes working at cross purposes, for most of the yearGuarin and Nagatomo are teammates on Italian club Inter Milan.
▼ And also apparently share tastes in wristwear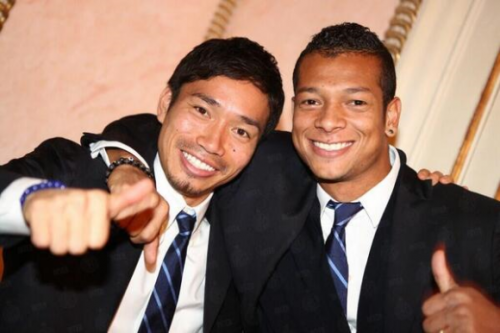 Spotting the dejected Nagatomo, Guarin walked over to offer a few words of encouragement. He was shortly joined by two more players from the Colombian squad,Juan Cuadrado and Eder Balanta.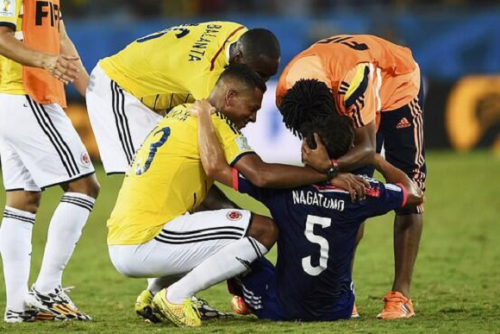 The display of sportsmanship left a deep impression on viewers in Japan.
"Seeing Guarin do that for Nagatomo brought tears to my eyes."
"Guarin is really one of the good ones."
"Guarin…thank you!"
"I don't know what they said to each other, but no matter who wins, there's always a connection between players who leave it all on the field."
"Thank you Colombia. Good luck in the tournament!"
It's probably safe to say that while sports fans in Japan are disappointed their team's campaign has come to a sudden end, quite a few will be cheering for Colombia's class act from here on out.
Source, images: Livedoor
More from RocketNews24