Nov
12

Academic, Advice, Career, Graduate School, Language Study

Comments Off

on Let's Talk Japan, Episode 17 – Temple University Japan
Let's Talk Japan is a monthly, interview format podcast covering a wide range of Japan-related topics.  Host Nick Harling (Mie-ken, 2001-03) lived in Japan from 2001 until 2005, including two great years as a JET Program participant in Mie-Ken.  He practices law in Washington, D.C., and lives with his wife who patiently listens to him talk about Japan . . . a lot.

In this episode, Nick speaks with Bruce Stronach, the dean of Temple University Japan, the oldest and largest foreign university in Japan.  Together they discuss the unique undergraduate and graduate opportunities available at Temple's Tokyo campus as well as recent trends and the future of higher education in Japan.
Nick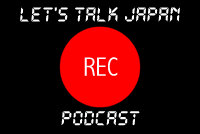 If you have not already done so, be sure to "Like" the podcast on Facebook, and follow the podcast on Twitter @letstalkjapan.  Additionally, please consider leaving a positive rating and/or review in iTunes.