Jul
17

Career, JETAA Chapters, LifeAfterJET, Networking

Comments Off

on New JETAA UK Mentoring Scheme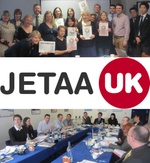 Via the extremely wonderful JETAA UK website:
JETAA UK is keen to find new ways to help returning JETs with their job search if/when they return to the UK. One popular idea is to set up a mentoring scheme to link returning JETs with other ex-JETs that have already established their careers in the UK.
We are looking for mentors from various working sectors with (in principle) five years work experience post-JET. This is a chance for you to build your leadership skills while giving back to the JET community. Please, please get involved, and pass this on to other ex-JET friends that might be interested.
For possible mentors:
You can sign up to the scheme here:
***Please note your personal information will not be used for any purpose other than the administration of the Mentor Program.***
For returning JETs:
We have a separate sign up sheet for you here:
The deadline for mentor sign-ups is August 30th, 2013. We plan to assign mentors and mentees within two weeks of that date.
*****Also from the JETAA UK website**********
JETAA UK wants to support JETs with their post-JET careers and provide nationwide professional networking opportunities and JET connect events for its members. In order to do this, we want to know what professional and regional areas you would be interested in and whether you would be willing to help out in any way.
Please fill in this quick questionnaire to help us help you!
https://docs.google.com/forms/d/1-Noev_dsw9Q-NeDAcxQPIOJgf_3QsVTUTP02idrQLmc/viewform
Contact Sarah Parsons, National Careers and Networking Coordinator for more info. on careers@jetaa.org.uk.