May
31

Earthquake Tsunami, Fundraising, Japan Local, Notable JET Alums, Return on JET-vestment

Comments Off

on JETAA USA Disaster Relief Fund Update – 06.01.13
Jim Gannon (Ehime-ken, 1992-94), Executive Director of the Japan Center for International Exchange (JCIE/USA) and a member of the JETAA USA Disaster Relief Fund Committee, was recently in Tohoku for work and shared the following update regarding one of the projects that JETAA USA helped fund:
Jim says he met with Kodomo no Empowerment Iwate (click here for their Facebook page) and also had a chance to talk with two representatives of the Rikuzentakata Board of Education and learned:
The BOE and many people in the prefecture see the Manabi-no-heya project we supported as a crucial element of the town's recovery, and the Ministry of Education has selected it as a model project for introduction around the country.
They currently have 206 students enrolled in Rikuzentakata alone, and have expanded to Kamaishi, Ofunato, Miyako, and other affected cities, adjusting the program to fit local circumstances.
The big news they were happy about was that one of the students from the tutoring program was just ranked #1 out of 600 on the Rikuzentakata high school entrance exams.
The Ministry of Education and private source have provided funding for the project that is many multiples of JETAA USA's, but the organizers and the city officials all credit JETAA-USA as providing the seed money to help get this off the ground.
Here's a news video about the project (in Japanese – if someone wants to post a summary in some form that would be great, btw):

Photo #1:  From Kodomo no Empowerment's gathering of their Rikuzentakata program managers (senior tutors), on Saturday. They got together to discuss how to improve the program, discuss student management issues, etc. The fact that they were sacrificing an entire Saturday for this shows just how committed they are. The person standing is Iwate Prefectural University Professor Katsuhiko Yamamoto, who heads Kodomo no Empowerment.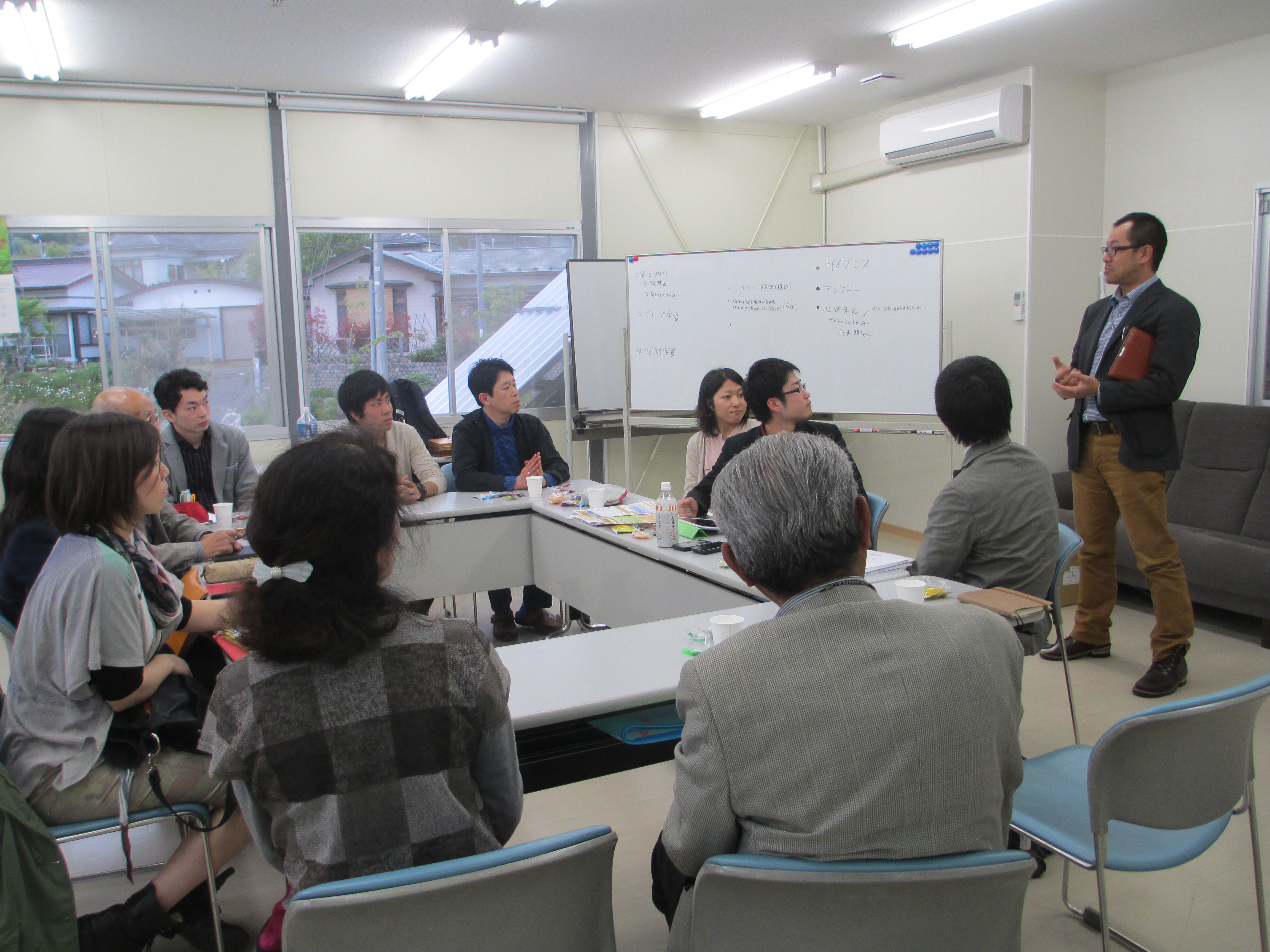 Photo #2:  A student named Masako who was a student in the Otsuchi program, which is held in a temporary housing unit. She is showing off her desk where she had been studying English. She just enrolled in Nagoya College of Foreign Languages, an extraordinary triumph for a student from a small town like this. She seems to be taking some time to volunteer now with a development NGO in the Philippines in order to give back and also to brush up her English.