Jan
11

Japan Local, JETs in the News, LifeAfterJET, Return on JET-vestment

Comments Off

on Kyodo News "Rural JET alumni" series: Rashaad Jorden (Yamagata)
News agency Kyodo News has recently been publishing monthly articles written by JET alumni who were appointed in rural areas of Japan, as part of promotion for the JET Programme. Below is the English version of the column from December 2012. Posted by Celine Castex (Chiba-ken, 2006-11), currently programme coordinator at CLAIR Tokyo.
***********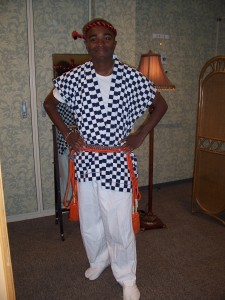 Born in Japan, Rashaad Jorden (Yamagata-ken, Tsuruoka-shi, 2008-10) has lived a bit of a nomadic life, having lived in Virginia, New Jersey, and several times in France and Japan. He attended Coppin State University (Baltimore, Maryland) and graduated with a degree in English. He came back to Japan on the JET Programme and worked for two years in Yamagata Prefecture, in Haguro, a village that merged into Tsuruoka. Currently, he conducts English classes for Japanese adults at an online eikaiwa school named Hello English and is in the job hunt.
Same Country, New Experiences
I was born on a naval base in Yokosuka, where I spent my first 18 months. After graduating from university, I spent a year working at an eikaiwa school in Yokohama.
However, Japan was pretty much a mystery to me. My co-workers were all Westerners, so I was obviously missing out on a true Japanese work environment. If I went somewhere other than Shibuya on an off day, it was a miracle. And despite taking Japanese classes every Wednesday morning for several months, I struggled mightily in the language.
Needless to say, I had not gotten the most out of Japan during my year in Yokohama. But there was definitely an itch to discover more of the country and its culture. So after working as an assistant English teacher in France, the decision was simple: I was applying for the JET Programme.
In late March 2008, I learned I was accepted into the JET Programme, and several weeks later, I received a letter saying my destination would be Tsuruoka in Yamagata Prefecture. Great news—except for one thing: Where the hell was Tsuruoka? Or Yamagata Prefecture, for that matter. While a simple Wikipedia search revealed that Tsuruoka was a midsized city of about 150,000 people, there was another surprise in store. Shortly after receiving my placement, my predecessor e-mailed me the news that I would be living in an inaka village named Haguro (which merged into Tsuruoka three years prior). Not what I wanted. While I was still happy to be returning to Japan, numerous concerns popped into my head. For one, I would have to spend a lot of money on a car. Being in the countryside, I did not think there would be many fun things to do outside of the classroom. Worst of all, despite having lived in the country before, the challenge of trying to reestablish myself in Japan seemed overwhelming.
But I should not have felt so overwhelmed. Fortunately, CLAIR makes a thorough effort to prepare JET Programme newcomers for life in Japan. Prior to departing for the country, I received several books aimed to help me deal with life in Japan, including a textbook for beginners in Japanese. Better yet, there was no shortage of people for me to obtain advice from. My concerns were greatly eased from advice I got during a pre-departure seminar in New York and the three-day orientation in Tokyo, where I received important information about topics such as driving in Japan and surviving as a vegetarian (A book I bought during orientation titled Veg Out: The Vegan and Vegetarian Survival Guide for Japan was a godsend).
As for life in the classroom, I definitely had my ups and downs. My students' struggles in a foreign language disappointed me, but they were not unexpected. However, I was more frustrated by own struggles—such as not being good initially at planning lessons and making some foolish mistakes (I once showed up at the wrong school on a certain day). And in part because of the language barrier, fitting in was a bit difficult. But the good definitely outweighed the bad. I thoroughly enjoyed introducing the basics of English to my students, and I felt pride whenever my lessons went well. I was tickled with joy when students at one of my elementary schools would often rush to wave goodbye to me after a day of lessons there.
Although my main duties were to teach English and promote internalization, I considered motivating and encouraging the students to reach new heights to be a major goal of mine. During the summertime when classes were not in session, my biggest responsibility was to prepare students for the annual Tagawa District Speech Contest. Molding Japanese kids into natural sounding English speakers can be a tall order, but I was reminded that my students were possible of achieving great things in English if they put their mind to it. At my first speech contest, the Haguro Junior High School participant who struggled the most prior to the contest actually spoke rather flawlessly when the lights were on.
The following year for the speech contest, I trained participants from Fujishima Junior High School in addition to those from Haguro. One student from Fujishima stood out in particular. He had difficultly during rehearsals and seemed quite nervous about performing on stage. I did enjoy seeing all of the hard work he put in to become comfortable with his speech. But I really was not expecting much from him during the speech contest. So you can imagine how pleasantly surprised I was when he finished in the top five of that speech contest.
But the wonderful memories I have the JET Programme were not limited to the classroom. JETs are considered ambassadors from their home countries, so it is very important for us to be involved in our communities in Japan whenever possible. Annually, several Yamagata Prefecture JETs visit an orphanage in Tsuruoka around Christmas to play games and bring some holiday cheers to young children who need some joy in their lives. I had the honor of making two visits with fellow JETs to that orphanage.
It is actually impossible for me to list all the wonderful things about my time in the JET Programme. But one of the best things about being a JET was the opportunity I had to travel around Japan. Most JETs have twenty days of paid vacation, so they use them to explore the country. I was no different. During my vacations, I visited Okinawa, Kyushu, Shikoku, Okayama, and the Kansai Region—in addition to climbing Mount Fuji. I used my travels as an opportunity to learn more about the country and its history.
Despite not having returned to Japan since leaving in August 2010, I still have not left the country mentally. I participate in Japanese cultural events whenever possible, and I am the current representative of the Philadelphia subchapter of the JET Program Alumni Association. Meeting Japanese people in Yamagata Prefecture who spoke fluent English despite living in an area where there are few foreigners has motivated me to continue studying Japanese. Finally, visiting so many wonderful places in Japan has encouraged me to promote them. I have written numerous articles about places and events in Yamagata Prefecture for a website named JapanTourist, the country's largest English-language travel website. I am forever indebted to the JET Programme. It provided me the best opportunity to become enriched by a wonderful country.