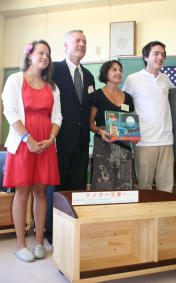 From the Kahoku Online Network:
震災で犠牲の米国人ALT 志文庫に託す 遺族が絵本寄贈
http://www.kahoku.co.jp/news/2011/09/20110907t15011.htm
東日本大震災で亡くなった宮城県石巻市の女性外国語指導助手(ALT)テイラー・アンダーソンさん=当時(24)、米国出身=の遺族が6日、アンダーソンさんが子ども時代に読んだ本を「テイラー文庫」として市内の小中学校などに寄贈した。
同市万石浦小で行われた贈呈式には、震災当日に授業を受けた6年生(当時5年生)64人が出席。父親のアンディさん(53)が「本を読んで、夢を持って生きてくれたら幸せです」とあいさつした。授業を受けた阿部萌香さん(12)は「先生は優しかった。本は大切に読みたい」と話した。
寄贈されたのは、アンディさんらが新たに購入した英語の児童文学や絵本など約40冊。東松島市の仮設住宅で暮らす地元の木工作家遠藤伸一さん(42)が製作した本棚に収められている。
遠藤さんは子ども3人を津波で失い、長男と次女の2人が同市渡波小でアンダーソンさんの指導を受けていた。
遠藤さんは「明るく、元気なアンダーソンさんをイメージして作った。この仕事を機に、自分も前を向いて生きていこうと思った」と話した。
アンダーソンさんは2008年に来日し、石巻市では万石浦小のほか、市内の幼稚園1カ所と小中学校計5校で英語を指導。「テイラー文庫」はこれらの幼稚園、小中学校にも寄贈される。
アンダーソンさんは震災当日、万石浦小から近くの万石浦中に児童を避難させた後、自転車で帰宅する途中に津波にのまれたとみられている。
2011年09月07日水曜日
And here's a very rough summary in English:
"American ALT, lost in the disaster, is memorialized in a library; Family donates picture books"
The reading corner / library contains copies of books that Taylor read growing up. The dedication ceremony was held at Mangokuura Elementary, with 64 of Taylor's former 5th grade students attending. There are 40 books in the shelves, which were built by Endo-san, a woodworker who lost his three children to the tsunami – two of whom were Taylor's students at Watanoha Elementary School. Endo-san said that he built the shelves thinking about how bright and genki Taylor was, and that this project helped him to move forward with his own life, too. Andy Anderson told the students that he will be happy if they read books and hold on to their dreams in life.