May
26

Article/Journalism, Earthquake Tsunami, Interview/Profile, Japan Fix

Comments Off

on JetWit Fashion Beat: T-shitsu – The Black Collection
JetWit Fashion Beat is brought to you by Dipika Soni (Ishikawa-ken, 2003-06). Dipika has recently moved back to London as is currently looking for new work opportunities related to Japan, translation, or other fields. She is also the former vocalist for the Japanese hardcore punk band DEGRADE.
——————————————————————————————————————————–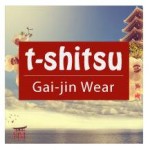 I first posted about T-shitsu and their fantastic designs aimed especially for gai-jin in December last year. Since then the response from members of the JET and JET alum community has been very positive, and the base of returning customers is constantly growing.
This is completely down to the unique omoshiroi designs, high-quality shirts and general high standard of service provided by the T-shitsu team. I can't rave about these shirts enough!
Currently, our friends at T-shitsu.com are half way through revealing their eagerly anticipated Black Collection.
The Black Collection consists of 8 new designs, one of which is revealed every Sunday, May through June, and we have been given an exclusive sneak preview of this week's new design especially for JETWit readers….
Ta da!!!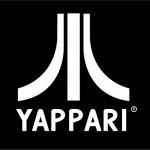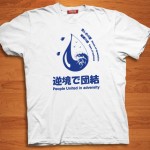 To update you on other recent activities, T-shitsu were very active in wake of the Tohoku eathquake/tsunami disaster in terms of fundraising and encouraging donations. They even designed their own t-shirt to raise money and awareness, called Tohoku Tears, a wonderful design that was distributed through their partner website at Sweatshop Union.
The Tokoku Tears shirt was extremely popular and all shirts sold out in A WEEK! In total the shirt raised an outstanding 300,000 yen. Since then all other designs in the 'rebuild' collection have also sold out, but if there are plans to re-release them we will be sure to let you know.
There will be further new releases on T-shitsu.com once The Black Collection finishes, and present designs will be made available in a wider selection of colours. There will also be further promotions and competitions, all of which will be advertised through the T-shitsu Facebook site. Make sure you sign up for all the latest info, and it's also a great way to contact the designers with your feedback and suggestions for shirts.
Please do post any comments/suggestions about the shirts, in particular any JET-related shirt ideas, and please do inform the T-shitsu team that you heard about them through JETWit if you place any orders. Check back for more updates soon!

Have a suggestion for a future JetWit Fashion Beat post? E-mail dipika [at] jetwit.com.