Apr
19

Contest, Local Government, Notable JET Alums, Return on JET-vestment, Volunteer

Comments Off

on 2011 National AJET Awards Nominations!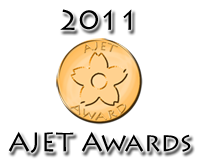 Via AJET:
Every year National AJET recognises some of the outstanding contributions JET participants have made to their local communities. If you know an individual or prefectural AJET chapter that fits this profile, please nominate them for one of the categories listed. Self-nomination is encouraged, so don't be shy – go for it!
For more info about how to nominate somebody go here:
http://ajet.net/lang/en/2011/04/18/2011-national-ajet-awards-nominations/
Posted by Sam Frank, an ALT who taught English in Hiraizumi-Cho, Iwate Prefecture from 2002-2004 and worked in Shirahama-cho, Wakayama Prefecture as a JET from 2004-2006. He currently manages the New York Division of UnRated Magazine and works as a Project Manager/Web Producer at Arrow Root Media.