Dec
20

Japan Fix

Comments Off

on Japan Fix: San Francisco

Kathy Laubach (CIR Kumamoto-ken, 2003-06) originally hails from Montana but recently re-located to San Francisco and agreed to share how she's been getting her Japan Fix there so far.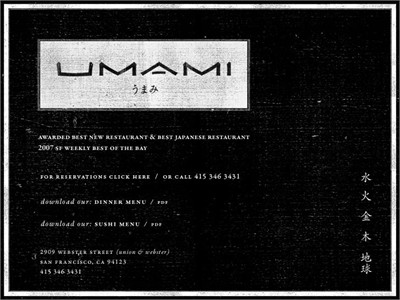 I have to admit that I simple feel too fresh back to write a worthy piece on my Japan Fix in San Francisco…. Montana was so long ago, which also makes that a challenge! I have found that my main sources of warding off Japan homesickness are skyping/emailing friends there and, mainly, tracking their lives on Facebook. I've also managed to meet a few Japanese folks in the area which has been helpful for the adjustment.
One place that makes the top of my still short but notable Bay Area Secrets Japanese list, however, is Umami. The menu boasts two of my weaknesses (as in addictions) – sushi and ice cream – in an upbeat, modern atmosphere. Plenty of items for sharing and the wait staff is confident making suggestions and ordering on behalf of patrons' wanting to spend more time in conversation than deliberating over menu choices. Fairly expansive and fun cocktail list, with sake as well (Was driving, so not too familiar with the beverages. Would like to stop in for Happy Hour sometime though.)
Umami staff got good marks, too, for doing a good job of accounting for 好き/嫌い and アレルギ. The ice cream I referred to isn't any ordinary/extraordinary 抹茶 variety, per se, but the dessert menu incorporates a cookie dough wrapped ice cream roll with delectable toppings. Attractive to the eye and as well as stimulating to the taste buds! Also noteworthy is the Japanese language lesson audio system in the トイレ!
I guess you could say I am a fan. I'd like to sit at the bar sometime and see if it offers that same visual satisfaction as often felt when doing so in Japan.
(Kathy added that she would soon be attending her first JETAA Northern California gathering, another great way to get your Japan Fix.)
Have something to add to Japan Fix:  San Francisco?  Want to share how you get your Japan Fix in your corner of the world?  Add a comment to this post or e-mail jetwit [at] jetwit.com.