May
6

Art, Japan Society Round-up, Music

Comments Off

on This Weekend at Japan Society: STEIM Electronic Music Lab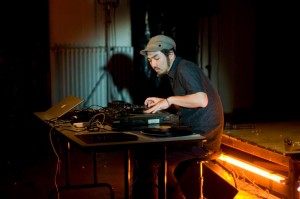 By JQ Magazine's Justin Tedaldi (CIR Kobe-shi, 2001-02) for Examiner.com. Visit his NY Japanese Culture page here to subscribe for free alerts on newly published stories. 
From Yellow Magic Orchestra to Cornelius to the current wave of chiptune artists inspired by classic 8-bit video games, Japan has a rich legacy of electronic music whose influence continues to grow in the age of globalization. Seizing this trend, New York's Japan Society will close out its spring 2010 performing arts season with a concert by STEIM (Studio of Electro-Instrumental Music) and related events on May 7 and 8.
Based in Amsterdam, STEIM is "the natural course of what we have presented under the category of 'music,'" said Yoko Shioya, Japan Society's artistic director. "In fact, there are many internationally active and acclaimed Japanese musicians and composers in this area, and that is why I started to make the program of this genre several years ago."
The envoys of this sonic summit are Takuro Mizuta Lippit, STEIM's artistic director, originally from Japan; Yutaka Makino (Japan/Germany), a musician and artist who works in the convergence of sound, science and architecture; ABATTOIR (U.S./Netherlands), a duo comprised of American cellist/vocalist Audrey Chen and Dutch musician/composer Robert van Heumen; digital media composer Yannis Kyriakides (Netherlands) and guitarist Andy Moor (U.K./ Netherlands) of the legendary Dutch punk band The Ex; and dj sniff (Japan/Netherlands), the performer alter ego of Takuro Mizuta Lippit.
"Put it this way," said Shioya, "the layer of the musicians and composers in electric music in Japan is very thick—therefore, many types of musicians emerge…Japanese musicians in this genre have been quite influential in the international music scene."
The program kicks off the night of Friday, May 7 with the Artist Talk + Demo, with STEIM artists Yutaka Makino and dj sniff discussing the process of crafting their sounds and sharing their perspectives on the latest international collaborations in electronic music. Japanese sound poet Tomomi Adachi rounds out the panel. Also, a free STEIM Mobile Touch Exhibition on May 7 and 8 will allow visitors the opportunity to make music on some of the artists' instruments.
Saturday, May 8 showcases STEIM's Workshop for Youth for ages 10 to 18, giving them a chance to learn more about their methods and test drive some of the instruments themselves. The night's centerpiece is the Electronic Music Lab concert, a one-time only performance.
What will it all sound like? According to Shioya, "The music you will hear in STEIM's concert is music which may make some people wonder, 'Do you call it "music"'…? But…the definition of 'music' can be varied, and many Japanese musicians are not intimidated by the conventional perception of 'music.'
This program shows that this genre of music—improvisational and experimental—is truly borderless."
STEIM: Electronic Music Lab takes place Friday, May 7 and Saturday, May 8, with complete schedule and ticket information here. Japan Society is located at 333 East 47th Street between First & Second Avenues. Tickets may be purchased by calling the Box Office at (212) 715-1258 or in person at Japan Society (M–F / 10 AM–4:45 PM). For more info, call (212) 832 -1155 or visit www.japansociety.org.