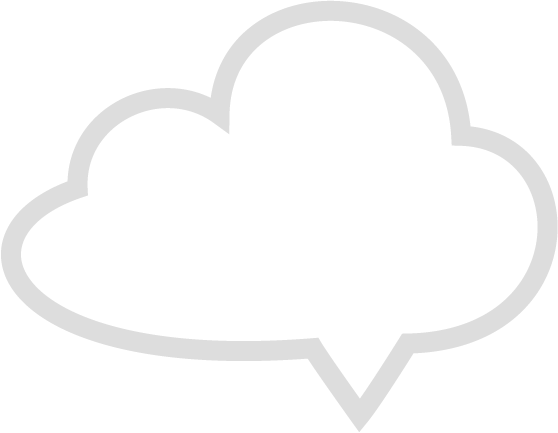 A chance to help a JET improve on a really great language technology tool.  See below:
My name is Jonathan Andreano and I am currently a 2nd year JET in Kagoshima Prefecture. At the start of this year, I began collaborating with friends from university to help develop Language Cloud, a free learning management system (LMS) designed for language education. In short, it helps provide instructors with an easy to use and, more importantly, free online platform for managing and enhancing the quality of their classes, while simultaneously promoting student collaboration and enthusiasm for foreign languages and culture through school-based social networking.
The following is an ad for a private Japanese language tutor:
Do you want to focus on reading/writing? No problem! I will create a customized curriculum for you.
I am a native Japanese speaker, an experienced and certified (MA in Teaching Japanese as a Foreign Language) Japanese language consultant. I have experienced all the class settings from a public high school to 4 year colleges. I previously taught business Japanese at the Japan Society in SF. I have also taught private lessons for business people at companies such as Fujitsu, Cisco Systems, and Palo Alto Research Center.
Through these teaching experiences, I found that reading Japanese News Paper can be an effective way to improve Japanese proficiency, especially for advanced learners. This approach can also bring learners closer to Japanese culture through the latest news in Japan.  Thus, I decided to begin offering a Japanese tutoring program with Japanese News Paper, which focuses on reading using e-mail.
How to begin? Simply respond to parenthoodconsulting@gmail.com and I will send you a sample lesson for free, which is a selected Japanese newspaper article with Hiragana reading for every Kanjis. English versions of the article will follow for your reference.
If you like it, move on to the next stage: weekly lessons. It's really affordable. I will provide tutoring if you need help with reading/pronunciation.
You can do a trial lesson (first 4 weeks of the weekly lesson) for FREE!
Come join our Japanese News Paper Reading Society today!!
Kenji
parenthoodconsulting@gmail.com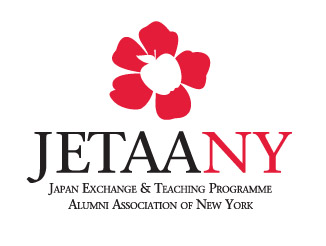 ******************
Update #1:  We're pleased to announce the addition to the panel of Matthew Cook (Osaka-fu, 2007-12), former AJET Chair and now advisor to the Osaka Board of Education's Native English Teacher (NET) Program.
Update #2:  We are planning on webcasting the event through my YouTube channel (http://www.youtube.com/user/stevenwaseda?feature=mhee).  Go to that link at 6:30 pm (NY time) to watch live (and post comments and questions).  Or, go there any other time to watch the recording.  (Apologies in advance for any technical difficulties.  This will be my first time trying a webcast using Google+ and YouTube.)
JETAA NY Career Panel:  The State of ESL and Language Education in Japan and the US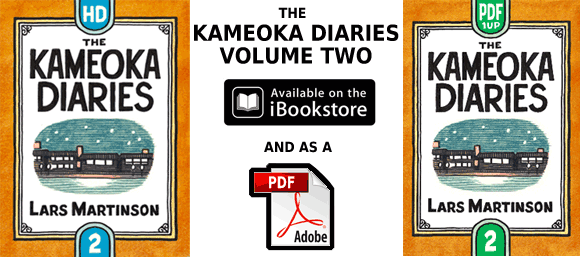 *************
Lars Martinson (Fukuoka-ken 2003-2006), author of the graphic novels Tonoharu: Part Two andTonoharu:  Part 1, has  just published the Kameoka Diaries Volume 2. This is a follow-up to Kameoka Diaries Volume 1, Lars' insightful and entertaining (especially to any JETs) e-comic about his return to teaching English, this time in Kameoka, Kyoto.
Notably, you can purchase a copy for $0.99 for iPhone/iPad/iPodTouch or pay $1 for a PDF version for Mac/PC/Android/whatever.
More info here and below:  http://larsmartinson.com/kameokadiaries2-now-available/
In Lars' words:
When I submitted my first e-comics to Apple, ( The Kameoka Diaries: Volume One and Young Men of a Certain Mind ) it took one month for them to get approved, so I'm surprised & delighted it only took two days this time. But hey, I'm not going to look a gift horse in the mouth!

I'll write more about the new volume of The Kameoka Diaries soon; I just wanted to get this announcement blog entry out right-away.

So please check it out. And if you enjoy it, please consider writing a review on iBooks, and/or telling your friends, and/or tweeting about it, and/or "liking" it on Facebook. Thanks a bunch!
JETwit Note:  I just downloaded a copy onto my iPhone as soon as I saw the announcement.  Volume 1 was great, even on an iPhone screen.  
Via JETAA Pacific Northwest. Posted by Kay Monroe (Miyazaki-shi, 1995 -97).
————————————————————————————————————
The Consulate-General of Japan in Seattle is now accepting applications for the following 2013 Japanese Government Scholarships for studying in Japan.
U.S. citizens living in the states of Washington, Montana, and Northern Idaho are eligible to apply at our office.
The application forms are available on our website at: http://www.seattle.us.emb-japan.go.jp/ Read More
Via JETAA Southeast:
The JETAASE chapter will have a JLPT language course in March. If you are near JLPT N2 level or aspiring to be, this course is for you!
Dates:
March 5th
March 12th
March 26th
Time: 7:45pm – 9:15pm (90 minutes)
Class location: Healey Building downstairs conference room (the corner of Forsyth and Walton)
Address: 57th Forsyth St. NW, Atlanta, GA
The in-person class will be open to the first 10 participants. For those residing outside of the Atlanta area, a long distance learning option may be available. The class will be taught by Japanese language instructor Sakiko Suzuki
Please sign up at the form below if you are interested in participating.
https://docs.google.com/spreadsheet/viewform?formkey=dGJxUHFWQWRJSDIxczNiYVltVHR0aWc6MQ#gid=0
*******************
How to Pass Your Love of Japan onto Your Kids
By Jessica Kennett Cork (CIR, 1997-2000, Hiroshima-ken)
(Note:  Click here to join the JET Alumni Parents Facebook group.)
My kids (7, 5, 2 and 4 months) are the only blond-haired kids in their school.  My two oldest know the names of all the Pokémon characters in both English and Japanese. My toddler can sing the Totoro and Anpanman theme songs in Japanese.
No, we don't live in Japan. We live in a suburb of Atlanta.  But I knew that even though we live in the United States, I wanted to share my love of Japan with my kids.  I don't want to "force" Japan on them, and it is fine with me if their future careers have nothing to do with Japan. But at the same time, I want for them to appreciate our family's adopted culture, and to understand that since I met their dad in a Japanese class in college, they wouldn't exist if it weren't for Japan.
And so I decided to enroll them in Japanese/English bilingual immersion school. We're lucky to have several here in Atlanta: two daycare centers and one elementary school. Almost all the other kids in the school are full Japanese or half Japanese, so it is not always easy on my blondies.  The elementary school is Japanese Ministry of Education approved, which means homework every day, even during summer vacation, and lots of parental involvement expected from the PTA.  Not to mention the pressure to come up with a decent o-bento for lunch. My seven year old often wonder why his o-bento doesn't have cute rabbits made out of apples and carrot flowers. But at the same time, he got to pound rice for New Year's, grow tomatoes and morning glories as part of his life skills class, has mandatory music and art class, and can use chopsticks better than I can.
But what I love most about the school Read More
**************
Thanks to JETAA Music City President (and Arkansas Cherry Blossom Princess) Terry Vo (Kumamoto-ken, 2007-09) for the heads up:
Join us for a Japanese-Style Potluck on October 4, 2011. Come mingle, eat, drink, and be merry! This event is open to our Friends of JET Alum as well so please feel free to invite your family and friends! Please bring either your favorite Dish, Dessert or Beverage!
RSVP DEADLINE: September 30 to Leah atvp@jetaamc.org
Location: 1812 Cahal Avenue, Nashville TN 37206″
Via JETAA USA:
The JPLT will be offered this year in the following locations:
Atlanta, Georgia (Georgia State University)
Boston, Massachusetts (Northeastern University)
Chicago, Illinois (De Paul University, Lincoln Park)
Fayetteville, Arkansas (University of Arkansas, Fayetteville)
Honolulu, Hawaii (University of Hawaii at Manoa)
Los Angeles, California (University of Southern California)
New York, New York (Lehman College, The City University of New York)
Philadelphia, Pennsylvania (Villanova University)
San Francisco, California (San Francisco State University)
Seattle, Washington (University of Washington)
Washington, DC (Georgetown University)
"If you intend on taking the test, you must have your registration paperwork in by Sept. 30th!! This is not a postmark date, so send it quick! For more details, see The Japan Foundationwebsite."
via Carleen Ben (Oita-ken 2006-2008) Carleen currently works as a Program Associate at The Laurasian Institution, a non-profit organization promoting international exchange programs between US – China, Japan, and Korea.
Volunteer Host Family:
Remember your time in Japan or as a study abroad student where you were welcomed by super amazing host families?  Do you miss sharing your culture and learning about new ones??
Single parents, retirees, "empty nesters," young couples with small children, as well as more traditional two parent families with teenagers/pets, all are currently sharing and enjoying the exchange experience!
If you are interested in hosting a student or know of someone who is interested, please email us at ayp@laurasian.org
We are looking for host families in all states throughout the US!
Students' arrival date: August 13th 2011
End of the program: June 2012 (when host school's term is over)
Host Families are important members of the U.S. Department of State's citizen diplomats. If you are interested in being part of this program and the larger picture of supporting public diplomacy, please contact us! Feel free to ask us any questions. We are looking forward to hearing from you soon!
Yoroshiku oneigaishimasu!
Thanks to JET alum Conrad Chafee for sharing this article from the Daily Yomiuri (2/16/11):
"60% of Schoolteachers Irked by English Classes"
"More than 60 percent of primary school teachers feel teaching English is a burden, according to a survey that also suggests many educators are ill-prepared for the April start of English as a compulsory subject for fifth- and sixth-graders. Benesse Corp., a correspondence education and publishing company, surveyed head teachers in charge of school administration and fifth- and sixth-grade homeroom teachers from 8,000 public primary schools in July and August. About 4,700 teachers gave valid responses.
According to the survey, 62.1 percent of homeroom teachers, who teach all or most of the subjects at primary schools, said they felt teaching English was a burden. About 72.9 percent said they believe it would be better to have teachers who specialize in teaching English to instruct students."
See the full article at: http://www.yomiuri.co.jp/dy/national/T110215005684.htm
J-DOC, C-DOC, and K-DOC are recurring features written by Friend Of JET, Jon Hills, who maintains the blog for Hills Learning (www.hillslearning.com). Hills Learning is a NY-based language learning services company offering customized and personal Japanese, Chinese, English, and Korean language learning options.
This event listing can be found at: Chinese Event NYC

Are you interested in learning Chinese, and celebrating Chinese New Year at the same time? Come join the staff at Hills Learning for a fun night out to celebrate the 15th day of the Chinese New Year, the Lantern Festival. This is a great opportunity to Learn Chinese in New York, so please join and bring your friends. Oh yeah, 新年快乐! (Happy New Year in Chinese)
J-DOC, C-DOC, and K-DOC are recurring features written by Friend Of JET, Jon Hills, who maintains the blog for Hills Learning (www.hillslearning.com). Hills Learning is a NY-based language learning services company offering customized and personal Japanese, Chinese, English, and Korean language learning options.
Mandarin Chinese Class listings can be found at: Chinese Classes NYC or Chinese Classes Online
Cantonese Class listings can be found at: Cantonese Classes NYC or Cantonese Classes Online
Are you interested in learning a new language for the New Year? As I myself living in Japan have discovered, Chinese is quite an interesting and fun language to pursue. Please read our article about Learning Chinese Basic Phrases for some advice on which phrases are necessary to master when greeting fellow Chinese speaking comrades. Happy New Year!
New Spring Classes at the Toyota Language Center


© Satoru Ishikawa.

To learn more about classes, please call the Toyota Language Center at (212) 715-1256, or consult our comprehensive Course List.

Important note:
Our classes fill up quickly. We strongly recommend that you register early.

Spring 2011 Japanese Japanese
Courses with the aim of strengthening students' abilities to communicate effectively.
Registration now open. Learn more

Spring 2011 English
Courses to learn to speak English more fluently.
Registration now open. Learn more

Spring 2011 Shodō
Hands-on workshop to introduce the techniques of shodō.
Registration now open. Learn more

2011 Spring Learn To Read Hiragana and Katakana
Mini-workshops for beginning students to master the two Japanese syllabaries, hiragana and katakana.
Registration now open. Learn more

LOCATION
Japan Society
333 East 47th Street New York, NY 10017
Stephanie Boegeman (ALT, Akita-ken, 2006-09) gets her kicks from finding fun crazy ways to see the world and getting paid to do it. She is constantly in search of job, internship, and travel ideas to add to her site Playing With Hire, in the hopes that more JET alumni and like-minded souls join her in her quest to find creative, inspiring, and unique ways to make ends meet.
Still honing your Japanese skills and looking for someone to subsidize your studies? American students who fit this description may want to look into the Boren award. There's even a guaranteed government job waiting for you when you graduate. *Deadlines are in February*. More information on applicant criteria and other applicable languages is here.