Ashlie O'Neill (Hyogo-Ken, 2013-Present) AJET National Council Vice Chair and Director of Alumni Relations. Ashlie is in her second year on the AJET National Council as the Director of Alumni Relations. She works alongside Ryan Hata (National AJET Director of Alumni Resources ) and members of JETAA to strengthen the relationship between former JETs, current JETs and Japan. Please feel free to contact her email at ashlie.oneill@ajet.net or her Linkedin profile. Ashlie helps to keep you up up to date with JETAA happenings around the world.

Welcome to the second chapter beat for 2016 . There is so much happening in January in the JETAA world so I have selected just a sample for everyone to enjoy. For more information on events around the world please visit your nearest chapters Facebook pages or websites.
When: January 31st, 12pm
Where: Coogee Beach, NSW
Head to Coogee Beach to join JETAA NSW for their annual summer BBQ.
Take along your swimmers, snacks and BBQ favourites and help them kick off the new year with a bang!
JETAA SG Welcome Back Reception
When: February 2nd, 6:30-9pm
Where: Japan Creative Centre (JCC), 4 Nassim Road, Singapore 258372
Join  JETAA SG for the Welcome Back Reception organised by Embassy of Japan and CLAIR!
You'll get to meet fellow ex-JETs, old and new, and also external companies and associations like JCCI, JUGAS, and SSEAYP.
JETAABC is proud to invite all JETAABC members and their guests to the Annual General Meeting and Shinnenkai 2016. This is a great opportunity to stay connected with JETs and continue contributing to Japan/Canada relations in an amazing way. Please consider joining the JETAABC Board of Directors whether you are a recent returnee or have been beck for decades.
First Thursday (Muses Parade Edition)
When: February 4th, 8pm
Where:TBC on Muses Parade Route
First Thursdays are a casual monthly get together designed to allow JETAA members to meet up and hang out.  If you are interested in attending please feel free to drop in.
5.JETAA Northern California

JETAANC East Bay Networking Nomikai

When: January 21st, 7:30-9:30pm
Where:Diving Dog Brewhouse. 1802 Telegraph Ave, Oakland, California 94612
Join alumni and friends at our New Year's East Bay Networking Nomikai (happy hour)! Let's ring in the Year of the Monkey together at Diving Dog Brewhouse in the heart of Oakland's Uptown neighborhood.
Register here.
YPC Koval Whiskey Tour, Tasting & Discussion

When: January 21st, 6:30-8pm
Where: KOVAL Distillery, 5121 N Ravenswood Ave, Chicago, IL 60640, United States
Join JASC and JETAA members for a tour, tasting and discussion of Chicago's very own KOVAL Distillery, set on the Northside of Chicago in Ravenswood.
Sample whiskey, gin, vodka and liqueurs while touring the distillery and learning more about the whiskey making process, and what sets KOVAL apart from the competition.  The tour will end with a discussion from Fuyuko Kojima, Japanese market manager for KOVAL, who will lend insight into KOVAL's marketing strategies in Japan and discuss cultural obstacles and challenges.  Products will be available for sale during the event with a 10% discount for all attendees.
Dallas-Fort Worth(DFW) Shinnenkai Karaoke
When: January 30th, 2-4pm CST
Where: Round One Arlington Texas 76015
Sing you hello to 2016 and a belated welcome to returning JETAA members at Round One in Arlington with the DFW JET Alumni. 
When: February 3rd , 6:30~
Where: King O'Malleys, Civic
JETAA Canberra's February Oshaberikai and get together will be at held at King O'Malleys.
If you can't speak Japanese come along anyway, we all speak English too! This is a great way to meet the other JET Alumni in Canberra.
For those who haven't been before here's how it works: You only pay for what you eat/drink and JETAA Canberra provides the bar snacks.
That's all for this fortnights chapter beat. If you have any events that you want listed please contact me on my email ashlie.oneill@ajet.net.
Have a great week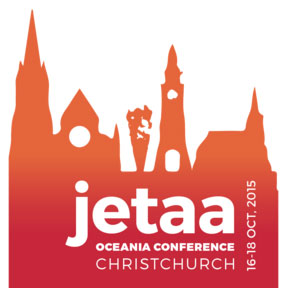 The JETAA Oceania Regional Conference took place in Christchurch, New Zealand this year, over the weekend of Oct 16th-18th. JETAA Oceania is a meeting of chapters from two countries, Australia (5) and New Zealand (3), as well as the respective country representatives. Australia's Country Representative, Eden Law (ALT Fukushima 2010-2011) reports on the proceedings of the 2015 JETAA Oceania Conference.
As far as I know, the JETAA Oceania Regional Conference is unique in the JETAA world, where two countries share an annual convention – not surprising, considering the geographical proximity and historically close relations (buddies and often times frenemies) of Australia and New Zealand. This year's theme is "Staying Connected" – to past and present JETs and JET community, local Japanese organisations and cultural groups, sister city initiatives and of course, with other chapters. Because it's such a core issue to many chapters, we had a lot to say, discuss and share – opinions, ideas and examples that have work and didn't. Some ideas:
Maintaining connections with new JETs by following up after a month to see how they are going. If you have a newsletter, ask for article contributions (e.g. "Best experience", "Most surprising aspect", "What I should have packed"). These can also be used as material for the next pre-departure orientation.
Have a committee retreat – have a mini conference by going away to a nice country location to discuss ideas, plan schedule etc.
Provide some kind of charity work opportunity to give a sense of purpose and satisfaction
Market JET Programme as a way to gain transitional skills (e.g. being bilingual means you can see things from different viewpoints)
Sell JET as a professional development program
For a fun fundraising idea, have a trivia night where answers/clues can be bought for a small fee. Cheat for charity!
This conference also marks my presentation debut as a shiny, newly minted country representative, which was also the same for my New Zealand equivalent, Raewyn MacGregor. Our presentations were about what we'd do as CRs, considering that the role tended to be re-invented to suit each new candidate's needs and personality. Apart from trying to reduce the wheel-reinvention aspect by keeping records and procedure documentation, we will also aim to focus on community and communication. To that end, I put forward a proposal to have regular, scheduled Google Hangouts for Oceania to keep in touch and continue the flow of dialogue, ideas and support for each other (and if possible, get some participants from outside Oceania to join in!). We will also look at ways of supporting recent returnees, whether in the form of support, mentorship or career opportunities.
We also discussed the Satogaeri Project and the Tokyo November conference, where Satogaeri representatives from several countries (and AJET) will meet and discuss several ideas, such as next year's 30th Anniversary celebratory plans, and, most interestingly of all, the possible revival of JETAA International (JETAAI). This chapter had gone dormant for the last few years since losing funding during austerity measures implemented by previous governments. For some of you out there, you may be aware of (or have participating in) the short bursts of email communications regarding this chapter. From the documentation presented by CLAIR at the conference, it's now clear why this was occuring, as JETAAI's revival looks fairly certain, with proposed committee members election to be held (presumably with those present). There are other further surprising items on the agenda regarding country representatives, so I'll await the post-conference report with interest.
On a final note, it became clear that the common ingredient running through all successful ideas was networking – building and maintaining relationships which can be tapped into for opportunities. This does require work and commitment – as is the case with anything worthwhile. You can't go at it half-arsed if you intend to make things a success, after all. Special thanks go to our great chapter hosts, New Zealand's JETAA South Island, lead by president Caroline Pope (and NZ's Satogaeri representative) who ran a very efficient and tight ship, which our visiting CLAIR official from Tokyo even remarked on, as being better organised than recent conferences that he had attended. High praise indeed!
The conference site is still up in the meantime. Check out all the pics and posts on Twitter and Facebook by searching for #jetaaoc.
Just want to share that JET Alum Ahmad Butt has just set up the new JETAA Middle East on FB and LinkedIn.  Ahmad is based in Saudi Arabia (Riyadh) and is trying to get some momentum going for a chapter there.  Here's the info. Please feel free to share with others.
From the CLAIR New York Facebook page:
We are saddened to learn of the passing of Ms. Nancy Kikuchi, one of the founding members of the JETAA Southern California chapter and a tireless advocate for the Japanese-American community in Los Angeles. Nancy was a Mombusho English Fellow before becoming one of the original JETs back in 1987. Returning to LA, she helped organize the chapter and served as its president from 1989 to 1993. Remaining active in alumni affairs, she went on to pursue a career in real estate, served as an advocate and consultant for the people of Little Tokyo, and worked for a number of community-based organizations. She was among five 2012 Women of the Year named by the Downtown Los Angeles Chapter of the Japanese American Citizens League and the Japanese Women's Society of Southern California . Nancy embodied the talents, abilities, and aspirations of the finest JET Program participants, strengthening ties between Japan and her home country, and building on that experience to serve her community while always being there for Japan, for JET, and for her fellow alumni.
Jul
18

Events, Film, JETAA Chapters

Comments Off

on JET Talks Film Screening – "Kokoyakyu High School Baseball" Documentary and Q&A Panel
JETAA DC is proud to present the launch of JET Talks– a speaker series modeled after TED Talks that will feature dynamic and interesting individuals to inspire innovative ideas and conversation on Japan within the DC community.
Upcoming Events: Kokoyakyu Documentary and Q&A – Tuesday, July 22
Play Ball! On July 22, please join JETAADC at the Japan Information and Culture Center (1150 18th St NW #100, Washington, DC 20036) as it presents its first "JET Talk" of the 2014-2015 season: a screening of the award winning documentary Kokoyakyu: High School Baseball, followed by a discussion with two of the film's producers.
Kokoyakyu is the first English-language film to examine high school baseball in Japan, in particular, the annual summer high school baseball tournament. The film follows one team as it seeks to play in the prestigious tournament, and along the way demonstrates why high school baseball has become a national rite of passage for many of Japan's youth.
Following the film, Nick Harling (Mie-ken, 2001-03), JET Talks Co-Chair and creator of the Let's Talk Japan Podcast, will lead a discussion with Kokoyakyu's Producers Alex Shear and Takayo Nagasawa as they discuss the making of the film and the differences between the U.S. and Japan when it comes to the "National Pastime."
Click here to register for Kokoyakyu.
Light refreshments will be served. Identification will be required to consume alcoholic beverages. Admission is free, but you must preregister.
If you have an interesting and dynamic speaker you'd like to hear speak on anything related to Japan, email us at jet.talks@jetaadc.org.
The following was written by JETAA Northern California President Mark Frey (Kumamoto-ken, 2002-06) with contributions from Xander Peterson (Miyazaki, 2009-2012) and was originally published in Japanese in the most recent edition of the CLAIR Forum which is distributed to pretty much every prefecture and town government in Japan as well as every Japanese consulate and embassy.  Below is the English version.  Here's a link to the CLAIR Forum (PDF) which has the article in Japanese.
Leading U.S.-Japan Exchange in Northern California: JETAANC
By Mark Frey, President, JETAANC, mark.frey@jetaanc.org
Many of you know participants of the JET Program (Japan Exchange and Teaching Program). They may be your co-workers or friends. But what happens to them when they return to their home countries? I hope to show you some of the exciting things that former JETs are doing on behalf of U.S.-Japan relations. I will also suggest some ways that you can engage JET alumni to further your own goals.
In 1989, two years after the start of the JET Program, former JETs gathered and established the JET Program Alumni Association (JETAA) with the aim of giving each other support and continuing the mission of the JET Program to foster grassroots international exchange.
Over the past 25 years, JETAA has grown into a vibrant worldwide organization. There are now over 57,000 JET alumni living across the globe. Over 28,000 of them live in America. That's about 1 in every 8,000 American adults! You can see the positive impact that JET alumni can have in promoting Japan around the world.
This year I became President of JETAA's Northern California chapter, JETAANC. With over 3,000 members, I am proud to say that we are one of the largest and most active chapters in the world. Next year we will celebrate our 25th Anniversary.
Our alumni are working at every level of every sector of the local economy, including for-profit, non-profit, education, and government. They are promoting exchange between the U.S. and Japan whenever and however they can.
Every year, our alumni provide substantial support to the JET Program. Read More
Very nice!  I'm not sure if it's new, but I hadn't seen it before and I just noticed it in a JETAA UK Facebook post: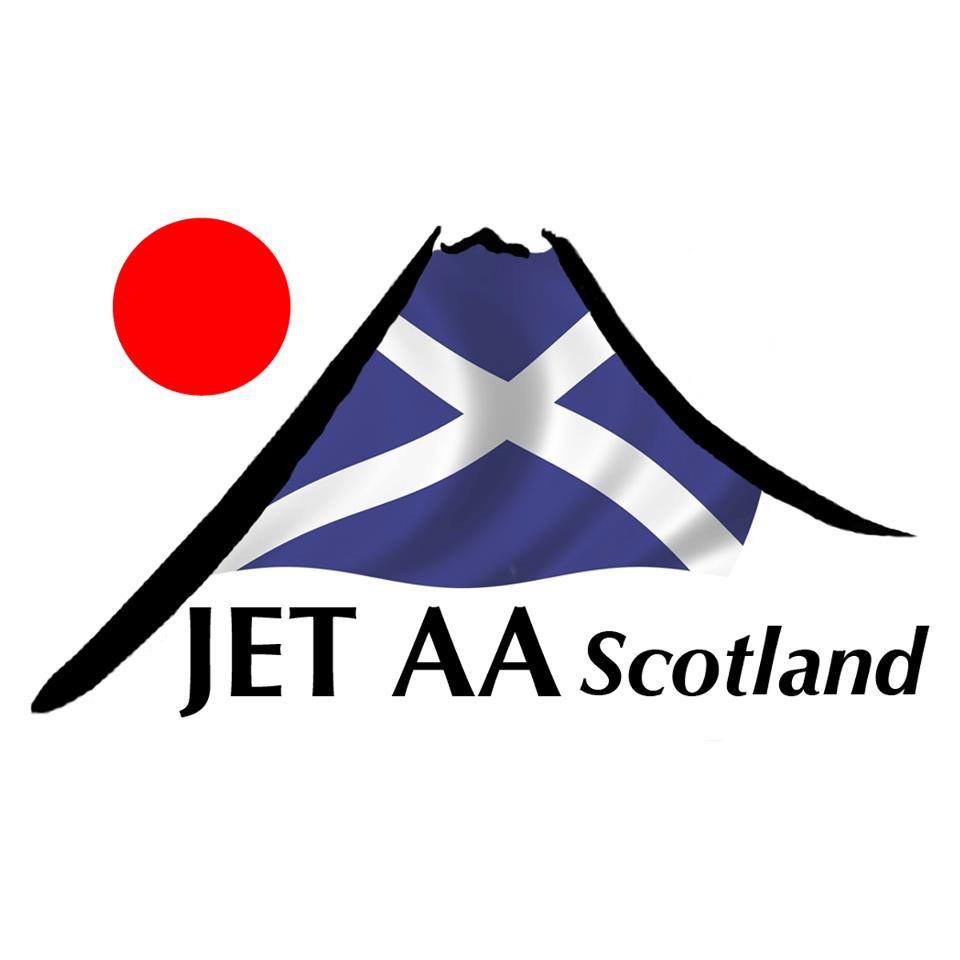 Posted originally by Hiromi Hakuta to the JETAA Oceania FB page.
"In CLAIR monthly Newsletter No.75, we introduce JETAA South Island activities, a cycling festival in Hiroshima and Japanese schools that are seeking Sister School relationships with Australian or NZ schools. My business trip to New Zealand is also introduced on that!"
http://www.jlgc.org.au/wp-content/uploads/2014/05/CLAIR-newsletter-No.75.pdf
By Eden Law (Fukushima-ken, 2010-11) for JQ magazine. Eden is JETAA New South Wales's webmaster, meaning he is the voice on all the online and social media for the Sydney-based chapter like Twitter, Instagram (both @jetaansw) and Facebook. Outside of JETAA, he doesn't exist, and is merely a concept of a shadow of a dream of an enigma, wrapped in mystery and served with a side of salad. 
Introduction
The following is a shamelessly biased opinion: Being a member of JETAA is fantastic. One gets to help organise and be involved in events and projects that reach the general public here in Sydney (like the Japan Festival), hang out with a great group of like-minded people that know all the best Japanese places to eat, drink and be merry, and who are rarely inhibited in any karaoke session. There is ample opportunity to new people constantly, both inside and outside that chapter's home city's J-community, so in a way, the JET experience never truly ends.
That's a personal assessment of what it's like being a member of JETAA, the alumni association for former JETs. JETAA chapters exist all over the world from where the JET Programme has drawn its recruits. They give former JETs a way to connect with their local J-community and like-minded peers, and are essentially a non-profit social organisation with a Japanese cultural bent. And because JET is made up of a diverse group of people from all walks of life, JETAA chapters have great potential as a resource with links in government, business, education, academia and social networks.
But it can't be denied that many chapters struggle with visibility or relevancy, in attracting members to events or to join their committees. The last point is especially important, as new members help to keep the organisation dynamic and active. And while the reasons for this are different for every situation, some similar and salient points can be discerned, notably from online forum comments (like LinkedIn). While a comprehensive discussion can probably fill a volume or ten, this article will nevertheless discuss these points.
So what does JETAA have to deal with?
By Julio Perez Jr. (Kyoto-shi, 2011-13) for JQ magazine. A bibliophile, writer, translator, and graduate from Columbia University, Julio is currently working at Ishikawa Prefecture's New York office while seeking opportunities with publications in New York. Follow his enthusiasm for Japan, literature, and board gaming on his blog and Twitter @brittlejules.
She's an aspiring actress with visa problems; he's a gay law student and newly homeless. Can a fake marriage solve their problems? Mariko and Taichi are the stars of a goofy Web comedy filmed on location in New York called 2nd Avenue. You can tune into their zany adventures on YouTube and view the entire six-episode first season, which ended this past February.
The creative team behind 2nd Avenue includes Mari Kawade (director), Maho Honda (who plays Mariko), and Tsukasa Kondo (who plays Taichi). Kondo, who also is the writer for the series, was inspired by the many Web series online and decided to try writing something that would never be seen on Japanese TV, but would have a place on YouTube. He adds that his biggest inspirations for the story are "the actress Maho Honda, my life in New York as a gay man, and American TV shows." Honda and Kawade also cite the diversity of New York City itself, and the stories of what people do just to survive in it, as a significant creative inspiration.
As you may have guessed, you can't do something awesome involving Japan in New York without some JET alumni getting involved. Tony Waldman (Mie-ken, 2005-09) and his group New Beard provide the soundtrack for the show. The idea for this pairing took root after he met Kawade at the JET Alumni Association of New York's annual Meishi Exchange event in 2013.
"She mentioned that she was looking for music for this Web series," Waldman says. "We exchanged contact info and kept in touch. Many months later, she…asked if we could use my band New Beard's music in the show. Us here in Beard Town (Williamsburg) gave her the OK, and our music became the soundtrack to the entire show…a true JETAANY Meishi Exchange success story!"

Saw this on the JETAA Portland email blast:
New JETAA Portland Officers Announced
The votes have been counted! The officers elected to the new April-to-March term are below.  Congratulate them the next time you see them.  Also, thanks to last year's officers — Brooke, Jeffrey, Veronica and Matt Turner.
| | |
| --- | --- |
| President   | Jeffrey Houser |
| Vice President      | Brooke Muetzel |
| Treasurer   | Veronica Adversalo |
| Secretary   | Matt Krzyzynski |
ALSO…. JETAA Portland continues its long tradition of one of the greatest JETAA events out there, the Iron Chef Potluck, where they typically invite the JETAA Pacific Northwest (based in Seattle) folks to come down for some friendly competition and communal eating.
Iron Chef: May 17th
The JETAA Iron Chef competitive potluck is planned for Saturday, May 17th.  Check the JETAA Portland website or look for an email with more detail in the next few weeks.  Start thinking about those recipes!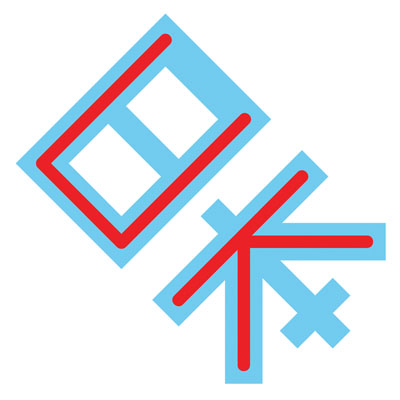 Taken from a recent JETAA UK email blast:
Hello everyone,
My name is Richard Fleming (a.k.a Richie, The Richie, Tricky, and Dick). I have recently been nominated to chair the Northern Ireland chapter of JETAA UK and I need your help.
I am reaching out to everyone in the hope that there are some former JETs here in NI who still want to be involved with JETAA events. Are you one of them?! If so, get in touch!
If you are lucky enough to be reading this from a location outside of NI, good for you. Thanks for still reading. Are you formerly from here? Do you know any former JETs who may be lying around Belfast/Derry wishing they had someone to talk to about how amazing Japan is? They obviously don't have to be from here, they could be from anywhere, as long as they're here and interested in getting involved.
We're a small province and we all pretty much know each other through no more than 2 or 3 degrees of separation. Everyone knows my mate Paddy. He has a beard and drinks Guinness.
I welcome contact from all quarters. I'm determined to reinvigorate the NI chapter and link in with other individuals/organisations which have a connection with Japan. The Japan Society have already invited me to their Hanami event, I would like to have a few former JETs to accompany me!
Anyway, apologies for the mass Mailshot, but the wider you cast the net the better your chances of catching something. If you've been on a night out in Belfast you'll understand why that saying is not always good advice.
Also, even if you don't know any former JETs here, I welcome any suggestions to try to kick start our chapter!
Best regards,
Richie
JETAA Northern Ireland:  http://www.jetaa.org.uk/about-jetaa/chapters/northern-ireland/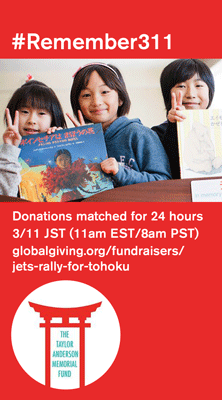 3/11 Update:  FYI, the 24 hour deadline for Global Giving to match donations to the Taylor Anderson Memorial Fund and other 3/11 initiatives has been lifted, and they will continue to match JET contributions until matching funds run out. So JETs/alums can continue to double their donations!
*Link to the Global Giving Matching Page:  http://www.globalgiving.org/leaderboards/japan-matching-2014/ to see how much various groups are raising.
*Link to the JETAA USA Event Page:  https://www.facebook.com/jetaausa
*The link to donate has been added!
Put this on your calendar!  
JETAA USA is supporting the Taylor Anderson Memorial Foundation for a 24 hour donation drive that starts when the clock strikes midnight in Japan on March 11. And GlobalGiving has offered to match these donations.
This is a great opportunity to show our ongoing support for Tohoku by going to the Global Giving website on March 11th to make a donation during the matching grant period.
Online donation drive
Donation website: http://www.globalgiving.org/fundraisers/jets-rally-for-tohoku/
Starts: 12:00 midnight Japan time on 3/11 (11 am EST, March 10; 8 am PST, etc)
Ends: 11:59 p.m. Japan time on 3/11 (10:59 am EST on March 10)
Background
Three years have passed since the Great East Japan Earthquake and Tsunami and the devastation in Tohoku has largely faded from the news. However, so much remains to be done for the survivors and TAMF has been partnering with a number of organizations in Japan to provide relief and help the people of Tohoku build a strong and vibrant future.
Smile Together IshinomakiTAMF has provided funding to the following projects:
Living Dreams: Tohoku Kids Project

Hope for Tomorrow

JET Micro Grants

Taylor Anderson Reading Corners

Taylor Sendai YMCA Scholarships

Exchange Programs
For more information on TAMF, please go to http://www.taylorandersonmemorialfund.org/, their Facebook page at https://www.facebook.com/taylorandersonmemorialfund, or watch the NHK interview with Jeanne and Andy at https://vimeo.com/86637051.
JETAA USA is proud to partner with TAMF to carry on the support JETs and JET alumni have shown for Japan and the people of Tohoku ever since March 2011.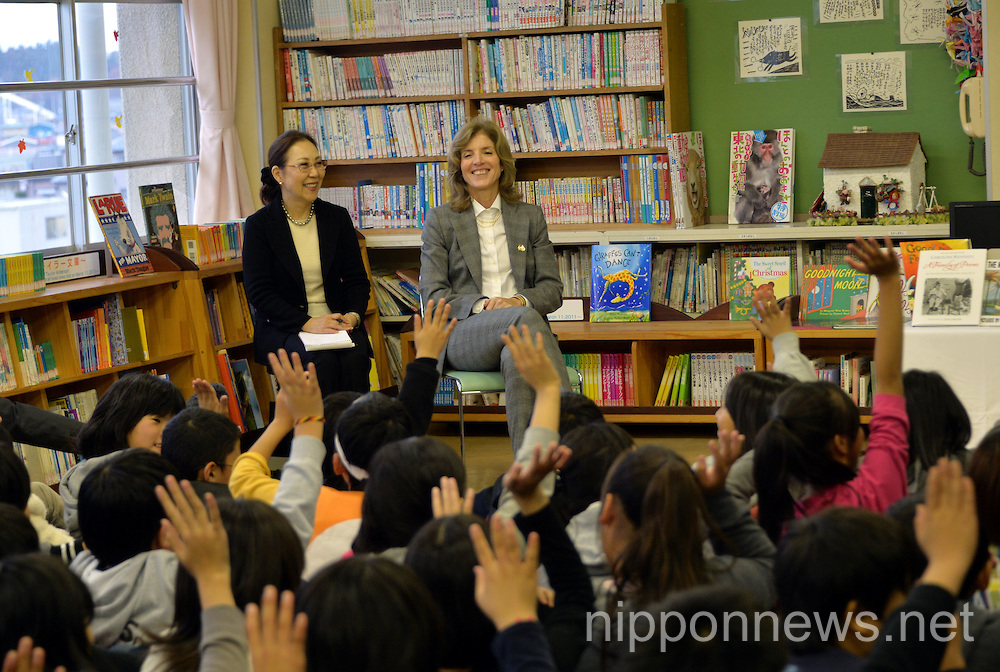 Details:
All donations up to $1,000 per individual donor made to the Taylor Anderson Memorial Fund on March 11th Japan time will be matched by Global Giving through their Japan Match Global Giving program. (Global Giving will charge a 15% facilitation fee to cover their costs, which donors may choose to cover if they wish so that their full donation amount goes to TAMF. See the page for details.)
We are also very happy to see Ambassador Kennedy giving her backing to their mission, as well.  For coverage of her recent trip to Ishinomaki and visit to Mangokuura Elementary School, where Taylor taught, please check out the article at http://ajw.asahi.com/article/0311disaster/recovery/AJ201311250099.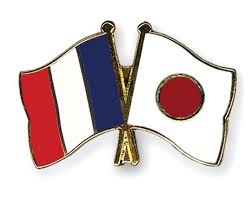 I just learned from Celine Castex (Chiba-ken, 2006-11) of CLAIR Tokyo that there is a LinkedIn group for French JET alumni:
Also, a reminder that you can find JET alum LinkedIn and other groups for every prefecture and nearly every professional field you can think of here:  http://jetwit.com/wordpress/jet-alum-groups/
By Sarah Parsons (Gunma-ken, 1995-97) for JQ magazine. Sarah is the careers and networking coordinator for JETAA UK and chair of the Midlands Chapter. She also runs her own business called Japan In Perspective, where she facilitates business links between the UK and Japan.
There are a variety of ex-JETs: those who have just returned looking for jobs and hoping to make sense of and use their JET experience, and those who are still interested in keeping in touch with Japan who have been very successful using their JET experience professionally—whether it be directly Japan-related or using it as a catalyst for a new career—but who have not been engaged with JETAA for a long time, if ever. Several things became evident.
First, JET can be a life-changing experience that offers so many potential professional opportunities, but the professional needs of our members are not being formally facilitated within JETAA UK. Secondly, the job environment in the UK is getting more and more competitive and it is very challenging for ex-JETs to stand out, gain more business skills and use their experiences professionally, so there is a demand for helping JETs with their post-Japan careers; and thirdly, in order to achieve any of this, JETAA needs to raise its profile professionally and engage with local business communities.
In this vein, we decided to map out a multifaceted programme within JETAA UK to facilitate these needs and to engage and utilise the expertise of some of our more experienced members. We wanted to organise networking events for local ex-JETs to meet the local business communities (UK companies that are interested in Japan as well as local Japanese companies) so as to offer great opportunities for JETs to develop important contacts and give attendees a chance to keep up to date on what is happening in the Japan-related business world.