Oct
9

Article/Journalism, Celebrity, JETs in the News, Notable JET Alums, Translating/Interpreting

Comments Off

on JET alum George Rose quoted in NYT feature on Hideki Irabu
JET alum George Rose (Fukushima-ken, 1989-91), former interpreter for Hideki Irabu as well as former JETAA NY President, is quoted in a Sunday, October 9 feature article "Irabu Got Lost on the Way Back") in the New York Times about Japanese pitcher Hideki Irabu who recently committed suicide.  The article gives the impression that George was one of the few U.S. baseball colleagues who actually got to know Irabu personally.
Below is a link to the full article along with the quotes by George:
http://www.nytimes.com/2011/10/09/sports/baseball/hideki-irabu-got-lost-on-the-road-back.html?_r=1&scp=2&sq=hideki%20irabu&st=cse
"When I saw him last summer, he told me he was having a midlife crisis," said George Rose, who befriended Irabu when he worked for two years as his interpreter on the Yankees. Rose then repeated what had been a kind of conventional wisdom about the Irabu: he had a big heart, but could be his own worst enemy.
**********
"He was kind of searching for what to do next," said George Rose, his old interpreter, "and he never did."
For additional background on George, here's a link to a 2008 JETAANY Newsletter interview with George Rose ("Pride of the Yankees:  Far East Edition") by Stacy Smith (Kumamoto-ken CIR, 2002-03).
September 23, 2011
By BRUCE FEILER
I RECENTLY attended a chaotic, kid-friendly gathering at the home of a friend. On my way to the bathroom to seek some solace, I decided to indulge in one of my favorite antisocial activities: scrutinizing someone else's bookshelf. For a veteran sleuth, a bookshelf can offer a trove of insights worthy of any Freudian's couch. Does a person alphabetize the books or clump them? Do they arrange their books by genre, order in which they were purchased, or color? Are these books unopened hardcovers or dog-eared paperbacks?
I was several minutes into my investigation (Bill Clinton's memoir; "The DaVinci Code"), when I had a heart-sinking realization: Read More
Here's info on a charity concert ("charity live") by JET alum Maynard Plant's (Aomori-ken, 1997-2000) hit band Monkey Majik in Sendai on October 16th, as part of their ongoing effort to support rebuilding and recovery in Tohoku, in their capacity as Tohoku Tourism Ambassadors.
東北観光親善大使「モンキーマジック」がチャリティライブを開催します!
2011年9月12日
震災から6ヶ月が経過してもなお、復興までのプロセスには数多くの方の継続的なご支援が必要であるとあらためて実感すると同時に、活動を通じて人間一人一人の助け合いの力強さ、素晴らしさに日々感動を憶えてきました。
そしてこの出来事を全国の皆様に伝え続けて行かなくてはならないという強い想いから、プロジェクト第3弾となるチャリティライブを故郷 被災地 仙台で開催することを決断しました。
「音楽」の力を通じて、参加してくれた方々、さらに被災地の方々の一歩前へ踏み出す気持ちへの後押しとなり、心の早期復興への一助となるような1日を共に作り上げたいと強く願っております。
本公演に於ける売上金の一部を義援金、寄付金として、再び公的機関を通じて被災地へ送ります。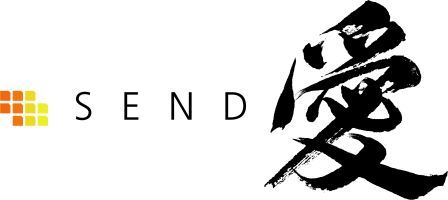 〈公演概要〉
東日本大震災復興支援プロジェクト
MONKEY MAJIKチャリティライブ「SEND愛」
~MONKEY MAJIKがゲストを迎えてのチャリティライブ~
日程:2011年10月16日(日)開場13:00開演14:00
会場:セキスイハイムスーパーアリーナ(グランディ21)
出演:MONKEY MAJIK/LOVE PSYCHEDELICO/Rake and more・・・
チケット一般発売:9月17日(土)10:00~
チケット料金:前売り5,000円(税込)
お問い合わせ:
TBC事業部 TEL022-227-2715
ニュース・プロモーション TEL022-266-7555
詳しくは こちら へアクセス願います。
************
Here's the newest newsletter from JET alum and Inuyama City Council Member Anthony Bianchi (Aichi-ken, Inuyama-shi, 1988-89):
***Page 1***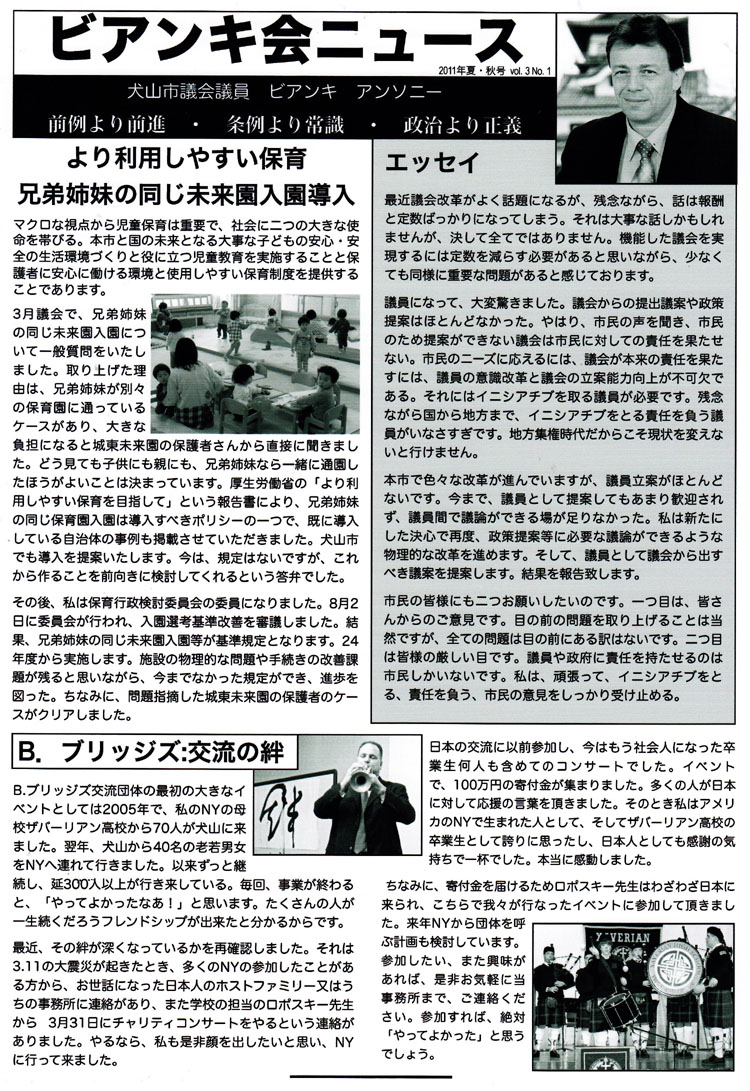 ***Page 2***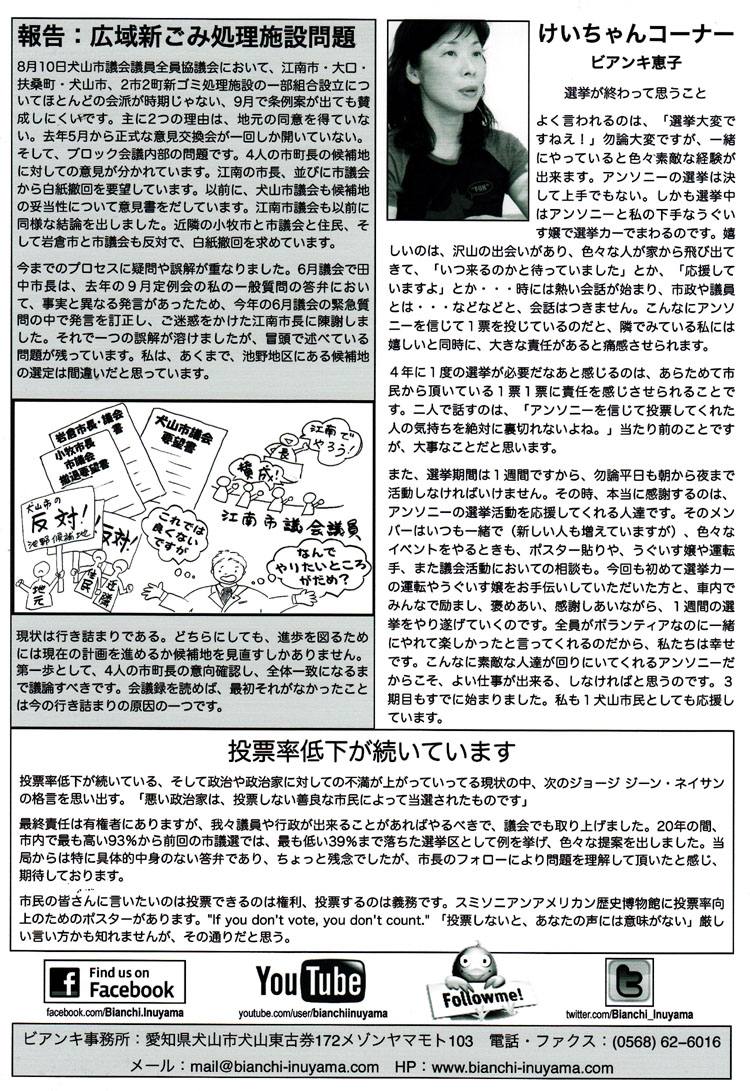 CLICK HERE for more JETwit posts about Anthony Bianchi.
Show off your translating skills! An English translation or summary of some or all of the above would be great if any readers are up for it.  Full credit will be given!
***********
JETAA Ottawa President Lisa Mallin (Chiba-ken, 2006-08) does a great job on Ottawa's Channel A morning show of promoting "JETAA dogs" (Japan-inspired hotdogs) along with the entire Ottawa Japanese Summer Festival.  Make sure to watch to the end where Lisa also helpfully informs the host that Sendai-based band Monkey Majik was started by JET alum  Maynard Plant (Aomori-ken, 1997-2000) and his brother.
**************
Former star pitcher Hideki Irabu was apparently found dead in his apartment by friends.
Notably, former JETAA New York President George Rose had served as Irabu's translator during his time with the Yankees when they won the World Series.
Rest in peace, Irabu-san.  Thanks for the memories and for doing your part to bridge the culture gap.
This article in the Beaverton Valley Times about the David Wu sex scandal and resignation mentions JET alum Rob Cornilles as one of the Republicans who may run for the vacancy.  Rob lost to Wu in the last election with 42% of the vote.
http://www.beavertonvalleytimes.com/news/story.php?story_id=131181238478965800
Thanks to JET alum and Inuyama City Council Member Anthony Bianchi (Aichi-ken, Inuyama-shi, 1988-89) for sharing the video below (in four parts) taken by his son Matthew of a panel discussion from the JETAA USA National Conference held in Washington, D.C. July 14-17.
The panel featured Bianchi along with fellow JET alums Laurel Lukaszewski (Kagoshima-ken, 1990-92) (sculptor artist and former Executive Director of the Japan-America Society of Washington, D.C. as well as former President of Pacific Northwest JETAA) and Jim Gannon (Ehime-ken, 1992-94), Executive Director of the Japan Center for International Exchange (JCIE/USA), and was moderated by JETwit publisher Steven Horowitz (Aichi-ken, Kariya-shi, 1992-94).
Part 1

Part 2

Part 3
Part 4

The below announcement was recently sent out by JET alum David Boling, former U.S. Attorney who ran for Congress in Arkansas in the Democratic primary in the last election.  David will be the new Deputy Executive Director of the Maureen and Mike Mansfield Foundation which, among other things, manages the Mike Mansfield Fellowship Program, a Congressionally established professional exchange for mid-level federal government employees.
Notably, the position was previously held for 16 years by JET alum Paige Cottingham-Streater who recently was appointed Executive Director of the Japan-US Friendship Commission, a federal agency that provides grants for research, training and exchange with Japan.  Paige, who was one of the founders of the JET Alumni Association in 1989, also recently spoke at the JETAA USA National Conference in Washington, D.C. on a panel moderated by former Monbusho English Fellow (i.e., pre-JET) Michael Green who previously served as special assistant to the president for national security affairs and senior director for Asian affairs at the National Security Council (NSC) from January 2004 to December 2005.
Here's the announcement:
Dear Friends

First, I want to tell you how much I appreciate your support for my race for Congress in 2010. Your friendship and trust is something I treasure. I truly love Arkansas and want to do all that I can to serve the great people of Arkansas.

As you know I have been considering another run for U.S. Congress in 2012. It would have been a difficult race, but I believe that I could have won. I believe that the Second District is winnable for the Democratic Party in 2012.  Another opportunity, however, has been offered to me that I feel is right for me and my family at this time.

Today I am excited to tell you that I have accepted a position with the Maureen and Mike Mansfield Foundation as Deputy Executive Director.  The Foundation, based in Washington DC, is a nonprofit organization that promotes understanding and cooperation among the nations and peoples of Asia and the U.S.  One of my responsibilities will be to oversee the Mansfield Fellows.  You may remember that I was a Mansfield Fellow earlier in my career.

During my campaign for Congress at one of the candidate debates I was asked to name my political hero.  I responded that two people are my political heroes:  Vic Snyder and Mike Mansfield.  Everyone knew Vic Snyder.  Fewer knew Mike Mansfield.

Mike Mansfield was a miner from Montana who after serving in World War II finished high school and then college.  With the support of his wonderful wife,
Maureen, he went on to serve in the U.S. Congress and U.S. Senate.  He was the Senate Majority Leader from 1961-1977 and was U.S. Ambassador to Japan for both Presidents Carter and Reagan.  He died in 2001 at the age of 98.

I had the good fortune to work for Vic Snyder for nearly three years and now I am delighted to have the chance to work for the foundation that honors Maureen and Mike Mansfield's legacy.

My family and I are embarking on a new adventure in our lives.  We promise to stay in touch and we ask that you do the same.

Thank you again for everything.

All the best,

David
Attached is a new New York Times column ("The Life (and Death) of the Party:  Mastering the Art of Dinner Party Conversation") by JET alum Bruce Feiler (Tottori-ken, 1989-90), author of Learning to Bow, The Council of Dads, and several books on the Middle East including Walking the Bible, Abraham and Where God Was Born.
To read prior columns, please click here.
Bruce's new book GENERATION FREEDOM:  The Middle East Uprisings and the Remaking of the Modern World has just been published.  You can see some of his recent media appearances by visiting www.brucefeiler.com.
***************
This Life
The Life (and Death) of the Party
By BRUCE FEILER
Published: July 8, 2011
I CALL it my insufferability test. It came about like this: A number of years ago, I was seated at a dinner party next to the celebrated C.E.O. of an American brewery. I was the lesser player here, so I began asking him questions about his beer.   Fifteen minutes passed, then 30. He didn't ask me a single question.
As dessert approached, I began slumping in my chair from trying to come up with query after query about organic hops and fluctuating wheat futures.   Finally, I started dropping in teasers from the year I spent as a circus clown. "My friend the human cannonball …"; "That reminds me of the time I once got into a cage with nine tigers." Surely these would pique his curiosity.   Needless to say, I never told a story about the circus that night.
To me that encounter was a warning shot. I was like a rookie pitcher being plastered in his opening outing in the big leagues. If I hoped to avoid similar dinner party fiascoes in the future, I had to raise my game. So what is the best formula for handling a loudmouth, know-it-all, bore or clam?
With summer entertaining season upon us, it seemed like a good time to brush up on my techniques, and perhaps pick up some new tricks. So with the help of some veterans of the tablecloth trenches, here are some tips for navigating dinner party pitfalls.
EAT AND GREET In ancient Rome, senators hired nomenclatorsto follow them around and introduce them to people. These days, each of us has to be his own nomenclator. A good host often performs this role. "A lot of dinners I throw often have a specific point to them," said Sunny Bates, a former Silicon Alley headhunter turned networking guru. "I make everyone go around and say who they are, where they're from and what they most need." Other starter questions I've seen work: "If you could change one thing about the human body, what would it be?" and "What about you, physically, is perfect?"   Knowing something about all the other guests is more than good manners; it can also come in handy if you're seated next to a dud and need to seek relief in someone a few seats away. If I'm at an event with no host at the table, I'll go so far as to walk around and briefly introduce myself to the other guests. Think of a dinner party as being like a crime scene: plan your escape route.   Read More
JET alum Bruce Feiler (Tottori-ken, 1989-90), author of Learning to Bow, The Council of Dads, and several books on the Middle East including Walking the Bible, Abraham and Where God Was Born, has a new book to published by Harper Collins soon titled Generation Freedom: The Middle East Uprisings and the Remaking of the Modern World.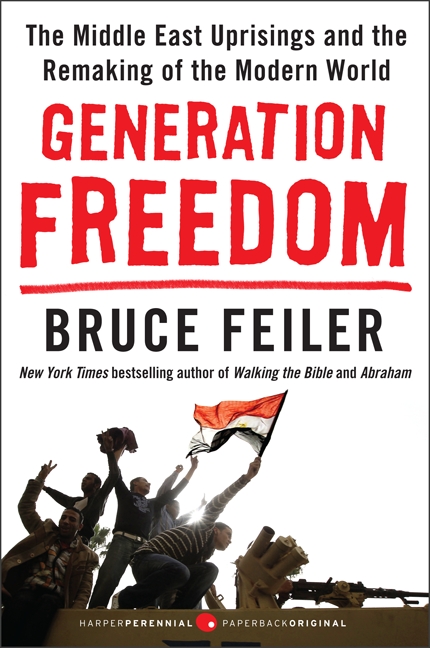 From the Harper Collins website:
At a time when the world is asking how the Arab Spring and the death of Osama bin Laden will reshape our times, Bruce Feiler, bestselling author of Walking the Bible and Abraham, offers a vivid behind-the-scenes portrait of history in the making. He marches with the daring young organizers in Liberation Square, confronts the head of the Muslim Brotherhood, and witnesses the dramatic rebuilding of a church at exactly the moment sectarian violence threatens the peaceful movement. Drawing on fifteen years of travels across the region, from Egypt to Israel, Iraq to Iran, Feiler brings his unprecedented experience to the most pressing questions: how the rise of freedom will affect terrorism; Middle East peace; and relations among Jews, Christians, and Muslims worldwide. Eloquent and thoughtful, Generation Freedom offers a hopeful vision of how this unrivaled upheaval will transform the world.
Thanks to JETAA Ottawa President Lisa Malin for sharing this:
Brief English summary of Japanese article below:
Canada's Ambassador to Japan Jonathan T. Fried delivered a load of Canadian beef to Tagajo City, Miyagi Prefecture along with Maynard Plant (Aomori-ken, 1997-2000) and one other member of Monkey Majik (a four-person Canadian-Japanese band based in Sendai and Tagajo). The beef  was served atop locally grown Hitomebore rice to make steeki-don for 1,000 people living in shelters in Tagajo.  The Ambassador's aim was to help residents get their strength back after everything they've been through, and it appears to have been the first meat many had enjoyed for quite awhile.
***********
(Japanese article)
宮城〕
カナダ牛でステーキ丼
駐日大使ら炊き出し 多賀城
カナダ牛のステーキで元気になってもらおうと、駐日カナダ大使と音楽グループ「MONKEY MAJIK」のメンバーらが2日、多賀城市内2か所の避難所でステーキ丼の炊き出しを行った。
同グループはカナダ人と日本人の4人組。仙台市を拠点に活動しているが、デビュー前は多賀城市が活動の中心だった。
震災後は各地でボランティア活動を続けながら、カナダ大使館に支援を呼びかけると、4月にはジョナサン・フリード大使が多賀城市に避難物資を届け、今回の支援を約束した。
大使館は「力のつく温かいものを食べてもらいたい」と、県産米「ひとめぼれ」の上にカナダ牛を豪快に盛りつけた 1000食分のステーキ丼を用意。避難所が置かれた市文化センターと市総合体育館では、フリード大使が「お元気ですか」と声をかけながら、被災者にステー キ丼を手渡した。
2歳の長男とステーキをほおばった同市桜木、無職佐藤深雪さん(33)は「肉を食べたのは本当に久しぶり。柔らかくておいしかった」と顔をほころばせた。
(2011年6月3日  読売新聞)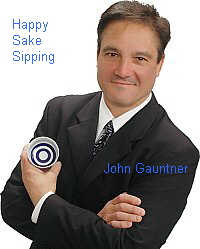 The June 2011 issue of the Sake World e-newsletter by JET alum and the leading non-Japanese sake expert in the world, John Gauntner (a.k.a. "The Sake Guy"), is now available online.
Go to John's Sake World website for more information as well:  www.sake-world.com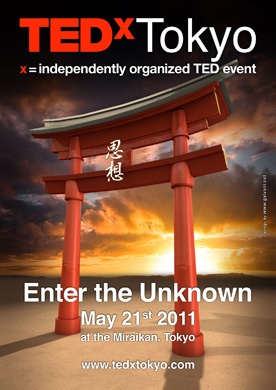 Mike Maher-King (Fukui), founder of Smile Kids Japan, will be one of the speakers at TEDxTokyo:  Entering the Unknown on Saturday, May 21 at Miraikan Tokyo.
Here's some background on Mike from the TEDxTokyo website which does a nice job summarizing some of the good work he's been doing since the Tohoku Earthquake/Tsunami:
Mike Maher-King
Network Organizer, Fundraiser and Catalyst

Channeling good intentions is tougher than it looks, but Michael Maher King seems to possess the knack. The young British founder and CEO of Smile Kids Japan—which has now joined Living Dreams—was a teacher in Fukui when his wife informed him that some of their students were orphans. In May 2008, they started up Smile Kids to lend their time, skills and care to Fukui's orphanages.

The March 11 Tohoku disaster broadened the group's focus and ambitions. Working alongside the Living Dreams NPO, Michael is now taking their network concept to 18 orphanages in Miyagi, Iwate and Fukushima through the Smiles and Dreams: Tohoku Kids' Project. They plan to set up regular fun and interactive volunteer visits, distribute donated items, and spark long-term projects that cover everything from computers to mentoring to scholarships. Michael hopes to go nationwide and help Japan's other orphans shape their own destinies.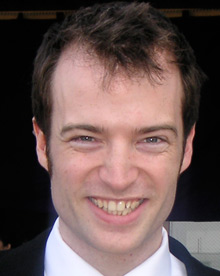 And here's the event description from the TEDxTokyo website:
Join us
The entire event will be streamed live here on:

May 21st from 9am JST
May 20th from 8pm EDT

Join us for all of the talks as they happen, and exclusive backstage interviews.

On Saturday May 21st from 9am JST (Friday May 20th from 8pm EDT) the curtain will rise on our third annual event, Entering the Unknown, which is set to be bigger and better than ever as we bring together an even wider range of speakers and participants to share ideas and inspiration.

In the wake of the devastating March 11th earthquake and subsequent tsunami & radiation menace, we abruptly altered our focus to explore practical and inventive ways of rebuilding and renewing Japan, and uplifting the spirits of its people.

Over 30 speakers and 300 participants will be joining us at Tokyo's iconic Miraikan, with thousands more around the world watching on the day via our bilingual live streams, whilst taking part through our social media channels.

We invite you to be a part of this special event – put the date in your diary, follow our latest updates on Twitter, and join us here live from Tokyo on the day as we Enter the Unknown.
*******************
Last night was Japan Society of New York's Anual Sake Tasting:  Back to Basics event with a lecture by JET alum John Gauntner (Kanagawa-ken) (aka "The Sake Guy"), now the leading sake educator in the world, followed by a sake tasting (and mingling) with about 20 sake exporters from all over Japan.  I attended with professional Writer/Interpreter/Translator Stacy Smith (Kumamoto-ken CIR, 2000-03) (who writes the WIT Life posts on JETwit) and we had a terrific time, learning the basics of sake, running into Tomoko Okuno of Japan Society as well as Alma Jennings (Fukushima-ken, 2008-10) who was volunteering at the event, and of course finally getting to meet John in person.
John will be lecturing at similar events over the next few days in Boston, Toronto and several other cities in North America.  So keep your eyes out and, if you attend, make sure to say hi and let him know you're a JET alum as well.
Thanks to Japan Society for putting on a great event!
**************