Aug
15

Career, Fundraising, Networking, Return on JET-vestment

Comments Off

on New LinkedIn group: JET Alum Okane
All JET alumni and Friends of JET are welcome and encouraged to join a new LinkedIn group:
http://www.linkedin.com/groups?home=&gid=4045224&trk=anet_ug_hm
For JET alumni who have an interest in, work in or aspire to work in fields related to money – i.e., finance, fundraising, investment, accounting, tax, economics, insurance, etc.
Click here for a list of all of the other JET Alum LinkedIn groups you can join.
After meeting Portland-based mental health counselor and JETAA Portland officer Roy Huggins (Hokkaido, Sapporo-shi) at the JETAA USA Conference in D.C. this past weekend and realizing there were two other attendees who are also health professionals (JETAA Texoma's Chieko Rothengass and Dennis Li are both researchers), we thought it might make sense to create a …..
http://www.linkedin.com/e/ai06o5-gqax67os-a/vgh/4008893/
So if you're a therapist, a doctor, a nurse, a researcher, a nutritionist or in any other line of work (or aspire to be) that has some connection to health, please join!
Also a reminder that there are a whole host of other JET Alum LinkedIn groups to join (e.g., law, policy & government, MEFs, media professionals, etc.) as well as the JET alum LinkedIn groups by prefecture.
via Carleen Ben (Oita-ken 2006-2008) Carleen currently works as a Program Associate at The Laurasian Institution, a non-profit organization promoting international exchange programs between US – China, Japan, and Korea.
Volunteer Host Family:
Remember your time in Japan or as a study abroad student where you were welcomed by super amazing host families?  Do you miss sharing your culture and learning about new ones??
Single parents, retirees, "empty nesters," young couples with small children, as well as more traditional two parent families with teenagers/pets, all are currently sharing and enjoying the exchange experience!
If you are interested in hosting a student or know of someone who is interested, please email us at ayp@laurasian.org
We are looking for host families in all states throughout the US!
Students' arrival date: August 13th 2011
End of the program: June 2012 (when host school's term is over)
Host Families are important members of the U.S. Department of State's citizen diplomats. If you are interested in being part of this program and the larger picture of supporting public diplomacy, please contact us! Feel free to ask us any questions. We are looking forward to hearing from you soon!
Yoroshiku oneigaishimasu!
I've come across a number of bios and profiles of established JET alums in recent months, usually on their company or organization's website or on LinkedIn.  And I've noticed many do not specifically mention JET.
They might say they worked or taught English in Aichi Prefecture or were an ALT in Osaka, but no mention of JET.  I realize that specifically mentioning JET is not appropriate in every bio and profile.  But if your work relates to Japan or to education (and in many cases even if it doesn't), I want to suggest that it would be a beneficial to us as a community and to the JET Program as well to make a point of mentioning JET.
In addition to the fact that the JET Program enjoys an excellent reputation, it's also important to let the world know that we're out there.  It's kind of like that "Canadians:  They walk among us" bit from the movie Canadian Bacon.  There are JETs everywhere, but you may not always be aware of it.
The more we're aware of how many of us are out there and where we are, the stronger the community and the network becomes, the greater the positive visibility for JET and the more likelihood that the JET Program and JET alumni community continue to play a unique and positive role for Japan in the future.
Just one more small thing you can do to help improve Return On JET-vestment (aka JET ROI).
Update 6/16/11: Jennifer Jakubowski of cross-cultural consulting firm Bridges To Japan got in touch to say that after seeing this post she updated her profile to mention the JET Program.
Update 6/15/11:  Good example – JETwit and JETAANY Webmaster Lee-Sean Huang (Oita-ken, 2003-06) makes a point of mentioning the JET Program in his bio for Purpose.com.

Last night JETAA New York joined with New York Battenkai, a New York-based association for Japanese ex-pats from Kyushu, for a unique happy hour at Nightengales (2nd Ave & 13th St) and another example of JETAA chapters supporting prefecture and local government efforts.  (Translation Note:  "Batten," it was explained, is connecting phrase unique to Kyushu dialect.)
As New York is home to many other similar prefecture associations, perhaps this could end up serving as a model for future JETAA Chapter-Prefectural Association events.
There's now a new LinkedIn group called JET Alum IT/Tech/Science for JET alums, current JETs and Friends of JET who are working in, interested in or have some sort of connection to IT, tech, science, engineering, medical fields, etc.
Here's the link:  http://www.linkedin.com/groups?mostPopular=&gid=3949084&trk=myg_ugrp_ovr
And a reminder to go to JET Alum Groups on the JETwit site for a list of all professional/career oriented LinkedIn and other groups for JETs.

UPDATE 9/27/11:  It turns out an MEF Group on LinkedIn was previously created by Thomas Schalow.  To join, go to this link:  http://www.linkedin.com/groups?about=&gid=3757582
I'm going to delete the group that I created and would like to encourage MEFs, BETs and other pre-JETs to join the version of the group set up by Thomas.
Yoroshiku!
***************************
Every now and then I hear from a Monbusho English Fellow (MEF) or other person who was part of a pre-JET program in Japan.  I know there are plenty more MEFs out there, and you are very much JET alums from the perspective of the JET alumni community.  So I thought it would make sense to create a LinkedIn group for MEFs and others who participated in programs.  (I think there was also a British English Teachers program?)
Just a reminder that there are a number of LinkedIn groups set up for JETs and JET alumni geared towards professional connecting and career development:
*Don't see what you're looking for?  Start your own JET alum LinkedIn group and e-mail jetwit [at] jetwit.com.  We'll post it on JETwit.
**Also, don't forget about the JETwit Jobs Google Group as well as the JET Alum LinkedIn groups by prefecture.
I just set up a new LinkedIn group for JETs, JET alums and Friends of JET who work in academia or are interested in working in academia.  This includes any professors, PhD candidates, masters degree students or anyone related in any way to research and academia.
Via JETAA Music City:
JETAA Music City and the Japan-America Society of Tennessee (JAST) will co-host the Top Chef Tsunami Relief Sake Dinner on Thursday, April 21st at Cha Chah in Nashville, TN.  Top Chef DC's Arnold Myint and Top Chef All Star's Tiffany Derry will be preparing a 5-course meal with sake pairings with proceeds going to the JETAA USA Fund and the Tennessee Tomodachi Fund. The event will also include a Silent Auction.
We are so excited to share that no more reservations are being taken for the event! We are going to have a packed house on this evening for Japan. If you have additional questions, contact Terry Vo at president@mcjetaa.org.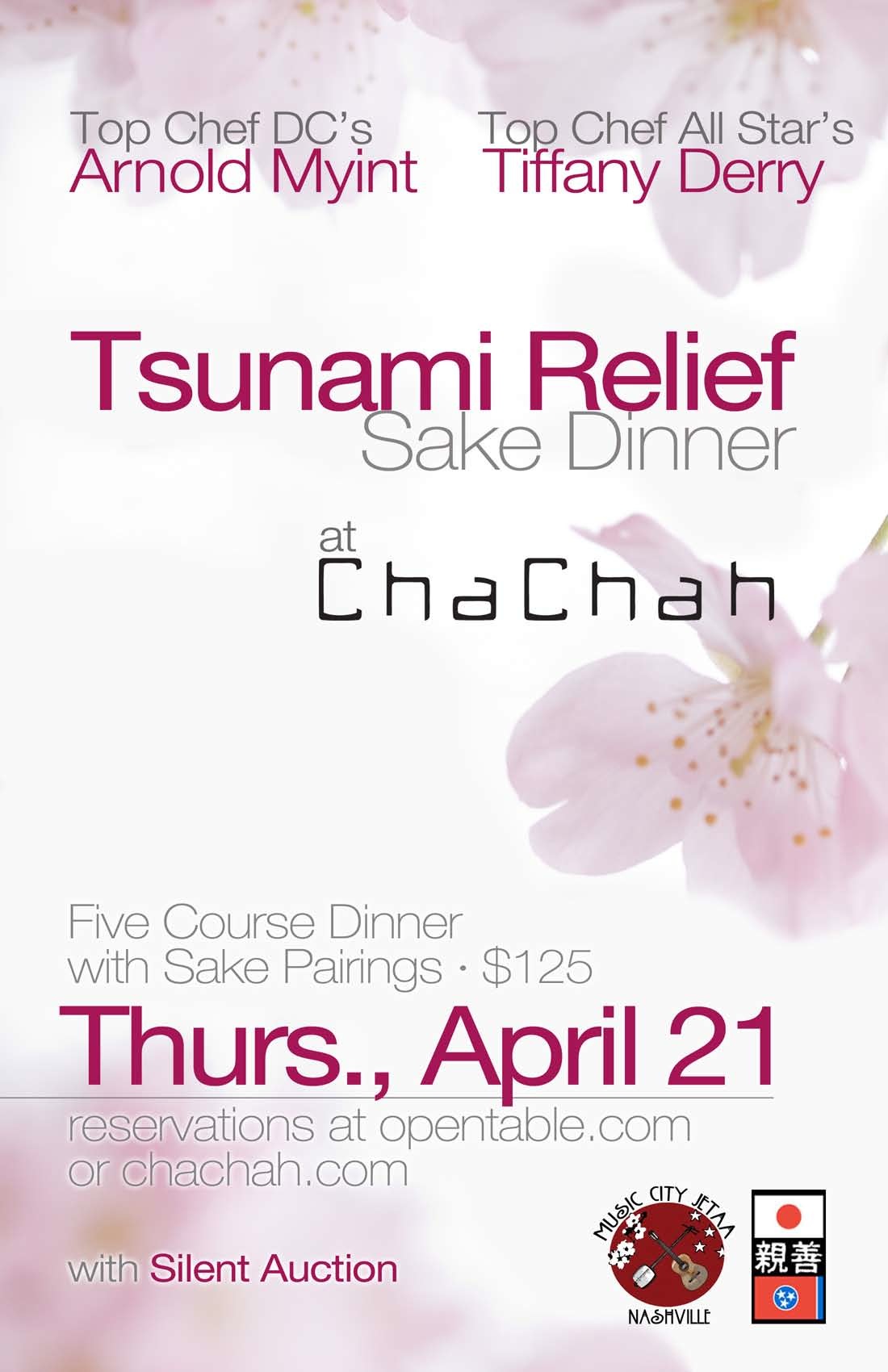 Thanks to Roland Kelts (Osaka-shi, 1998-99) for sharing the link to this NHK video on Tuesday night's JETAANY Japan Fundraiser:
http://www3.nhk.or.jp/news/jishin0311/movie/chapter_66.html
Based on some recent and varied conversations, it seems there may be a need for and interest in three new LinkedIn groups for JETs and JET alumni:
For JETs and JET alumni with MBAs or other business degrees (or JETs who want to talk to alums with MBAs) – http://www.linkedin.com/e/ai06o5-gl30jygl-61/vgh/3820993/
A catchall group for all the wonderful JETs doing (or trying to do) creative things or working in a creative field. – http://www.linkedin.com/e/ai06o5-gl30lfl9-31/vgh/3820994/
JET alums working or doing things in journalism, television, blogging, video or any other media field, plus JETs and JET alums interested in the field. – http://www.linkedin.com/e/ai06o5-gl30msei-2m/vgh/3820996/
Thank you to Hotaka Kawasaki of CLAIR NY for passing on this information.
Hyogo Prefecture has launched its own HYOGO JET Alumni Network!  The current number of JET participants registered on the network is 555.  The total number of JET participants in Hyogo prefecture over the last twenty-four years exceeds 5,000.
If you know anyone who doesn't know about the Hyogo JET Alumni Network, please let him/her know, or just contact Hyogo prefecture.
CONTACT:
Makiko Nagasawa, Hannah Starr and Jeremy Pichot
International  Exchange  Section,  International Relations Division
TEL: 078-362-9017
E-mail: kokusaikoryu@pref.hyogo.lg.jp
*Please note that this is distinct from the Hyogo JET Alum LinkedIn group set up by JetWit.  And while the JetWit version has its role, JetWit encourages all Hyogo JET alums to register for the official HYOGO JET Alumni Network via the above contact information.  The easier it is for prefecture governments to stay in touch with their JET alumni, the more likely they are to continue to hire JETs.
Regarding the JET alum prefectural groups recently set up on LinkedIn, just a quick note to let everyone know that Shimane-ken is kicking major oshiri and is already up to 23 members.  Well ahead of any of the other groups.
If you're ok with this, you shouldn't be.  Now is the time to reach out to people in your prefecture and get them to sign up for the respective LinkedIn Group.  The leading group by next week will receive significant accolades on JetWit.  (That's all I can really offer right now.  JetWit t-shirts for everyone would be too expensive for me.)
Here's the link again to all of the prefectural LinkedIn groups along with some explanation about why this is important to the future of JET and JETAA:
http://jetwit.com/wordpress/2011/01/21/saving-jet-jet-alumni-groups-by-prefecture/
*******
p.s.  Also a reminder that there are also JET alum Linkedin groups for Translators, Lawyers, Education Professionals, China Connection, Restructuring Professionals and more.  Here's a partial list:  http://jetwit.com/wordpress/jet-alum-groups/ (You can also just search on LinkedIn.)
And if you can't find what you're looking for, start your own group!  Just e-mail the link to jetwit [at] jetwit.com and I'll post about it on JetWit to encourage more people to join.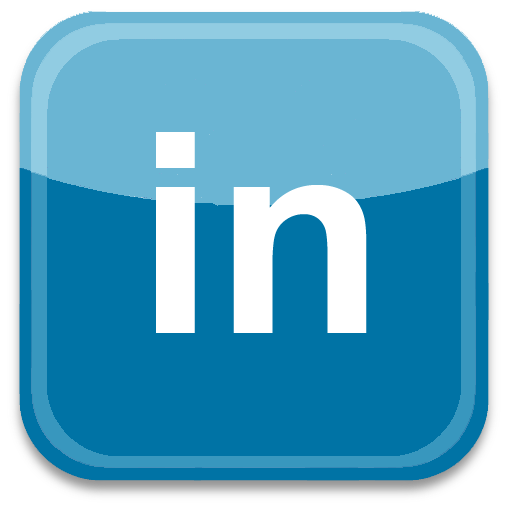 In the course of creating the JET alum prefectural groups on LinkedIn and encouraging Japanese local government staff to join as well to foster connections and communications, I've become aware of the fact that LinkedIn is not anywhere near as popular in Japan as it is in the English speaking world.  As word gets around CLAIR of the project, I've noticed several Japanese government workers signing up (which is great) who have 0 connections.  That means this is the first time they're using LinkedIn.
Does anyone else out there have perspectives on awareness of LinkedIn in Japan, to what extent it's used, whether there are alternative networks out there that are more popular?
Yoroshiku onegaishimasu.
–Steven Horowitz (Aichi-ken, 1992-94)
LinkedIn profile:  http://www.linkedin.com/in/stevenwaseda