Sep
11

Translating/Interpreting, WIT Life, Writers

Comments Off
WIT Life is a periodic series written by professional Writer/Interpreter/Translator Stacy Smith (Kumamoto-ken CIR, 2000-03). She starts her day by watching Fujisankei's newscast in Japanese, and here she shares some of the interesting tidbits and trends together with her own observations.
Hello from Japan!   Thanks to a last-minute interpreting assignment last week, I have the opportunity to spend some time in Tokyo during a time of the year when I'm not usually here.  My annual 来日 (rainichi or coming to Japan) typically takes place in February in accordance with my participation in the Tokyo Marathon, so I was excited to have the chance to experience a different season this time around.  And of course what would a trip to Japan be without visits to multiple onsens?  This time around I headed north of Tokyo to the nature-blessed areas of Kamikochi and Karuizawa
.
Both cities are located in Nagano Prefecture, and the more northern Kamikochi has beautiful lakes and hiking paths.  Karuizawa is known as a resort area where people go to beat the summer heat, and though the hiking paths were a bit more deserted there were tourists a plenty looking at the famous waterfalls and biking through the main shopping areas.  Our Kamikochi ryokan had an indoor onsen as well as a cool outdoor cave onsen (pictured here), and in Karuizawa I enjoyed the Tombo no Yu (Dragonfly Bath) of Hoshino Onsen.  With all of that soaking, my skin is definitely feeling smoother and all of my stress melted away!
I got in the onsen mood on the plane on the way over, which had the manga-based movie Thermae Romae featuring one of my favorite Japanese actors, the charismatic Hiroshi Abe.  The premise of his newest flick is that he is an architect named Lucius in ancient Rome (who happens to speak fluent Japanese) who is lacking novel ideas that will energize the Italian bathing culture and provide him with job security.  He finds his solution when he is unexpectedly whisked away via a time portal in his local bath to modern day Japan.  There he encounters innovative inventions from the "'flat-faced clan" (how he refers to the Japanese) such as post-soak yogurt drinks and neck devices that prevent you from getting wet whe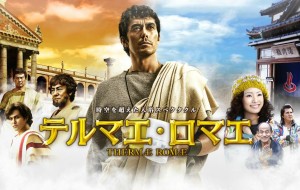 n washing your hair.
After several time slips followed by implementations of these modern ideas, Lucius receives great acclaim and even attracts the Emperor's attention.  Things get even more interesting when a struggling manga artist played by the ever kawaii Aya Ueto is accidentally brought back with him to his world and she realizes their behavior has the potential to alter history as she knows it.  With battles for the fate of the Roman Empire as the background, will she and Lucius manage to preserve history as it is?