Aug
28

Events, Translating/Interpreting, WIT Life, Writers

Comments Off
WIT Life is a periodic series written by professional Writer/Interpreter/Translator Stacy Smith (Kumamoto-ken CIR, 2000-03). She starts her day by watching Fujisankei's newscast in Japanese, and here she shares some of the interesting tidbits and trends together with her own observations.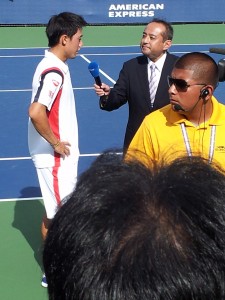 Yesterday I went to the first day of this year's U.S. Open tennis tournament in Flushing Meadows, and managed to catch some matches despite a long rain delay.  I was happy to see that two of the outer courts were featuring Japanese players, Kei Nishikori (nicknamed "Air K" because of the jump he takes to give his forehand a little extra power) and Hiroki Moriya.  I had never heard of the latter but am a big fan of the former, having first seen him in an exciting five-setter at the Open several years ago.
When my friend and I arrived, Nishikori was up two sets and leading in the third against Argentinian Guido Andreozzi when the downpour began.  We camped out at the side court to insure good seats when the match resumed, which it did a few hours later.  Andreozzi showed some strength but Nishikori managed to close it out in straight sets.  Here you can see his post-match interview with Wowow (natsukashii!), before he spent some time signing autographs for his many fans.
Unfortunately, Moriya didn't fare as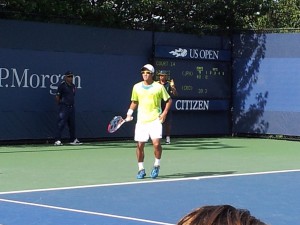 well, going down in three sets.  He did look good while doing it though, dressed a bit more flashily than you would expect from a Japanese player.  Today the Japanese doubles team Tatsuma Ito and Go Soeda take on a Russian team, so hoping they have better results!