Aug
11

Translating/Interpreting, WIT Life, Writers

Comments Off
WIT Life is a periodic series written by professional Writer/Interpreter/Translator Stacy Smith (Kumamoto-ken CIR, 2000-03). She starts her day by watching Fujisankei's newscast in Japanese, and here she shares some of the interesting tidbits and trends together with her own observations.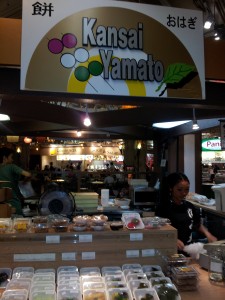 I am wrapping up an interpreting job in Honolulu, and during my time here I have been enjoying local Hawaiian foods like poi and ahi as well as lots of my favorite Japanese dessert, mochi.  The food court of the massive Ala Moana mall has a stand called Kansai Yamato where you can get homemade mochi.  I have highlighted KY in this blog before, but they offer an amazing variety of flavors ranging from Kona coffee to peanut butter to mango.  You can watch the employees making the mochi in front of your eyes, so you know the product you are getting is fresh.  I have tried most of the flavors and none have been a disappointment, though some fillings went better with the mochi than others.
I am a peanut butter fiend so that is the first flavor I always flock to, and on my second trip I got the chocolate peanut butter mochi.  The peanut butter one features pink mochi with crunchy peanut butter inside, and the chocolate version is brown on the outside with crunchy peanut butter and half a Reese's peanut butter cup in the middle.  Heaven!
They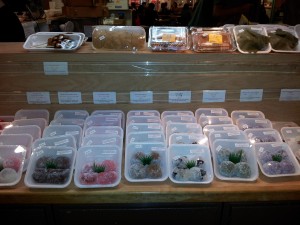 also have more traditional mochi flavors like ohagi, sakura mochi,  kinako and mitarashi dango (last two pictured here on the top shelf).  The stand for the Honolulu Cookie Company (another delicious dessert) is right next door and usually more crowded as people come for the free samples, but Kansai Yamato is definitely worth a stop!  Just be sure to bring cash as they don't accept credit cards.